by Vic­ki Palmquist
"No one I knew ever picked up Archie or Lulu or Den­nis the Men­ace because it was Required Read­ing. We read comics because we want­ed to see what was going to hap­pen. We want­ed to take that unex­pect­ed turn." — Jon Sci­esz­ka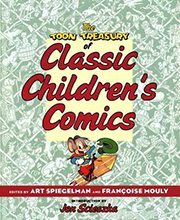 When I was in high school, I went on a hunt to find as many old comics as I could, learn­ing about the his­to­ry, the con­tro­ver­sy, the artists, and the love affair that swooped up so many kids and showed them that good sto­ries exist in many forms.
If you'd like to share clas­sic comics with your kids or your stu­dents, you're in luck. Art Spiegel­man and Françoise Mouly, those folks behind Toon Books, sought out the fun, wacky, and adven­ture­some sto­ries that will have them turn­ing the pages for their next comics encounter. Spiegel­man and Mouly aimed for fun­ny and they found it — bulls­eye — in The Toon Trea­sury of Clas­sic Chil­dren's Comics (Abrams Comi­cArts, 2009).
You'll find comics that may be famil­iar to you such as Lit­tle Lulu, Pogo, Den­nis the Men­ace, Heck­le and Jeck­le, and the Lit­tle Archies (not the teenage ver­sion, but the young kids). You'll read sto­ries and find char­ac­ters that I believe will be new to you as well.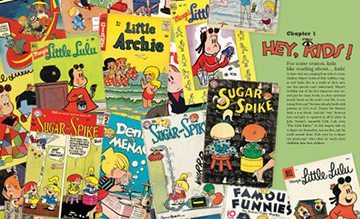 I par­tic­u­lar­ly enjoyed Ger­ald McBo­ing Boing in "Boing Boing" by Theodore Seuss Geisel and P.D. East­man. The graph­ic line, the col­ors, the poet­ry, the sto­ry … I won't ruin the end­ing but it's com­fort­ing to know that there's a place for every­one in this world.
In Melvin Mon­ster "Mice Busi­ness" by John Stan­ley, a fam­i­ly of mon­sters has a mouse prob­lem. This is the­ater of the absurd. Your chil­dren (and you) will howl over the antics of Mum­my and Bad­dy and their son, Melvin.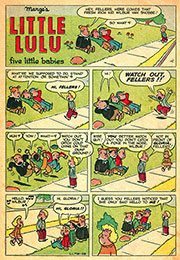 In Lit­tle Lulu "Five Lit­tle Babies" by John Stan­ley and Irv­ing Tripp, the boys trick Lulu into look­ing fool­ish but she gets the best of them in a clever and iron­ic way.
Believe it or not, in Uncle Scrooge "Tral­la La" by Carl Barks, this high-ener­gy sto­ry lets us in on the secrets of cap­i­tal­ism and utopia.
Did you know that Walt Kel­ly of Pogo fame also did a series of comics called Fairy Tale Parade? "Prince Robin and the Dwarfs" is fast-paced, excit­ing, and fun­ny … and also a rip­ping good yarn. I par­tic­u­lar­ly enjoyed study­ing his Map of the Fairy Tale Lands.
I don't know if you can say these are favorites when I've list­ed so many of them, but "Cap­tain Mar­vel in the Land of Sur­re­al­ism" by C.C. Beck and Pete Con­stan­za is a true high point of the Trea­sury. When I start­ed this arti­cle I was going to say that there are no super­heroes in this col­lec­tion but they includ­ed Cap­tain Mar­vel in a sto­ry that will have you ques­tion­ing real­i­ty. (And there's a sto­ry about Super­mouse, too.)
These six sto­ries are just a frac­tion of what's avail­able in The Toon Trea­sury of Clas­sic Children's Comics. There's at least one sto­ry that will tick­le every reader's fun­ny bone and I'm will­ing to bet you'll have a hard time keep­ing your own favorites to a list of six.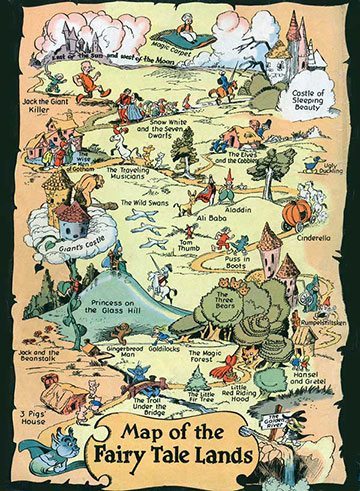 How lucky kids are today to have such ready access to a book that col­lects the best of an era when comics were new and exper­i­men­tal and, in the case of this Trea­sury, appro­pri­ate for childhood.
As Mr. Spiegel­man and Ms. Mouly write in their intro­duc­tion, "But as par­ents we've des­per­ate­ly want­ed to keep our kids safe on the ever-shrink­ing island of child­hood, pro­tect­ed from the dan­gers of, say, Inter­net porn and the hor­rors of the night­ly news, while still prepar­ing them for the Real World. As evi­denced in so many of our select­ed sto­ries, adults can act very child­ish­ly, kids can be remark­ably clear-eyed, and the bat­tle between the ratio­nal and the irra­tional is more like a dance."
I'm glad to have been invit­ed to that dance. I'll pull this tome (it's 1−1÷4" thick) down from the shelves when I need a book to light­en the mood. Thanks to my good friend Amy who knew this would be a cher­ished birth­day present.