It is cold up here in the north coun­try, so late­ly my thoughts have turned to cre­at­ing a steam­ing pot of soup. For soup, you have to hit the high­lights; the chick­en, onions, a car­rot or two. If you toss in too many ingre­di­ents, noth­ing will stand out and the result will be a mud­dled mess. You must also have a spe­cial ingre­di­ent. The quick taste that says, mmm, what is that? A dash of nut­meg? A spoon­ful of car­away seed?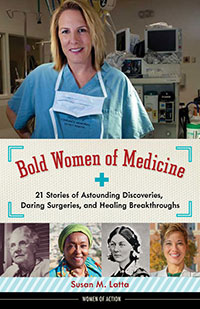 When I wrote the short pro­files in Bold Women of Med­i­cine: 21 Sto­ries of Astound­ing Dis­cov­er­ies, Dar­ing Surg­eries, and Heal­ing Break­throughs, I real­ized they required a sim­i­lar focus. I need­ed the high­lights; birth, fam­i­ly, edu­ca­tion. The pro­files also need­ed that spe­cial some­thing to stand out.
Oth­er than bio­graph­i­cal assign­ments in school, I hadn't writ­ten many biogra­phies. But often it is in the doing that we learn. When I researched and wrote my (look­ing for a home) pic­ture book biog­ra­phy Step by Step: The Sto­ry of Eliz­a­beth Kenny's Fight to Treat Polio, I learned a few lessons.
I had been fas­ci­nat­ed by Sis­ter Ken­ny ever since my father's stay at the Sis­ter Ken­ny Insti­tute after his stroke. Who was this brash woman who had found­ed the insti­tute famous in Min­neapo­lis? Not just Min­neapo­lis, for in fact, she was once vot­ed the most influ­en­tial woman in Amer­i­ca, beat­ing out Eleanor Roosevelt.
Research­ing and writ­ing the life of some­one famous can be daunt­ing. I didn't have the space to write about every­thing in her life, and I didn't want to bore young read­ers with unin­ter­est­ing facts.
The Min­neso­ta His­tor­i­cal Center's Gale Fam­i­ly Library held her secrets in the form of let­ters, cards, and pho­tographs packed into box­es. See­ing Sis­ter Kenny's hand­writ­ing helped me to imag­ine her sit­ting at a desk com­pos­ing a let­ter. The pho­tographs let me look into her simul­ta­ne­ous­ly kind and deter­mined eyes. It was an odd sense of the past, her past, com­ing to life. And yet, since she died in 1952, I knew more about her fate (and lega­cy) than she did.
Sis­ter Ken­ny even­tu­al­ly became the sam­ple chap­ter I includ­ed in my pro­pos­al for Bold Women of Med­i­cine. The Chica­go Review Press Women of Action Series intro­duces young adults to women and girls of courage and conviction.
As I sift­ed through these lives I won­dered, what spurred these women on to a life in medicine?
With­in the frame­work of the women's lives (birth, edu­ca­tion, career, and fam­i­ly), I began to see pat­terns lead­ing them to med­i­cine. My goal was to keep the sto­ry mov­ing forward.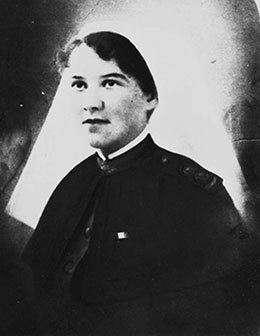 For exam­ple, Sis­ter Ken­ny real­ized suc­cess with one patient inflict­ed with cere­bral pal­sy, caus­ing paral­y­sis. She said, "Although my spe­cial life's work had not yet real­ly begun, I always think of this peri­od as my start­ing point." Dis­cov­er­ing each woman's moti­va­tion helped me to cre­ate a tighter focus. In oth­er words, I lim­it­ed the ingre­di­ents I placed into my soup pot and at the same time found that spe­cial something.
What fac­tors influ­enced Sis­ter Ken­ny to prac­tice med­i­cine? Was it an event, a per­son, or a need to be help­ful? I am a lin­ear thinker (some­times a hin­drance) but in this case, point A of a woman in medicine's life often led to point B. Some­times I had to back­track much like you do when fol­low­ing a hik­ing trail, and often when I back­tracked I dis­cov­ered anoth­er, more intrigu­ing part of her story.
Research is a tricky beast no mat­ter what the sub­ject is, and the most dif­fi­cult part of research is know­ing when to quit. Not every­thing from your fridge must be a part of your dinner.
I searched for anec­dotes that would inter­est a young read­er. What hap­pened in Sis­ter Kenny's child­hood that shaped her inter­est in sci­ence? What char­ac­ter traits did she pos­sess that led to suc­cess or fail­ure? What impact did she have on his­to­ry? Pulitzer Prize win­ning writer David McCul­lough says, "I believe very strong­ly that the essence of writ­ing is to know your subject…to get beneath the sur­face. You have to know enough to know what to leave out."
I read as much as I could on each woman, until I found the sto­ry and pat­tern with which to begin. Each of these women lived full lives, and in the cut­ting of some of their life events I strength­ened the fla­vors, high­light­ing their pow­ers of hope, edu­ca­tion, and per­se­ver­ance. And as I write this on a cold day, it's time to pull out the pot and fig­ure out the best ingre­di­ents for my soup!