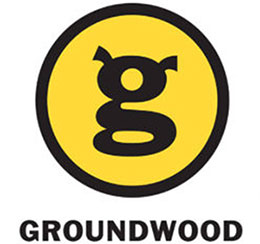 Ground­wood Books cel­e­brates diver­si­ty. In the words of the late Sheila Bar­ry, for­mer pub­lish­er, their com­mit­ment is to pub­lish "the most excit­ing Cana­di­an voic­es we can find. Whether it's a pic­ture book from Nunavut in the Arc­tic or a Car­ni­val sto­ry about a new Cana­di­an from the Caribbean …."
Ground­wood pub­lish­es not only all things Cana­di­an but much more — sto­ries about First Nations peo­ple, refugees, chil­dren caught in the ter­ror of war, the grief felt by immi­grants as well as the gift of their expe­ri­ences and tal­ents they bring to their new coun­try. Themes are uni­ver­sal. Sto­ries are spe­cif­ic. Voic­es are authen­tic. Their books say take notice, these are pow­er­ful, impor­tant sto­ries. These are beau­ti­ful sto­ries. Often, these are "in our own voice" stories.
Regard­ing immi­gra­tion and refugee sto­ries, one of my favorite pic­ture books about the strug­gle of fam­i­lies to seek asy­lum in the Unit­ed States con­tin­ues to be Two White Rab­bits. Oth­er Ground­wood books on this top­ic that speak to chil­dren are Migrant and Malaika's Cos­tume.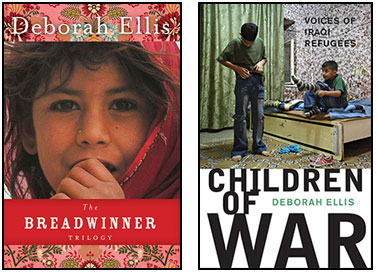 The Bread­win­ner tril­o­gy and also Chil­dren of War, both by Deb­o­rah Ellis, are some of the most pow­er­ful and poignant books about the courage of Afghan and Iraqi chil­dren. The Bread­win­ner Tril­o­gy is now avail­able as a graph­ic nov­el and just recent­ly, an ani­mat­ed movie. Deb­o­rah Ellis's books — fic­tion and non­fic­tion — give voice to chil­dren and teens caught in war or flee­ing from war. Deb­o­rah Ellis is a mas­ter sto­ry­teller who has received the high­est lit­er­ary awards giv­en in Cana­da. She has donat­ed near­ly $2 mil­lion in roy­al­ties to orga­ni­za­tions such as Women for Women in Afghanistan, UNICEF, and Street Kids Inter­na­tion­al. Check them out.
I sent Fred Hor­ler, mar­ket­ing man­ag­er for Ground­wood, sev­er­al ques­tions. I've nev­er had the oppor­tu­ni­ty to ask a mar­ket­ing man­ag­er why they love their job: sell­ing books, not just any books, but Ground­wood Books. I think you will enjoy read­ing Fred's reply.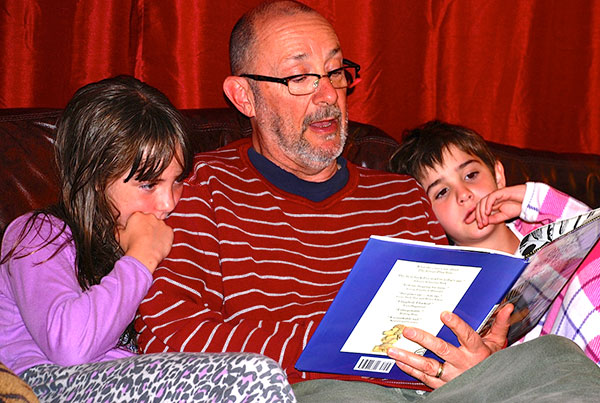 Ques­tions to Fred Horler:
What is most rewarding about working in marketing?
There is a lot that I love—I work in children's books after all—but one aspect rises above the rest: working at an education or library conference and sharing my favorite books with the attendees.
I recent­ly had a con­ver­sa­tion with a librar­i­an at one of these con­fer­ences and we talked about the plea­sure of read­ing a pic­ture book for the first time. That feel­ing of dis­cov­ery as you move from one page to the next — being tak­en on a trip that has been so care­ful­ly and painstak­ing­ly plot­ted out by the books' cre­ators. (And which is why I have been known to chas­tise those who insist on flip­ping through a pic­ture book from back to front.) That first read­ing can be a pow­er­ful expe­ri­ence and will nev­er be repeat­ed in quite the same way.
Grant­ed, there is a lot to be gained by mul­ti­ple re-read­ings, but you will nev­er get that first-time expe­ri­ence again. Except that I do — I get to relive that jour­ney every time I intro­duce a favorite book to a vis­i­tor at my booth who is will­ing to take a few min­utes to ful­ly immerse them­selves. And while I may appear to leave them alone while they read, I am very aware of the emo­tion­al ride they are expe­ri­enc­ing. And I get to trav­el along with them shar­ing the goose bumps, the laugh­ter, and some­times even the tears. That's a gift I nev­er get tired of receiving.
What helps you market Groundwood books?
Children's publishing is a crowded market—walking through the exhibits of a library conference quickly illustrates the challenge of getting our books noticed. Fortunately, we publish very good books—we wouldn't get anywhere without that. But that isn't enough—there are a lot of great books being published every year.
We are very grate­ful to the review jour­nals that take the time to con­sid­er our books and pub­lish their reviews. Awards are also very grat­i­fy­ing, though, as a Cana­di­an com­pa­ny who pub­lish­es direct­ly into the U.S., I may have been over­heard grum­bling about the num­ber of awards for which we are not eli­gi­ble. And we adver­tise and still pro­duce a print­ed cat­a­logue – with all that gor­geous art in our books, we can't help but show it off.
But ulti­mate­ly, I still think it's that old stand-by — word of mouth — that con­tributes the most to sell­ing our books. Fans of children's books are incred­i­bly enthu­si­as­tic about the books they love — just try and stop them from talk­ing about their favorites. And so part of my job, not unlike that of a children's librar­i­an, is to match the right books with the right read­ers — and then let them take it from there.
Tell us about a few of your recent publications and why they are unique?
I love our books that elicit a visceral reaction. We just published a beautiful picture book about a young girl's experience at her first funeral. Matt James' The Funeral is sensitive and honest and can affect people in very different ways but invariably evokes a very personal response.
The same is true for Louis Under­cov­er by Fan­ny Britt and Isabelle Arse­nault, and Walk with Me by Jairo Buitra­go and Rafael Yock­teng. Both these books have the abil­i­ty to touch peo­ple in pro­found ways. More than once I've had peo­ple who have had to walk away after read­ing them because their emo­tions made them unable to even talk. That's pow­er­ful stuff.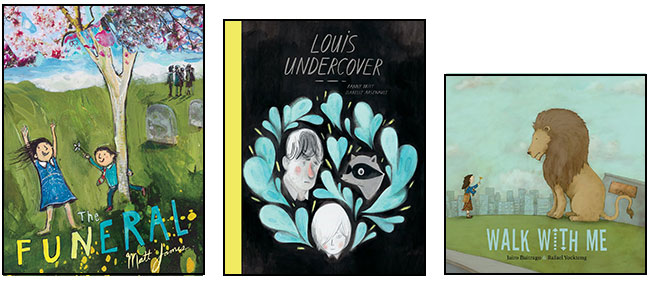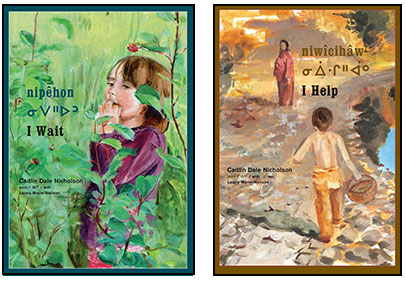 Ground­wood has always had a strong rep­u­ta­tion for pub­lish­ing sto­ries that per­haps can't be found else­where and I am par­tic­u­lar­ly proud of our books from North Amer­i­can Indige­nous cre­ators such as the bilin­gual (Eng­lish and Cree) pic­ture books nipêhon / I Wait and niwî­ci­hâw / I Help. We have made free audio book ver­sions avail­able on our web­site for both of these titles so peo­ple can hear the lan­guage spo­ken aloud.
And this fall we con­tin­ue this tra­di­tion with a list that includes a book set in Haiti (Aun­tie Luce's Talk­ing Paint­ings by Fran­cie Latour and Ken Daley); a sto­ry about a Black com­mu­ni­ty in Nova Sco­tia that was demol­ished in the 1960s (Africville by Shauntay Grant and Eva Camp­bell); a tale about a friend­ship between plants from an Iran­ian author and illus­tra­tor (I'm Glad That You're Hap­py by Nahid Kaze­mi), and a book that cel­e­brates Jew­ish cul­ture (Bit­ter and Sweet by San­dra V. Fed­er and Kyrsten Brooker).
Nan­cy: Ground­wood Books is a trea­sure trove of edi­tors, authors, and illus­tra­tors whose sto­ries speak to the hearts of read­ers with poignan­cy, authen­tic­i­ty, and power.
Take a look! And don't miss their resources for teach­ers and librar­i­ans.