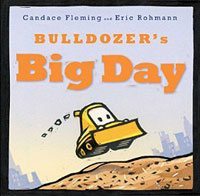 Bull­doz­er's Big Day
writ­ten by Can­dace Flem­ing
illus­trat­ed by Eric Rohmann
Atheneum, 2015
inter­view by Vic­ki Palmquist
What's the illus­tra­tion tool you turn to more than any oth­er?
Graphite pen­cil. Sim­ple, effi­cient, erasable, feels good in the hand, makes a love­ly line with infi­nite pos­si­bil­i­ties for line vari­a­tion. Did I men­tion that it's erasable? Always for­giv­ing!
What illus­tra­tion tech­nique haven't you tried that keeps call­ing out to you?
Relief print­mak­ing. The tech­nique gives you so much — the qual­i­ty of the mark, the lay­er­ing of col­or look dif­fer­ent than any­thing I can make with any oth­er tech­nique.
What do you do when you've run out of inspi­ra­tion? What gets you going again?
Mak­ing some­thing. Look­ing at some­thing oth­ers have made. It's a big world out there and there is plen­ty to see.
Who is your favorite illus­tra­tor who is no longer with us? And it could be more than one per­son.
William Stieg…and Helen Sewell, Wan­da Gag, Mau­rice Sendak, Crock­ett John­son, Robert McCloskey, Vir­ginia Lee Bur­ton, James Marshall…just to name a few.
Did win­ning the Calde­cott (medal and hon­ors) change how you think about your work?
Yes. It made me more atten­tive, more ded­i­cat­ed, more aware of my audi­ence. It also took off the pres­sure of ever think­ing about such things again!
How and where do you and Can­dy talk over a new project?
Every­where and any­where. Bulldozer's Big Day was begun on a car ride from Indi­anapo­lis to Chica­go. Giant Squid at an ALA hotel room. Oh, No! in Bor­neo while walk­ing in the jun­gle.
If you could sit down with four oth­er book artists, liv­ing or dead, and have din­ner and a con­ver­sa­tion, who would they be?
This is not fair! Just four? Hmmm… William Stieg, Beat­rix Pot­ter, M.T. Ander­son, Mau­rice Sendak.