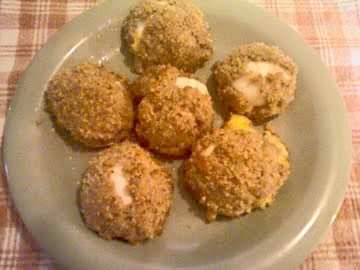 Dinosaur Eggs
2015-06-24 14:23:51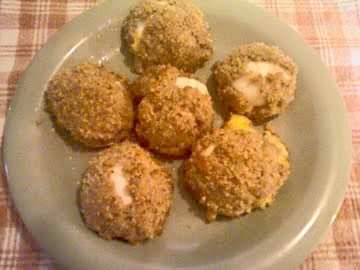 Serves 6
When you're done with a day of tromp­ing through the pri­mor­dial savan­nah, on the look­out for dinosaurs, have some of these on hand for your avid dinosaur fans.
Ingre­di­ents
6 medi­um hard-boiled eggs
1.5 lbs ground spicy sausage
1⁄2 cup bread crumbs
1⁄4 tsp gar­lic pow­der
1⁄4 tsp pep­per
2 Tbsp canola oil
Hot sauce (option­al)
Brown mus­tard (option­al)
Instruc­tions
Peel boiled eggs. Mix sea­son­ings and bread crumbs togeth­er.
Divide sausage into six equal amounts.
Flat­ten sausage into thin pat­ties and wrap around eggs.
Roll each egg in bread crumbs.
Heat oil in skil­let.
Fry eggs in hot oil until well browned, turn­ing fre­quent­ly.
May also be baked in oven at 325 deg F for 25 min­utes or until browned
Serve with hot sauce or mus­tard if desired.
Adapt­ed from allthecooks.com
Bookol­o­gy Mag­a­zine https://www.bookologymagazine.com/