A stew­ard­ship for our one and only Earth are an abid­ing con­cern for many of our plan­et's inhab­i­tants. When an author finds an oppor­tu­ni­ty to share with the world of read­ers her own pas­sion for con­serv­ing our ecosys­tems, the book Creek­find­ing: A True Sto­ry is cre­at­ed. We hope you'll find inspi­ra­tion for your own explo­ration and con­ser­va­tion in this inter­view with Jacque­line Brig­gs Mar­tin. Don't miss read­ing the book … it's a treasure.
Do you remem­ber when you first had the idea to write this story?
I had been want­i­ng to col­lab­o­rate on a sto­ry with Clau­dia because I love her art so much. So, I was noodling about what we might do. On Novem­ber 30, 2011, the Cedar Rapids Gazette pub­lished a sto­ry on Mike Osterholm's creek restora­tion project. As soon as I read it I knew that was the sto­ry I want­ed to tell and I hoped Clau­dia would want to do the illustrations.
Have you met Dr. Michael Oster­holm? How did that meet­ing add to your story?
Short­ly after read­ing the arti­cle I con­tact­ed the reporter, Orlan Love. He said I should talk with Mike and gave me his email address. I emailed him. With­in a half hour I received an answer, "Call me. Mike." That was the first of many con­ver­sa­tions. About a month after that con­ver­sa­tion my hus­band and I drove to North­field, Min­neso­ta to St. Olaf Col­lege where Mike was giv­ing a talk on creek restoration.
Have you vis­it­ed Brook Creek?
I have now vis­it­ed Brook Creek. When I was writ­ing the sto­ry, I read many arti­cles about Mike's restora­tion project and watched sev­er­al videos. I vis­it­ed Brook Creek in my imagination.
Your word choic­es are often evoca­tive in a way anoth­er word would not be.
"Years lat­er, a man named Mike
bought that field and the hillside.
Mike want­ed to grow a prairie in
the old cornfield,
to part­ner with the sun and soil,
grow tall grass­es and flowers.
The word "part­ner" evokes a sense of work­ing with the land, as though the land were a con­scious enti­ty. Do words like this come nat­u­ral­ly from your mind or do you find your­self hunt­ing for them?
Mike had told me a sto­ry about the oak savan­nah that he also restored: once they cleaned out the weed trees so sun­light could get down to the for­est floor, seeds ger­mi­nat­ed that had been wait­ing for a hun­dred years. It just seemed like he was part­ner­ing with the earth. And that word came to me as I was think­ing about his work on the prairie.
There are rib­bons of text woven into the illus­tra­tions, often high­light­ing a fac­tu­al state­ment. Were these state­ments an orig­i­nal part of your manuscript?
The state­ments were orig­i­nal­ly just side­bars. It was Claudia's deci­sion to include them on a blade of grass or a rip­ple in the trout stream and I love the way the infor­ma­tion looks and works. It's there if read­ers want to find it, but it's unob­tru­sive if they just want to read the text.
Did you dis­cuss the illus­tra­tions for the book with Clau­dia McGe­hee, the illustrator?
Clau­dia lives only 19 miles from me so we talked togeth­er with an Iowa geol­o­gist about the Drift­less. Clau­dia showed me her ear­ly sketch­es (and I loved them). And I went to her house to see her lat­er sketch­es arranged on her din­ing room table. Once I saw them I real­ized I need­ed to do some edit­ing — so that was a great part about work­ing so close­ly. We even removed a side­bar or two that were just get­ting in the way of the story.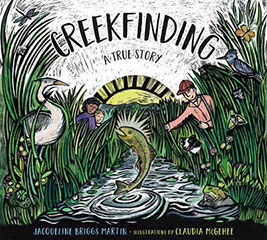 There are a num­ber of joy­ful words in this book, "laugh­ter" and "chuck­le." Why did you choose these words?
The sound of water has always been joy­ous to me. When I was grow­ing up there was a sea­son­al "stream," maybe a ditch, across the street from our house. I loved wait­ing next to that stream for the school­bus. Also, this is a joy­ful sto­ry of restora­tion. There is also a hint of anthro­po­mor­phiz­ing in the notion of "part­ner­ing" with the earth. I guess in my head it seemed as if the nat­ur­al world can be a part­ner maybe it can also have or express joy.
In recent years, you've been work­ing on books about peo­ple who are chang­ing our world. Will Allen, Alice Waters, Dr. Michael Oster­holm, and your newest book about Chef Roy Choi. Are these sto­ries you feel com­pelled to tell?
I do. I love these sto­ries of peo­ple who act out of pas­sion (and that goes back to Wil­son Bent­ley), do what they must do to make our world whole — restore creeks, grow good food in school yards or urban lots, serve good food in food deserts. I think I do this for myself, to remind myself that, though we have many prob­lems in our world, many things to be wor­ried about, there are peo­ple who are work­ing out of love and con­vic­tion to make a bet­ter world for all.
As a writer, how do you see your role in cre­at­ing a bet­ter world?
I want to write books that chil­dren will car­ry with them for the rest of their lives. I will nev­er know if I suc­ceed. But if one of my sto­ries remained with chil­dren as part of "the fur­ni­ture of their minds" I would feel good. I hope chil­dren will mix that mem­o­ry with what­ev­er else they have stored up and do some­thing for this world that I can­not even imagine.
Don't miss the com­pan­ion inter­view with illus­tra­tor Clau­dia McGe­hee or the Book­storm for Creek­find­ing: A True Sto­ry offer­ing com­pan­ion books and web­sites for fur­ther explo­ration or incor­po­ra­tion into les­son plans.