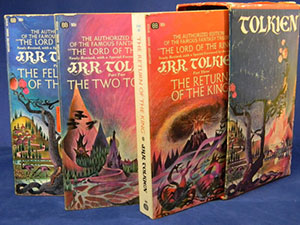 The Christ­mas present that stands out most in my mem­o­ry was giv­en to me when I was 16. We opened our presents on Christ­mas Eve. At that age, I expect­ed clothes and prac­ti­cal gifts. Some­how, my moth­er knew to give me the boxed set of The Lord of the Rings. I hadn't read any fan­ta­sy before this. So I was curi­ous. I slipped into my bed­room around nine o'clock and began read­ing. I read until the Nazgul's pur­suit of the Hob­bits became too intense. I put the book down, dreamed about the book all night, picked up The Fel­low­ship of the Ring the next morn­ing, and nev­er came up for air for the rest of the hol­i­day. I had to fin­ish those books.
The Lord of the Rings start­ed me on a life­long love of fan­ta­sy. My master's the­sis was on fan­ta­sy lit­er­a­ture. I enjoyed read­ing Cabell, Lord Dun­sany, Peake, Le Guin, Moor­cock, McKil­lip, McKin­ley, Susan Coop­er, Wal­ton, Kurtz, Nes­bit … I devoured them.
But at a cer­tain point, fan­ta­sy lit­er­a­ture felt repet­i­tive to me, with stock char­ac­ters, and pre­dictable plots. I sel­dom read it any­more, which is a sad thing.
But last Sep­tem­ber I met the author of a series about Jinx. She talked about the book as though I should know it … and I was curi­ous. So I began Jinx, then had to find Jinx's Mag­ic the next day, and Jinx's Fire a cou­ple of days lat­er. These are good books with char­ac­ters I hadn't encoun­tered before in a world of wiz­ards and magi­cians and a deep con­nec­tion to the forests. It's fun­ny and mag­i­cal and fea­tures a lot of warm and cap­ti­vat­ing rela­tion­ships. The main char­ac­ter, Jinx, is com­plex and like­able. There's a good bal­ance between dia­logue, descrip­tion, action, a fast pace, and time to breathe. The main char­ac­ter starts out at age 12 and grows to age 14 so this is the right book to place in the hands of read­ers ages 10 and up (through adult).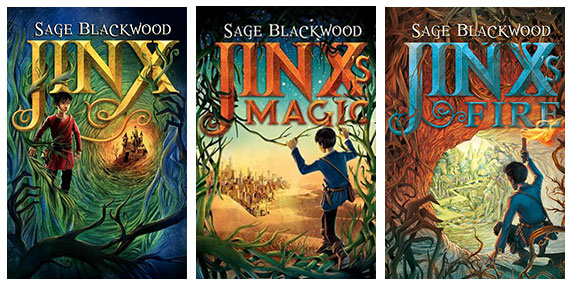 I was so enthralled by Jinx's tale that I had to ask the author, Sage Black­wood, a few ques­tions:
Did you con­struct the Urwald, Sama­ra, and the sur­round­ing coun­tries before you began writ­ing the first book, Jinx? Or did you invent the geog­ra­phy as you went along?
The Urwald came first— years before the sto­ry, in fact. Sama­ra I think also came before the sto­ry; I remem­ber draw­ing pic­tures of it. The sur­round­ing coun­tries weren't real­ly devel­oped till I need­ed them.
Did you know the end­ing of Jinx's Fire (Book 3) when you began Jinx (Book 1)?
As regards the Bone­mas­ter, yes, but the auton­o­my of the trees was some­thing that devel­oped as I wrote. I grad­u­al­ly real­ized that if the Urwald was a liv­ing enti­ty, then like any oth­er char­ac­ter, it had to have agency and flaws… and a Last Straw.
This series is found­ed on the bal­ance between good and evil. Did you start writ­ing with this premise or did you dis­cov­er it dur­ing your writ­ing process?
I think I start­ed out not real­ly believ­ing in evil. At least not of the hand-rub­bing "Mwuha­ha! Cringe before me, mor­tals!" vari­ety. So I guess it devel­oped as I wrote: Each of the major char­ac­ters has at some point touched evil. Not just as a vic­tim, but as a per­pe­tra­tor or poten­tial per­pe­tra­tor. And each char­ac­ter is changed by the expe­ri­ence. That's what evil is— some­thing we all either face down, or embrace. For­tu­nate­ly rel­a­tive­ly few of us do the lat­ter.
And, of course, we can't always tell it's evil at the time. Evil can come dis­guised as an unfor­tu­nate neces­si­ty, or a great job offer.
What aspect of your sto­ry under­went the most change dur­ing the writ­ing of the three books?
Jinx him­self, I think. At first he was a polite, dif­fi­dent boy. Then it became clear that he was nev­er going to sur­vive being raised by Simon. Not with his pro­tag­o­nist­hood intact, any­way. So he had to tough­en up and devel­op a sar­don­ic edge, and I real­ly became much fonder of him when he did.
I love the ambi­gu­i­ty of your main char­ac­ters. They seem ful­ly human for this rea­son. Does this part of craft­ing a char­ac­ter come nat­u­ral­ly to you or is it an effort?
Thank you. It is an effort, but not one I would forego. It's impor­tant that each major char­ac­ter could con­ceiv­ably be the pro­tag­o­nist, if the sto­ry were slewed around a bit. And this is how they see them­selves, of course. None of us are side­kicks in real life.
Jinx can't exact­ly read minds but he can see auras that show how a per­son is real­ly feel­ing. This is one of the most excit­ing aspects of your books. How did this char­ac­ter qual­i­ty come to you?
It hap­pened while I was writ­ing the ear­ly scenes. Emo­tions kept com­ing up in a very visu­al way, and I real­ized that that was because I was writ­ing from Jinx's point of view and that's what he was actu­al­ly see­ing.
Do you have an affec­tion for trees?
Oh yes! I am a tree-hug­ger. I spent a lot of time walk­ing in the for­est while I was writ­ing Jinx, and this was where I real­ized that the trees talk to each oth­er — some­thing sci­ence was appar­ent­ly also dis­cov­er­ing at more or less the same moment. (Peo­ple keep send­ing me arti­cles about this.)
Your over-arch­ing vil­lain, The Bone­mas­ter, is so rep­re­hen­si­ble that it's hard for me to have his pres­ence in the sto­ry. How do you fig­ure out the para­me­ters of an evil char­ac­ter?
Well, I had to remem­ber that as far as he was con­cerned, he was the hero of the sto­ry. A good vil­lain should always think he's the hero. It's what vil­lains think in real life.
There­fore, a vil­lain needs val­ues. They can be hor­ri­ble ones, but he's got to have them. He has to have a self-con­struct­ed ide­al he's liv­ing up to. (This is where some Dark Lords fall short.)
How long does it take you to fin­ish writ­ing a book from first draft to the edi­tor receiv­ing your man­u­script?
About a year, if I've got my act togeth­er. Before that there's a peri­od of draw­ing pic­tures, tak­ing notes, and hang­ing index cards on the wall.
Have you been a long-time fan­ta­sy read­er? If so, which are your favorite books or series?
Like you, I loved Lord of the Rings as a kid. Lat­er I grew dis­il­lu­sioned with the genre. Then I dis­cov­ered Diana Wynne Jones. She was such a fresh, new voice, see­ing the humor in the genre and the mag­ic at the same time. And the way she estab­lish­es a world on page one with­out ever laps­ing into mere descrip­tion… I could­n't believe every­one was­n't talk­ing about her!
It was 20 years before I final­ly met a Diana Wynne Jones fan I had­n't cre­at­ed, as it were. Now it turns out she was a major influ­ence on many (most?) of us who are writ­ing mid­dle grade fan­ta­sy today. We just all found her one way or anoth­er.
Some of my favorites of hers are Drowned Ammet, Cart and Cwid­der, The Lives of Christo­pher Chant, and The Home­ward Bound­ers (which is prob­a­bly struc­tural­ly her best nov­el).
Beyond Jones, the Har­ry Pot­ter series is also won­der­ful. And I absolute­ly love Ter­ry Pratch­ett— per­haps as much for the lan­guage as any­thing else.
Thank you for tak­ing the time for this inter­view, Sage. Your series of Jinx books ranks right up there with my favorite fan­tasies of all time.
Thanks so much, Vic­ki; that's won­der­ful to hear. And thank you for com­ing up with all these great ques­tions that were fun to answer!