For this inter­view, we turn to the illus­tra­tor of a new book, all ears, all eyes, whose work I've long admired. This is a very spe­cial book. Open it and you'll be cap­ti­vat­ed by the for­est at night. Such unusu­al art! But, then, her pri­or books have also been dis­tinc­tive, each in their own way. I hope you enjoy this vis­it with Kather­ine as much as I did.
In each of your recent books, Kather­ine, you've used a dif­fer­ent illus­tra­tion style. All the Water in the World is whoosh­es and swoosh­es, whirls and swirls, liq­uid on paper.
For Shoe Dog, your pages were light-heart­ed, full of chaot­ic ener­gy that por­trayed Megan McDonald's dog who finds shoes irresistible.
For It's Pic­ture Day Today!, you assem­bled famil­iar home and school­room craft­ing sup­plies into adorable crea­tures prepar­ing for pic­ture day. I like to imag­ine you fold­ing paper and sort­ing through but­tons and peel­ing glue off your fin­gers dur­ing the mak­ing of this book.
In your newest book, all ears, all eyes, you've accom­plished yet anoth­er com­plete­ly dif­fer­ent look. Your por­tray­al of the for­est in the dark brings the night to life. The read­er is deep inside the for­est, see­ing it, feel­ing it, while Richard Jackson's poet­ry pro­vides the sound track.
I find myself with lots of questions!
When an edi­tor sends you a man­u­script, what hap­pens in your mind as you're read­ing it?
I always hope to have my imag­i­na­tion awak­ened. I usu­al­ly do not have an idea where I might take a new sto­ry with the illus­tra­tions but I can per­ceive an open­ing for my part of the sto­ry­telling. If it is the right man­u­script for me, there is a feel­ing of excit­ed anticipation.
What moves you to agree to a project, know­ing it will take you (how long?) to cre­ate the illustrations?
I am slow and it is a long time from begin­ning to end. I can eas­i­ly slip into being hope­less­ly over­whelmed or impos­si­bly anx­ious. It is always best if I think of the process in small steps instead of a dis­tant des­ti­na­tion. Col­lab­o­ra­tors are also invalu­able. Many a time, my edi­tor or art direc­tor has helped me through a bumpy bit along the way. And I belong to a most won­der­ful cri­tique group. Togeth­er we cheer and help each oth­er move the books forward.
How do you begin a new book?
I love to sit down in a com­fy chair with a cup of cof­fee, the man­u­script, and a big pile of books. The books are often on artists but I also have a large col­lec­tion of Bologna Annu­als. I keep a sketch­book near­by and let my mind and my pen­cil wander.
For all ears, all eyes, the title page reveals that you com­bined water­col­or and dig­i­tal tech­niques. Could you tell us more about this process?
I strug­gled a lot with tech­nique for this book. Ear­ly on, I exper­i­ment­ed with acrylic and oil. Nei­ther worked. I real­ly want­ed to use water­col­or and I even had a few lessons from my friend, Julie Down­ing, a very accom­plished water­col­or illus­tra­tor, I longed to lay down the paint with the con­fi­dence of a mas­ter, yet I did not have time to mas­ter the tech­nique. Water­col­or involves a lot of lay­er­ing (Julie tells me she can have fifty to eighty lay­ers on a paint­ing). Yet I found the more lay­ers I added to a paint­ing, the more I was afraid I would mess up. With each new lay­er, my ren­der­ing became stiffer and stiffer. In mulling over the prob­lem, I thought I might paint more expres­sive­ly if I knew I could lay­er in Pho­to­shop, thus dis­card­ing any lay­ers I did not like and keep­ing only those I did. This tech­nique gave me the free­dom I craved.
Do you make a con­scious effort to make each book quite dif­fer­ent? Why?
No, it real­ly isn't a con­scious or intel­lec­tu­al choice. There are so many ways to make marks. Shoe Dog was orig­i­nal­ly going to be ren­dered in oil. When he devel­oped into a scrib­ble, it just felt right.
Well and then there is the fact that I love art sup­plies so much. I could spend almost as many hours in an art sup­ply store as in a bookstore.
Do you study oth­er illus­tra­tors' work? What do you see when you do?
Oh, yes! Def­i­nite­ly! There are won­der­ful illus­tra­tors — from all over the world. I have so many favorites. My shelves are over­flow­ing with their pic­ture books. I try to use the library or my book buy­ing habit could eas­i­ly spin out of control.
Most of all, I love how illus­tra­tors extend and enhance the sto­ry­telling, stretch­ing beyond the words. An exam­ple would be Migrant, illus­trat­ed by Isabelle Arse­nault. Well, and then there is Chris Rasch­ka. I love the expres­sive pow­er of his work. Some­thing I am always aspir­ing to. I could keep going and going… I find so much to admire and inspire in my fel­low illus­tra­tors' work.
For all ears, all eyes, you illus­trat­ed a Richard Jack­son man­u­script. He has been your edi­tor for 15 years. Now he's the author. It is typ­i­cal in the pub­lish­ing process that author and illus­tra­tor don't com­mu­ni­cate direct­ly, but rather indi­rect­ly through their edi­tor. How did that work for this book?
When we began, Dick was very involved in both author­ing and edit­ing the book. As the process con­tin­ued, he began to focus more on his writ­ing life. My com­mu­ni­ca­tion con­tin­ued with my new edi­tor, Cait­lyn Dlouhy, and my art direc­tor, Ann Bobco.
I miss Dick as my edi­tor. He is real­ly the one who taught me how to think about pic­ture books, but I was los­ing my vision of the book and try­ing to please every­one. My process was becom­ing scat­tered and dis­con­nect­ed. When we returned to a con­ven­tion­al com­mu­ni­ca­tion mod­el, the book resumed tak­ing shape.
There is noth­ing about the illus­tra­tions in this book that whis­pers "dig­i­tal" to me and yet the copy­right page says "a com­bi­na­tion of water­col­or and dig­i­tal tech­niques." Would you share with us how your dig­i­tal skills have evolved?
Thank you! I use very few of the func­tions avail­able in Pho­to­shop. Most of my com­put­er time has to do with scan­ning and plac­ing the lay­ers (and there are lots of lay­ers). I am con­stant­ly try­ing to find ways to min­i­mize my time on the com­put­er and spend most of my time sketch­ing and paint­ing. I believe that the draw­ing board is where I can find the loose­ness and emo­tion I want.
When you went to art school, what was your vision of your artis­tic future?
I grad­u­at­ed from the Uni­ver­si­ty of Col­orado with an art major with an edu­ca­tion minor. I have always loved mak­ing art, but I did not have a clear vision of how to find a career that incor­po­rat­ed art mak­ing. I took night class­es to devel­op new art-relat­ed skills and through hap­py coin­ci­dence met a fel­low stu­dent who intro­duced me to Har­court in San Fran­cis­co. For many years, I designed edu­ca­tion­al books dur­ing the day and worked on illus­tra­tion sam­ples at night and week­ends. It was­n't until I paint­ed this lit­tle guy (an ear­ly ver­sion of what evolved into Shoe Dog) that doors began to open. Dick Jack­son saw the piece and took a chance on me.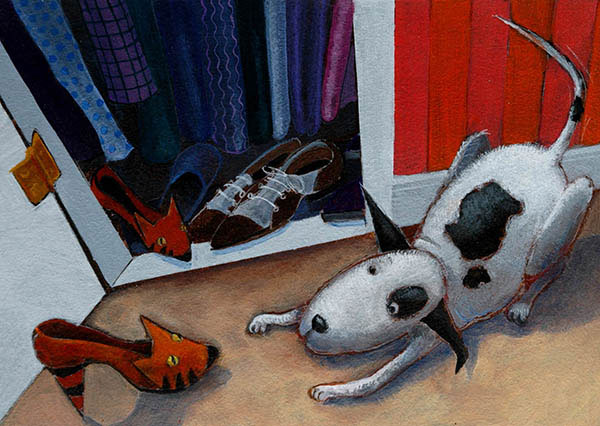 What is your vision of that future now?
I would love to write and illus­trate a sto­ry. I have a cou­ple ideas that I am think­ing about and a few char­ac­ters rat­tling around in my head. Now if I could just get them to come out and play.…
Don't miss Bookol­o­gy's inter­view with the author of all ears, all eyes, Richard Jack­son.
______________________
Thank you, Kather­ine, for let­ting us peek inside your process, your work, and your pas­sion as an illus­tra­tor. We always look for­ward to the next book you're creating.