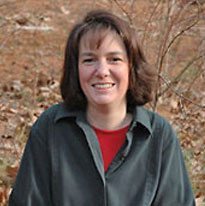 We are so pleased to have author and sci­ence speak­er Melis­sa Stew­art take time away from her very busy book-writ­ing sched­ule to share her answers to burn­ing ques­tions we had after read­ing No Mon­keys, No Choco­late, our Book­storm this month.
Melis­sa, when do book ideas usu­al­ly come knock­ing on your brain?
Ideas can come any­time, any­where — so I always have to be ready. I car­ry a small note­book with me every­where I go. The idea for No Mon­keys, No Choco­late start­ed per­co­lat­ing in my mind when I saw cocoa trees grow­ing in the rain for­est dur­ing a trip to Cos­ta Rica.
As ecosys­tems go, how do you iso­late one and stick to writ­ing about it?
To me, No Mon­keys, No Choco­late isn't real­ly about the rain for­est ecosys­tem, it's about a tree and all the crea­tures it depends on to grow. This is all hap­pen­ing with­in a rain for­est, of course, but my goal was to keep a laser-sharp focus on the tree itself.
You revised this man­u­script 56 times, which you share so thought­ful­ly in class­room-usable detail on your Revi­sion Time­line. Is this typ­i­cal for all of your writ­ing?
For most of my books, I revise a half dozen times, but con­cept pic­ture books like No Mon­keys, No Choco­late often take quite a bit more work. It can take time and a whole lot of tri­al and error to find the very best way to present the infor­ma­tion to young read­ers.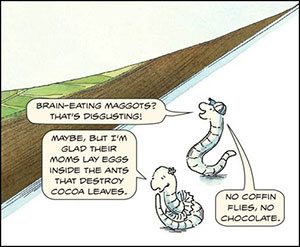 Whose idea was it to include the car­toon com­men­ta­tors on each spread? Do you remem­ber why you decid­ed to include them?
The book­worms were my idea. They have two func­tions — to add humor (which kids love) and to rein­force some of the chal­leng­ing sci­ence ideas pre­sent­ed in the in the book's main text.
What's the most vital take­away you hope to inspire with No Mon­keys, No Choco­late?
I hope it will help chil­dren (and adults) under­stand that every liv­ing thing on Earth is inter­con­nect­ed, and if we want to keep enjoy­ing our favorite things (like choco­late), we need to pro­tect and pre­serve the nat­ur­al world and its amaz­ing cast of crea­tures.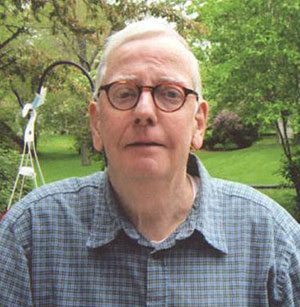 You worked with a co-author on this book. What role did Allen Young play and how did you work togeth­er?
For this book, I need­ed to know all the dif­fer­ent crea­tures that cocoa trees depend on to live and grow and make more cocoa trees. I read every sci­en­tif­ic paper that had ever been writ­ten about cocoa trees, but they didn't have the infor­ma­tion I need­ed. Since it wasn't pos­si­ble for me to spend months observ­ing cocoa trees in the rain for­est, I need­ed to find some­one who had.
That's where Allen Young came in. He's the world's lead­ing expert in cocoa tree growth and he stud­ied cocoa trees in the Cos­ta Rican rain for­est for more than 30 years. I asked Allen if he'd share his knowl­edge with me, and he said, "Yes," as long as he could be the co-author of the book.
So I asked him a bunch of ques­tions to get the infor­ma­tion I need­ed, and then I start­ed to write. Lat­er, Allen read the man­u­script to make sure that every­thing was accu­rate.
What are the sec­ond and third most fas­ci­nat­ing ecosys­tems for you?
Oh boy, every ecosys­tem is fas­ci­nat­ing to me. One ecosys­tem that I'm dying to vis­it is the Amer­i­can South­west­ern desert. I'm hop­ing to trav­el to Ari­zona some­time in the next year.
How do you make sure that the lan­guage and con­cepts in the book fit the intend­ed audi­ence?
Cur­ricu­lum stan­dards, such as the Next Gen­er­a­tion Sci­ence Stan­dards, spec­i­fy what top­ics and con­cepts stu­dents at var­i­ous grade lev­els are study­ing in school, so that helps me decide whether an idea I have will work best as a pic­ture book or an ear­ly read­er or as long-form non­fic­tion for old­er read­ers. Once I know who my audi­ence is, I can adjust the voice, point of view, hook, and text com­plex­i­ty to make the writ­ing inter­est­ing and age-appro­pri­ate.
When you're at a school talk­ing about ecosys­tems, what kind of hands-on activ­i­ties do you do with this book?
Because teach­ers want to pro­vide stu­dents with real-life exam­ples of how revi­sion can improve writ­ing, my school vis­it for No Mon­keys, No Choco­late focus­es on my 10-year process of cre­at­ing the book. I explain why it took so darn long to write the book and why I didn't just give up. My hope is that hear­ing my sto­ry of my strug­gle and ulti­mate suc­cess will encour­age stu­dents to devel­op sta­mi­na as writ­ers.
What has cap­tured your atten­tion cur­rent­ly in the sci­ence realm?
Oh, wow, there is always some­thing new and excit­ing. That's why I love sci­ence. I think it's real­ly inter­est­ing to see all the amaz­ing inno­va­tions in robot research. And I'm also close­ly fol­low­ing sto­ries about new dis­cov­er­ies in space. I'm espe­cial­ly inter­est­ed in know­ing if there real­ly is anoth­er plan­et out there on the lone­ly out­er fringes of our solar sys­tem. More and more, it's look­ing like the answer is "Yes!"