In this inter­view with Melis­sa Sweet, illus­tra­tor of A Riv­er of Words: The Sto­ry of William Car­los Williams, our Book­storm™ this month, we asked six ques­tions and Melis­sa kind­ly took time from her busy days of vis­it­ing schools and cre­at­ing art.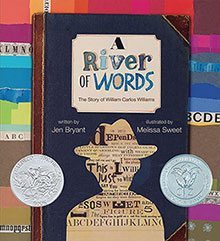 Do you recall the first time you encoun­tered a William Car­los Williams poem?
My first intro­duc­tion to William Car­los Williams was when I was sev­en years old and went to the Met­ro­pol­i­tan Muse­um of Art. I saw a paint­ing by Williams's friend Charles Demuth, based on Williams's poem "The Great Fig­ure." I loved both the paint­ing and the poem.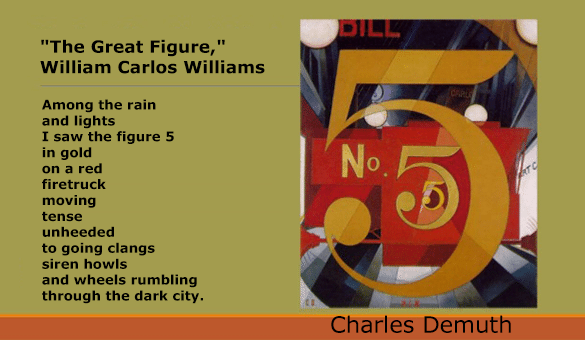 Do you have a list of Most Favorite Poets? Was William Car­los Williams on that list before you began the research for this book? Is he on that list now?
My short list is Mary Oliv­er, Bil­ly Collins, and, yes, William Car­los Williams is now on that list.
When you begin to illus­trate a book like this, what is your very first step? And what do you do next?
First I decide how and where to research. I'm look­ing for clues as to what to draw to inspire the illus­tra­tions. For this book I read biogra­phies about Williams, his poet­ry, and news­pa­per arti­cles about him. It was impor­tant to trav­el to Ruther­ford and Pat­ter­son, NJ, to see where he lived and worked. At the Ruther­ford Pub­lic Library, I saw his bowler hat, his man­u­al type­writer, and the pre­scrip­tion pads he used as a doc­tor. All those things became inspi­ra­tion for the art. Then, back in the stu­dio, I make a dum­my plac­ing the words on the page and begin to sketch to out the paint­ings or col­lages. Last­ly, I make the final art.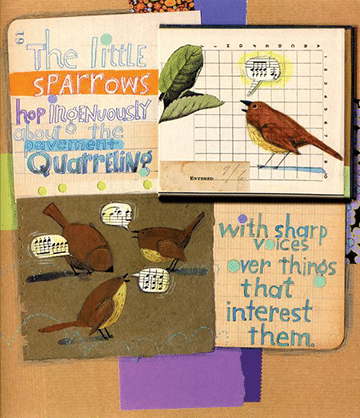 In the book, we see hand­writ­ten bits of poet­ry in sev­er­al dif­fer­ent styles of hand­writ­ing and we also see type­set scraps of paper as well as intrigu­ing bits of type. Do you cre­ate these by hand? By com­put­er? With friend­ly help?
All my art is cre­at­ed by hand — I don't use the com­put­er to make the illus­tra­tions. I cut up old books and use let­ter­ing from wher­ev­er I can find it. Incor­po­rat­ing cal­lig­ra­phy and hand – let­ter­ing into the art makes the piece more fun and live­ly. A type­set font would look very dif­fer­ent, maybe some­what sta­t­ic. In A Riv­er of Words I recre­at­ed Williams's hand­writ­ing in places, and hand – let­tered his poems with­in the art. The con­tent of the poems became the inspi­ra­tion for what to draw.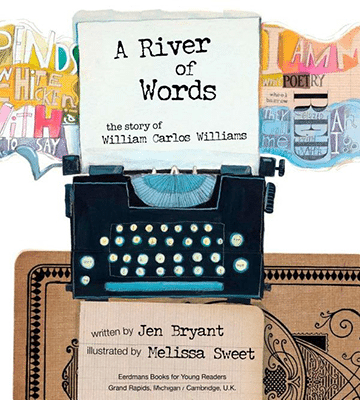 Are there entire spreads you pre­pare that don't make the final cut of the book? When you send the illus­tra­tion in for review by the edi­tor or art direc­tor, do you leave things unglued so they can be moved if request­ed? And what do you use to affix the parts of your col­lage?
Some­times spreads need to be redone, but rarely. The edi­tor and art direc­tor see the dum­my, but typ­i­cal­ly they don't see the art in progress, just the final art. It's dif­fi­cult to plan or sketch a col­lage – it hap­pens as you go along adding and sub­tract­ing ele­ments to make it work visu­al­ly. (Even I don't know exact­ly how the art will look in the end!) I use stick glue, white glue, and depend­ing on the mate­ri­als, I might need some­thing strong like epoxy. Kids often ask how my arts gets "in" the book. My work is gen­er­al­ly pho­tographed since there is too much dimen­sion in the pieces to scan them. Those pho­tos are down­loaded to the design­er and the text is added dig­i­tal­ly.
If you had met William Car­los Williams, what ques­tion would you have asked him?
I have two ques­tions: Where was the red wheel­bar­row? What did you think when you first saw it?
illus­tra­tions in this arti­cle are copy­right © Melis­sa Sweet