It's not often that we get to inter­view a sub­ject expert about a series of books on that expert's area of knowl­edge. We're pleased to talk with the author of the Bel the Weath­er Girl books, six of them, each pre­sent­ing a weath­er top­ic that kids will feel bet­ter about if they under­stand it: clouds, thun­der­storms, hail, tor­na­does, hur­ri­canes, and blizzards.
Many class­rooms are required to teach weath­er. It's our belief that these books can be a spring­board for dis­cussing, explor­ing, and under­stand­ing each top­ic. Give a warm Bookol­o­gy wel­come to Belin­da Jensen, meteorologist.
You're a mete­o­rol­o­gist. What inspired you to cre­ate this series of books?
Sec­ond graders is the easy answer. I have been talk­ing to them for 30 years. These books end­ed up being sto­ries that I told over and over again because I could see the "light bulbs" come on over their heads. These are the sto­ries that stuck because they were good enough to teach them about these weath­er scenarios.
Why do you feel it's impor­tant for chil­dren to bet­ter under­stand the sci­ence behind the weather?
Weath­er is a tan­gi­ble way to teach sci­ence. It is a sci­ence that effects all of us. Kids are so curi­ous to it works so well.
Were Bel the Weath­er Girl and her cousin Dylan, who is often afraid of the weath­er, a part of the books from the very begin­ning? Or did you begin with a dif­fer­ent concept?
Yes I start­ed with the two of them and Stormy their dog of course that then added more. I also want­ed the rain drops/hailstones to have names and be per­son­al­ized but the pub­lish­er did not. Research showed that con­cept wasn't help­ful with learning.
A few of the books take place in a dif­fer­ent set­ting. Clouds takes place out­door on the soc­cer field. Hur­ri­canes is set at Grandpa's house in Flori­da. Thun­der­storms takes place at Bel's house when Dylan is sleep­ing over. How did you decide where to set each of the stories?
I want­ed Bel to be from the Upper Mid­west where I have been talk­ing to the major­i­ty of my stu­dents. I had to, of course, have her trav­el to her grand­par­ents for the hur­ri­cane book, but that itself is a teach­able moment. Do hur­ri­canes direct­ly impact peo­ple in the Upper Mid­west? That works well to explain why they are in Florida.
When did you first become inter­est­ed in weath­er? How did that spur you toward a career as a meteorologist?
I did not have a ther­mome­ter on my crib like many of my col­leagues. I loved earth sci­ence and I loved geog­ra­phy and I had a teacher influ­ence me to look into mete­o­rol­o­gy in High School.
Each of the books includes weath­er facts. Those facts blend beau­ti­ful­ly into the sto­ry. Most authors have to do a great deal of research to ascer­tain that the facts are cor­rect. How did this aspect of the book work for you as a sub­ject expert?
We just had to keep our word count down, and in the right read­ing lev­el. These facts are plen­ti­ful and we just packed in as many as we could!
The back mat­ter in each book includes a glos­sary, a bib­li­og­ra­phy of books for fur­ther read­ing, and an activ­i­ty such as "Make a Thun­der Bag," "Mea­sur­ing Melt," and "Make Play Snow." Were these activ­i­ties you knew about before you wrote the books?
I have done many of these exper­i­ments in class­rooms and con­tin­ue to do them. Kids love experiments.
How would you sug­gest that teach­ers use these books in their classroom?
The cloud book has all of the cur­ricu­lum for 2nd grade weath­er unit in it, the oth­er five books just add on to it and are addi­tion­al resources for them. Each book has great web­sites and oth­er books to also refer too. Each book has a real­ly fun, easy exper­i­ment that they could eas­i­ly do in the classroom.
Have you worked with librar­i­ans to bring these books into the library?
Yes I have spo­ken at many libraries in the last few years.
What kind of feed­back have you received from edu­ca­tors and par­ents? From kids?
I have real­ly got­ten many first­hand accounts of these books help­ing kids, help­ing par­ents, teach­ers explain the nuts and bolts of weath­er to kids. Many of those kids were afraid too and had anx­i­ety about weath­er and these books have helped them.
Are you work­ing on oth­er books for children?
I am not right now, but the stu­dents have giv­en me so many ideas that I know that I will some­day. Bel has many more adven­tures ahead of her.
Is there any­thing else you'd like to share with your readers?
Remem­ber that sci­en­tists come in all sorts of shapes and sizes! Sci­en­tists can be any­one, girls, boys, ath­letes, artists, any­one. The only thing that is nec­es­sary is that you are curi­ous and you could become a scientist.
As an adult, after read­ing these books, I feel smarter, reas­sured, about the weath­er. Tele­vi­sion news shows spend a good deal of time mak­ing us wor­ry about the weath­er. Your books explain what's hap­pen­ing in ways that let me in on the mys­tery. Thanks for mak­ing us smarter about the weath­er, a part of dai­ly life that affects every­one, every­where. I'm con­fi­dent that class­rooms through­out the world will want a set of these books. "Because every day is anoth­er weath­er day." We all need to under­stand the weather.
All titles are avail­able as library bound hard­cov­ers, paper­backs, and mul­ti-user e‑books from Mill­brook Press (avail­able through Lern­er Books). These ISB­Ns are for the paper­back editions: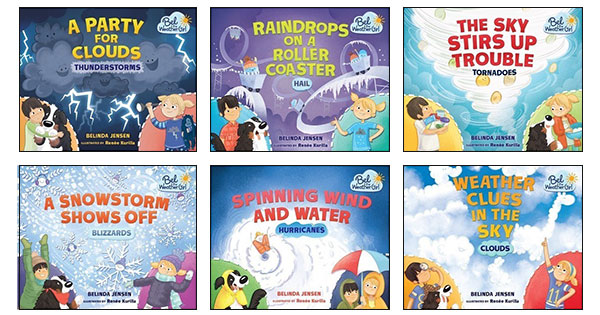 A Par­ty for Clouds: Thun­der­storms, Belin­da Jensen, illus­trat­ed by Renée Kuril­la (ISBN 978−1−4677−9751−1)
Rain­drops on a Roller Coast­er: Hail, Belin­da Jensen, illus­trat­ed by Renée Kuril­la (ISBN 978−1−4677−9747−4)
The Sky Stirs Up Trou­ble: Tor­na­does, Belin­da Jensen, illus­trat­ed by Renée Kuril­la (ISBN 978−1−4677−9753−5)
A Snow­storm Shows Off: Bliz­zards, Belin­da Jensen, illus­trat­ed by Renée Kuril­la (ISBN 978−1−4677−9743−6)
Spin­ning Wind and Water: Hur­ri­canes, Belin­da Jensen, illus­trat­ed by Renée Kuril­la (ISBN 978−1−4677−9749−8)
Weath­er Clues in the Sky: Clouds, Belin­da Jensen, illus­trat­ed by Renée Kuril­la (ISBN 978−1−4677−9745−0)
Belin­da Jensen is cur­rent­ly the chief mete­o­rol­o­gist for KARE-11, the NBC affil­i­ate in Min­neapo­lis and St. Paul, Min­neso­ta. She has worked for the Nation­al Weath­er Ser­vice in Salt Lake City along with the ABC affil­i­ate KTVX in Salt Lake City. She is a grad­u­ate of the Uni­ver­si­ty of Wis­con­sin at Madi­son with a Bach­e­lor of Sci­ence degree in Mete­o­rol­o­gy. She has also done grad­u­ate work in sec­ondary edu­ca­tion through the Uni­ver­si­ty of Utah. She enjoys serv­ing her com­mu­ni­ty through involve­ment in the schools, try­ing to involve stu­dents, par­tic­u­lar­ly girls, in sci­ence. Belin­da is proud of author­ing six children's books about becom­ing weath­er savvy and help­ing kids with weath­er anx­i­ety. Learn more about Bel the Weath­er Girl at her website.
v