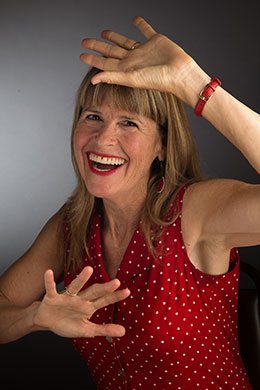 Today we wel­come author and edu­ca­tor April Hal­prin Way­land to Bookol­o­gy. Her most recent pic­ture book, More Than Enough, is a sto­ry about Passover. April was one of nine Instruc­tors of the Year hon­ored by the UCLA Exten­sion Writ­ers' Pro­gram, Cre­ative Writ­ing.
Which celebri­ty, liv­ing or not, do you wish would invite you to a cof­fee shop?
I would LOVE to have cof­fee (one-shot lat­te with extra soy, extra foam) with Crock­ett John­son, author/illustrator of Harold and the Pur­ple Cray­on but most notably for me, author/illustrator of Barn­a­by, a com­ic strip that ran dur­ing WWII (actu­al­ly 1942 – 1952). I think of it as the pre­de­ces­sor of Calvin and Hobbes. Barn­a­by stars five-year-old Barn­a­by Bax­ter and his fairy god­fa­ther Jac­k­een J. O'Mal­ley. Mr. O'Mal­ley con­tin­u­al­ly gets Bar­ney into trou­ble. It's bril­liant.
Which book do you find your­self rec­om­mend­ing pas­sion­ate­ly?
You're jok­ing, right — one book? I'll tell you right this very minute what books (plur­al) I rec­om­mend. But ask me in half an hour and my list will be com­plete­ly dif­fer­ent.
Favorite city to vis­it?
NYC! And Poipu, Kauai! And let's not for­get Lon­don, for heav­en's sake. And any­where my hus­band, my son, or my best two friends are.
Most cher­ished child­hood mem­o­ry?
One August when I was nine or ten, I found a raft by the Feath­er Riv­er, which ran by our farm. I repaired it (I don't remem­ber if an adult helped me or not), then climbed aboard and lay back. The next month, at the begin­ning of the school year, my teacher asked us to choose a word and define it by writ­ing about some­thing that hap­pened that sum­mer. I wrote about that hot sum­mer day on the riv­er. My word? Bliss.
What's your dream vaca­tion?
Like my favorite books, this will change in the next half hour. For right this minute it would involve my hus­band, our lanky, knuck­le-brained dog, Eli, our son and his girl­friend, hik­ing, bik­ing, mead­ows, forests, and arriv­ing at a dif­fer­ent bed-and-break­fast each evening with farm-fresh, just-har­vest­ed food for din­ner, a down quilt each night, and a one-shot lat­te with extra soy, extra foam each morn­ing. 🙂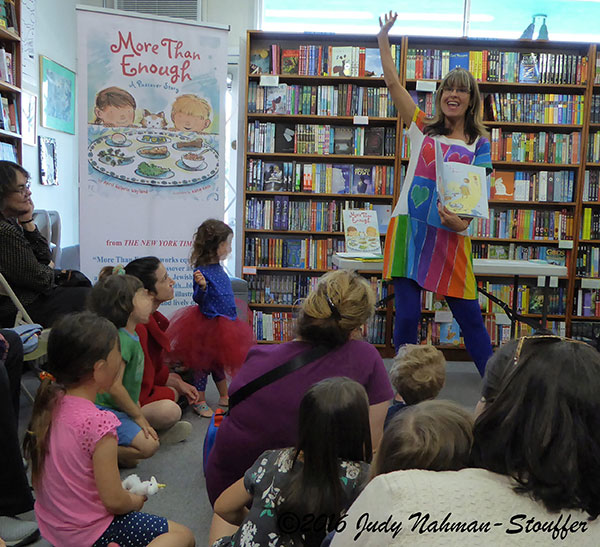 Best tip for liv­ing a con­tent­ed life?
I ask myself a cen­tral, touch­stone ques­tion: Will this action or thought help me to like myself?
So, for exam­ple, each day I might ask myself: Should I say yes to this invi­ta­tion to speak? Should I eat this whole bag of (fill in the blank)? Should I spend an extra half-hour with this per­son, even though I have a pile of work at home? Should I go to this polit­i­cal gath­er­ing? Should I vol­un­teer to help put on an event? Should I skip med­i­ta­tion (or exer­cise or walk­ing the dog) today? Should I pick up that piece of trash I just passed? Do I real­ly need to eat the whole jar? Should I floss my teeth? Should I work on this poem or this book? Should I go to a meet­ing tonight? Should I turn off the com­put­er and spend time with my hus­band, who just got home from work?
If I ask myself that ques­tion, the answer is always clear. I may not choose to act on the obvi­ous answer, but if I do, I feel more con­tent.
Your hope for the world?
That we will be kind to each oth­er.