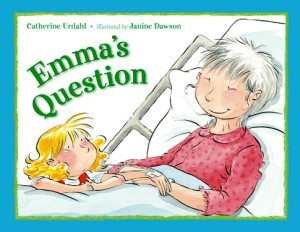 What's your proud­est career moment?
I had just start­ed doing author vis­its and was at a small school that serves a high-risk pop­u­la­tion of stu­dents from preschool through eighth grade. I start­ed with the lit­tle ones, and it went well. I had this. Then a group of TALL sixth through eighth graders saun­tered in. They slumped in their seats and looked away.
My pic­ture book Emma's Ques­tion (my only pub­lished book at that time) is offi­cial­ly for ages 4 to 7, but some­one had told me it didn't mat­ter because every­one liked to hear sto­ries. I wished that some­one was there. I intro­duced myself and start­ed read­ing — though it did not seem like a good idea. When I was a few pages in, I glanced up. The body lan­guage had changed. Stu­dents sat taller. They looked up. When I was fin­ished I read from The Great Gilly Hop­kins and The Lon­don Eye Mys­tery—books that, like Emma's Ques­tion, deal with dif­fi­cult top­ics. I talked about how the stu­dents could write about their own lives.
When I fin­ished, one of the boys walked up and said in a qui­et voice, "I want to be an author when I grow up." I think that was my proud­est moment — or at least my most grate­ful.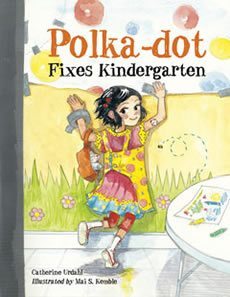 Describe your favorite pair of paja­mas ever.
When I was about six, my grand­ma made match­ing night­gowns for my two sis­ters, my cousin and myself. They had a white back­ground with pink flow­ers. (At least I think they were pink; the pho­to of us, lined up by height, is black and white.) I do remem­ber the feel of the fab­ric — thick cot­ton flan­nel — not the fake-fuzzy poly­ester of store-bought paja­mas. Most of all I remem­ber the sense of belong­ing and secu­ri­ty that comes from match­ing paja­mas. Last year one of my sis­ters bought us match­ing paja­mas. It still works.
What's the bravest thing you've ever done?
I began telling peo­ple I was try­ing to write books for chil­dren. When I was writ­ing in secret, I could quit if it was too hard or just didn't work out. But once peo­ple knew, I felt account­able. One day I found a to-do list writ­ten by my then 9‑year-old daugh­ter. One of the items was Encour­age Mom to get a book pub­lished. This was years before my first book was pub­lished — at a time I was tempt­ed to quit. But what could I do? I kept going. Telling some­one you're pur­su­ing a long-shot dream isn't the same kind of brave as sky­div­ing or pick­ing up a snake (which I did once and will nev­er do again). But some­times it feels just as scary.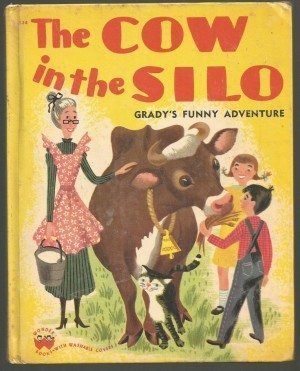 What's the first book you remem­ber read­ing?
I remem­ber my grand­pa read­ing a Lit­tle Gold­en Book—The Cow in the Silo by Patri­cia Good­ell — to my sis­ters and me every time we vis­it­ed. The book is long out of print, and prob­a­bly nev­er received any awards. But I loved it. Maybe that's because my grand­pa, a qui­et farmer from north­ern Min­neso­ta, took time from his field­work and chores to read it again and again and again. And maybe because, in the end, Mrs. O'Crady solves the prob­lem of the stuck cow by cov­er­ing her in Crisco and push­ing her through the door. Bril­liant. And prob­a­bly the best use of Crisco ever.
What TV show can't you turn off?
I don't know whether I should admit this, but it's Gilmore Girls. I love the cast of quirky char­ac­ters, each of them dis­tinct and full of enough con­tra­dic­tions and imper­fec­tions to make them love­able and believ­able in a real­ly weird way. I also enjoy the strange pop cul­ture ref­er­ences and the speedy-quick dia­logue. I once read that the scripts ran about 77 – 78 pages, com­pared to 50 – 55 pages for a typ­i­cal show with the same run­ning time. I think about pic­ture book writ­ers like myself strug­gling to write short­er and short­er man­u­scripts and won­der whether we could apply the Gilmore Girls trick (or some­thing like it). Maybe tiny type?