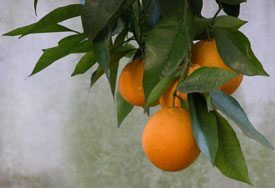 What is your favorite hol­i­day tra­di­tion:
When I was four­teen years old I assumed the role of Christ­mas Ambrosia Mak­er in my south­ern-nov­el of a fam­i­ly. I was the youngest appointee, ever, and sur­pris­ing, as it requires weld­ing a very sharp ser­rat­ed knife, but I had a knack for it. We were a "fruit-rich" fam­i­ly due to a small, scrag­gly orange grove west of Vero Beach, FL. You need­ed to be fruit-rich because my fam­i­ly ambrosia method requires cut­ting deep into the naval skin to not only remove the white pith, but to also cut into the tiny juicy orange cells, leav­ing a lit­tle rib­bon of actu­al orange on the spi­ral skin. This is why our ambrosia is bet­ter than any oth­er you will taste. Ever. But. You need a lot of oranges for this method.
When I was six­teen, and had faith­ful­ly repeat­ed the recipe for two years, I removed the tra­di­tion­al canned pineap­ple. Scan­dal! There were arched eye­brows from my grand­moth­er. When I was sev­en­teen, I removed the coconut, and my moth­er raised her eye­brows. But once the knife had been passed, it turned out you can do what you want, my first taste of fam­i­ly matri­ar­chal pow­er. Now we have ambrosia just how I like it: plain, un-doc­tored naval oranges in a brim­ming bowl. And I now add fine­ly chopped mint. My daugh­ter will prob­a­bly remove it one day.
Long answer to a short ques­tion.
Were you a teacher's pet or teacher's chal­lenge?
My teach­ers loved me because I was a per­fec­tion­ist amid a pack of wild Flori­da boys. In those days we received paper report cards where teach­ers could write, in gor­geous script, com­ments for each child. A reoc­cur­ring com­ment was: "Deb­bie is an excel­lent stu­dent how­ev­er she is very hard on her­self."
Lit­tle did I know that this would be the report card for my life…
What was the first book report you ever wrote?
I don't remem­ber my first book report but I remem­ber Book Reports. I always drew the cov­er and an illus­tra­tion in a care­ful­ly mea­sured box. My favorite book was read aloud in the fourth grade by a long-term sub­sti­tute. It was a des­per­ate attempt to con­trol an unruly class — and it worked mirac­u­lous­ly well: The Year­ling, by Mar­jorie Ken­nan Rawl­ings, trumped 25 Flori­da ruf­fi­ans com­mit­ted to ruin­ing a substitute's life. My report on the book was filled with pic­tures of fawns, curled in the Flori­da scrub, and bound­ing in the cab­in yard. This book changed my life for­ev­er, as hear­ing it kept the divorce – wracked world at bay, and I real­ized that sto­ries were the ulti­mate mag­ic, some kind of med­i­cine for the heart.
Do you like to gift-wrap presents?
When I was grow­ing up wrap­ping presents was con­sid­ered An Art. I was taught to care­ful­ly fold tucked in cor­ners, and to make sure the scotch tape was per­pen­dic­u­lar to the gift's base line. My moth­er, some­how, got on the mail­ing list for the Neiman Mar­cus Christ­mas cat­a­log. She could nev­er have afford­ed to order any­thing but she stud­ied the wrap­ping meth­ods in the over-the-top sec­tion. I remem­ber one par­tic­u­lar wrap­ping that she showed me with such amaze­ment: Take ten cash­mere sweaters, each a dif­fer­ent bright col­or. Find a very tall glass con­tain­er, prefer­ably shaped like a foun­tain soda glass. Lay each sweater in the glass so as to appear to be a lay­er of ice cream. Add a bow to the base, and save a white sweater for the whipped-cream top.
So, yes, I grew up lov­ing to wrap presents, wrapped at a depart­ment store for a teen job, and now…am the worst present-wrap­per you ever met. Slop­py, I use recy­cled paper and bags, and nev­er match my cor­ners. What hap­pened?! But I STILL often think about my mother's delight in the ice cream glass filled with cash­mere sweaters—
What do you wish you could tell your 10-year old self?
Laugh more. I was a seri­ous child, and had this thing for doing every­thing too, too per­fect­ly. The report cards were right: Light­en up, for heaven's sake, Debra! But I could tell myself that TODAY, too!
What 3 children's book authors or illus­tra­tors or edi­tors would you like to invite to din­ner?
OK, defy­ing The Rules of Time my guests would be: Mar­jorie Kin­nan Rawl­ings, after orange sea­son so she is relaxed and she can bring Max Perkins as her date, Ursu­la Nord­strom, after fin­ish­ing Car­rot Seed with Ruth Krauss so she is pleased as punch, and Ursu­la LeGuin, so things are always look­ing for­ward with her remark­able mind and its insis­tence on rec­og­niz­ing the fem­i­nine in us all.
Let's make the din­ner in NYC, some­where street lev­el, with red leather booths but we take the round table in the win­dow, beneath the tied back drapes…Candles on the table, wine ordered.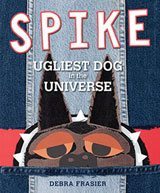 Where's your favorite place to read?
My favorite place to read has more to do with time than place — I most like to read wher­ev­er I feel there is space, psy­chic space, I mean. I love to read, for exam­ple, when trav­el­ing, espe­cial­ly in the air if it is not bumpy. There is a lot of psy­chic space in an air­plane, unteth­ered to all those strings below. I also have a lit­tle sleep­ing loft in a North Car­oli­na cab­in that you get to by a rope sus­pend­ed lad­der — per­fect read­ing space, and once again, up high, always sum­mer, always unteth­ered. But if I wait­ed for an air­plane or sum­mer, I'd nev­er read, so I squeeze read­ing into a lot of odd spaces: before sleep, wait­ing in lines, over lunch, in my studio…In lat­er life I have devel­oped a severe addic­tion to nar­ra­tive so I have to ration myself or I will stay up all night try­ing to find out the age old question's answer: What hap­pens NEXT? At night I have to read only cook­books because it does not mat­ter so much what hap­pens next and I can turn the light off at a sen­si­ble time and go to sleep. Seri­ous­ly. It's a prob­lem.