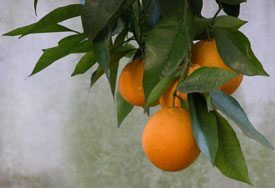 What is your favorite holiday tradition:
When I was fourteen years old I assumed the role of Christmas Ambrosia Maker in my southern-novel of a family. I was the youngest appointee, ever, and surprising, as it requires welding a very sharp serrated knife, but I had a knack for it. We were a "fruit-rich" family due to a small, scraggly orange grove west of Vero Beach, FL. You needed to be fruit-rich because my family ambrosia method requires cutting deep into the naval skin to not only remove the white pith, but to also cut into the tiny juicy orange cells, leaving a little ribbon of actual orange on the spiral skin. This is why our ambrosia is better than any other you will taste. Ever. But. You need a lot of oranges for this method.
When I was six­teen, and had faith­ful­ly repeat­ed the recipe for two years, I removed the tra­di­tion­al canned pineap­ple. Scan­dal! There were arched eye­brows from my grand­moth­er. When I was sev­en­teen, I removed the coconut, and my moth­er raised her eye­brows. But once the knife had been passed, it turned out you can do what you want, my first taste of fam­i­ly matri­ar­chal pow­er. Now we have ambrosia just how I like it: plain, un-doc­tored naval oranges in a brim­ming bowl. And I now add fine­ly chopped mint. My daugh­ter will prob­a­bly remove it one day.
Long answer to a short question.
Were you a teacher's pet or teacher's challenge?
My teachers loved me because I was a perfectionist amid a pack of wild Florida boys. In those days we received paper report cards where teachers could write, in gorgeous script, comments for each child. A reoccurring comment was: "Debbie is an excellent student however she is very hard on herself."
Lit­tle did I know that this would be the report card for my life…
What was the first book report you ever wrote?
I don't remember my first book report but I remember Book Reports. I always drew the cover and an illustration in a carefully measured box. My favorite book was read aloud in the fourth grade by a long-term substitute. It was a desperate attempt to control an unruly class—and it worked miraculously well: The Yearling, by Marjorie Kennan Rawlings, trumped 25 Florida ruffians committed to ruining a substitute's life. My report on the book was filled with pictures of fawns, curled in the Florida scrub, and bounding in the cabin yard. This book changed my life forever, as hearing it kept the divorce–wracked world at bay, and I realized that stories were the ultimate magic, some kind of medicine for the heart.
Do you like to gift-wrap presents?
When I was growing up wrapping presents was considered An Art. I was taught to carefully fold tucked in corners, and to make sure the scotch tape was perpendicular to the gift's base line. My mother, somehow, got on the mailing list for the Neiman Marcus Christmas catalog. She could never have afforded to order anything but she studied the wrapping methods in the over-the-top section. I remember one particular wrapping that she showed me with such amazement: Take ten cashmere sweaters, each a different bright color. Find a very tall glass container, preferably shaped like a fountain soda glass. Lay each sweater in the glass so as to appear to be a layer of ice cream. Add a bow to the base, and save a white sweater for the whipped-cream top.
So, yes, I grew up lov­ing to wrap presents, wrapped at a depart­ment store for a teen job, and now…am the worst present-wrap­per you ever met. Slop­py, I use recy­cled paper and bags, and nev­er match my cor­ners. What hap­pened?! But I STILL often think about my mother's delight in the ice cream glass filled with cash­mere sweaters—
What do you wish you could tell your 10-year old self?
Laugh more. I was a serious child, and had this thing for doing everything too, too perfectly. The report cards were right: Lighten up, for heaven's sake, Debra! But I could tell myself that TODAY, too!
What 3 children's book authors or illustrators or editors would you like to invite to dinner?
OK, defying The Rules of Time my guests would be: Marjorie Kinnan Rawlings, after orange season so she is relaxed and she can bring Max Perkins as her date, Ursula Nordstrom, after finishing Carrot Seed with Ruth Krauss so she is pleased as punch, and Ursula LeGuin, so things are always looking forward with her remarkable mind and its insistence on recognizing the feminine in us all.
Let's make the din­ner in NYC, some­where street lev­el, with red leather booths but we take the round table in the win­dow, beneath the tied back drapes…Candles on the table, wine ordered.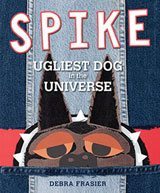 Where's your favorite place to read?
My favorite place to read has more to do with time than place—I most like to read wherever I feel there is space, psychic space, I mean. I love to read, for example, when traveling, especially in the air if it is not bumpy. There is a lot of psychic space in an airplane, untethered to all those strings below. I also have a little sleeping loft in a North Carolina cabin that you get to by a rope suspended ladder—perfect reading space, and once again, up high, always summer, always untethered. But if I waited for an airplane or summer, I'd never read, so I squeeze reading into a lot of odd spaces: before sleep, waiting in lines, over lunch, in my studio…In later life I have developed a severe addiction to narrative so I have to ration myself or I will stay up all night trying to find out the age old question's answer: What happens NEXT? At night I have to read only cookbooks because it does not matter so much what happens next and I can turn the light off at a sensible time and go to sleep. Seriously. It's a problem.