What ani­mal are you most like?
Prob­a­bly a cat. I'm very inde­pen­dent, I love to sit in a pud­dle of warm sun, I spend a lot of my free time watch­ing birds, and I'm very attached to my home. (I would have said a dog, but I'm not that obe­di­ent!)
Which book of yours was the most dif­fi­cult to write or illus­trate?
There were sev­er­al rea­sons why my verse nov­el Ring­side 1925: Views from the Scopes Tri­al was the most dif­fi­cult to write. I want­ed to tell the sto­ry in many voic­es, so I had to exper­i­ment with how to keep the real/ his­tor­i­cal events mov­ing for­ward, while at the same time keep­ing track of the fic­tion­al char­ac­ters and how they were grow­ing and chang­ing and inter­act­ing with one anoth­er. I used a LOT of those bright­ly col­ored sticky notes! I also used my husband's pool table to peri­od­i­cal­ly lay out the pages for each sec­tion so that I could phys­i­cal­ly see where and how each char­ac­ter was con­tribut­ing to the sto­ry. I also faced the chal­lenge of mak­ing a tri­al that was (quite unlike the Lind­bergh baby kid­nap­ping tri­al, which cen­tered on a bru­tal crime) very philo­soph­i­cal and full of "legalese" into an enter­tain­ing and more eas­i­ly under­stand­able nar­ra­tive.
Which of your books would make a good movie and who would be the star?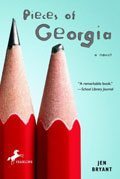 I think sev­er­al of my nov­els would be good screen­play mate­r­i­al, but I think if Pieces of Geor­gia is ever made into a fea­ture film, I would want Robert Duvall to play Andrew Wyeth, Sab­ri­na Car­pen­ter (a south­east­ern PA native) to play Geor­gia, and Matthew McConaugh­ey to play Georgia's father.
What's your favorite line from a book?
"There's no place like home." –from L. Frank Baum's The Won­der­ful Wiz­ard of OZ.
What book do you tell every­one to read?
The Sto­ry of Edgar Sawtelle, by David Wrob­lews­ki. It's bril­liant. I was so relieved to read in the back mat­ter that it took him more than 10 years to write. It's scaf­fold­ed on the Ham­let tale, but set in rur­al Wis­con­sin in the 1970's. (It's also a book that I only rec­om­mend to peo­ple who love dogs and who are empa­thet­ic.)
Are you a night owl or an ear­ly bird?
Actu­al­ly, I'm nei­ther one. I'm very bor­ing in that regard — my best, most pro­duc­tive hours are gen­er­al­ly 9am to 5pm.
Were you most like­ly to vis­it the school office to deliv­er attendance/get sup­plies, vis­it the nurse, or meet with the prin­ci­pal?
Hmmm…. That was a long time ago! I'd say prob­a­bly to deliv­er attendance/ get sup­plies. I was a reli­able kid, although I'll bet I made sev­er­al unsched­uled stops on the way there and back. I've always been pret­ty dis­tractible!