What animal are you most like?
Probably a cat. I'm very independent, I love to sit in a puddle of warm sun, I spend a lot of my free time watching birds, and I'm very attached to my home. (I would have said a dog, but I'm not that obedient!)
Which book of yours was the most difficult to write or illustrate?
There were several reasons why my verse novel Ringside 1925: Views from the Scopes Trial was the most difficult to write. I wanted to tell the story in many voices, so I had to experiment with how to keep the real/ historical events moving forward, while at the same time keeping track of the fictional characters and how they were growing and changing and interacting with one another. I used a LOT of those brightly colored sticky notes! I also used my husband's pool table to periodically lay out the pages for each section so that I could physically see where and how each character was contributing to the story. I also faced the challenge of making a trial that was (quite unlike the Lindbergh baby kidnapping trial, which centered on a brutal crime) very philosophical and full of "legalese" into an entertaining and more easily understandable narrative.
Which of your books would make a good movie and who would be the star?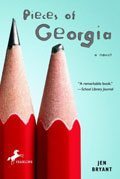 I think several of my novels would be good screenplay material, but I think if Pieces of Georgia is ever made into a feature film, I would want Robert Duvall to play Andrew Wyeth, Sabrina Carpenter (a southeastern PA native) to play Georgia, and Matthew McConaughey to play Georgia's father.
What's your favorite line from a book?
"There's no place like home." –from L. Frank Baum's The Wonderful Wizard of OZ.
What book do you tell everyone to read?
The Story of Edgar Sawtelle, by David Wroblewski. It's brilliant. I was so relieved to read in the back matter that it took him more than 10 years to write. It's scaffolded on the Hamlet tale, but set in rural Wisconsin in the 1970's. (It's also a book that I only recommend to people who love dogs and who are empathetic.)
Are you a night owl or an early bird?
Actually, I'm neither one. I'm very boring in that regard—my best, most productive hours are generally 9am to 5pm.
Were you most likely to visit the school office to deliver attendance/get supplies, visit the nurse, or meet with the principal?
Hmmm…. That was a long time ago! I'd say probably to deliver attendance/ get supplies. I was a reliable kid, although I'll bet I made several unscheduled stops on the way there and back. I've always been pretty distractible!