Lau­ra Pur­die Salas is a poet, a researcher, and a pop­u­lar vis­it­ing author in ele­men­tary and mid­dle schools. Sev­er­al of her books have turned heads and stirred up a buzz, includ­ing Water Can Be … and If You Were the Moon. She has pub­lished many books about writ­ing for chil­dren and fre­quent­ly speaks at con­fer­ences. We're pleased that this very busy author is spend­ing some time with Bookol­o­gy this month.
What's the weird­est place you've ever read a book?
Perched in a tree and lying under­neath a tram­po­line in the shade were two favorite spots when I was a kid grow­ing up in Flori­da. I have also read books on bor­ing car­ni­val rides, dur­ing recitals (don't tell!), and while canoe­ing. There is pret­ty much no place I would not be hap­py to read a book.
What is the pre­dom­i­nant col­or in your wardrobe?
Black, but that sounds so sad! I live in yoga pants in my dai­ly life, and black ones are the most flat­ter­ing. My top half is usu­al­ly more col­or­ful — I swear! — and blues and pur­ples are my favorite col­ors to dress in.
Which library springs to your mind when some­one says that word? What do you remem­ber most about it?
The orig­i­nal Win­ter Park, Flori­da, Library. I would ride my bike to the small, ancient-look­ing build­ing once or twice a week. When I would walk between the tall white columns to go inside, it was like enter­ing anoth­er plan­et. Big wood­en card cat­a­logs. The bustling hush of peo­ple walk­ing pur­pose­ful­ly around. The children's area, where I knew I was sup­posed to be. The rest of the library, where I wan­dered around and learned about the world beyond the hap­py lit­tle children's books. I can still pic­ture the wall around the cor­ner that had all the mys­ter­ies, where I worked my way through the Agatha Christies. I felt like every­one there was smart and hap­py, and I knew books were the rea­son. l always checked out as many books as I could jug­gle home. Halfway through my child­hood, they built a new library, which was very nice and mod­ern­ized and big­ger. I know I used that one con­stant­ly, too. But my mem­o­ries are all of the first one — my very first library.
Which book that you read as a child has most influ­enced your life?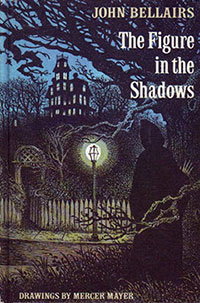 I devoured books like they were pota­to chips, and I went for quan­ti­ty — and escapism. I lost myself in books, and they were sort of like lost dreams after­ward. I don't remem­ber too many indi­vid­ual books, but The Fig­ure in the Shad­ows, by John Bel­lairs, was a big favorite. It showed me that fam­i­ly isn't restrict­ed to your bio­log­i­cal fam­i­ly. And it scared the bejee­bers out of me — I loved it! Two oth­ers I read around (I think) 7th grade, Crooked House, by Agatha Christie, and Flow­ers for Alger­non, by Daniel Keyes, still haunt me a lit­tle. SPOILER ALERT: In Crooked House, the mur­der­er is a child, which total­ly shocked me. Not a mis­un­der­stood child. Not a men­tal­ly ill child. A greedy, self­ish child the same age I was when I read the book. It made me think about the enor­mous capac­i­ty for good and evil human beings have. Flow­ers for Alger­non, which I recent­ly reread, shaped my thoughts about love, intel­li­gence, kind­ness, and the lim­its of sci­ence. And it broke my heart.
Have you trav­eled out­side of the Unit­ed States? Which coun­try is your favorite to vis­it? Why?
In the past ten years, I've got­ten to vis­it Scot­land twice, Ire­land, France, Aus­tria, the Czech Repub­lic, and Ice­land. So far, Scot­land is my favorite — so beau­ti­ful and with so much his­to­ry. Famil­iar enough to be com­fort­able, but for­eign enough to be an adven­ture. But see­ing the North­ern Lights in Ice­land was my favorite sin­gle event while trav­el­ing. This world is just so amaz­ing.
What's the last per­for­mance you saw at a the­ater?
Improv com­e­dy at Com­e­dyS­portz in Min­neapo­lis. Improv is so much fun — watch­ing peo­ple cre­ate sto­ries, live, in the moment, is incred­i­ble. It's like being thrown into a thun­der­storm of a first draft, and you nev­er know when light­ning will strike.
When you walk into a bak­ery, what are you most like­ly to choose from the bak­ery cas­es?
Some­thing frost­ed! Or with gooey caramel. Or with a mousse. When I buy cup­cakes, I always ask the bak­er to choose the one with the most frost­ing for me. It dri­ves me nuts on bak­ing shows when a judge will say with dis­dain, "This cream cheese frost­ing is just too sweet." Or "You have way too much but­ter­cream on this cake." Sci­en­tif­i­cal­ly impos­si­ble state­ments, in my opin­ion.
If you had a choice, would you live under the ocean or in out­er space, and why?
Out­er space fas­ci­nates me, but I'd want to live in the ocean. The idea that there are still so many mys­ter­ies and unex­plored places on our very own plan­et is crazy! Plus the ocean is so … water­col­ory and gor­geous and tran­quil. Out­er space seems less hos­pitable — all dark­ness and sharp­ness and emp­ty space.
If you could write any book and know that it would be pub­lished and tens of thou­sands of peo­ple would read it, which book would you write?
I would write a pic­ture book, maybe a poem, that would reas­sure kids that they are who they choose to be. They are not defined by their home, their fam­i­ly, or their family's jobs, income, cars, edu­ca­tion lev­el, ill­ness­es … But with­out sound­ing preachy, of course! :>)