We inter­viewed Lin­da Sue Park, vet­er­an author and New­bery medal­ist, whose books have inspired chil­dren in many ways, appeal­ing to a wide range of read­ers with books like A Sin­gle Shard, The Mul­ber­ry Project, Keep­ing Score, Yaks Yak, and A Long Walk to Water.
Which celebri­ty, liv­ing or not, do you wish would invite you to a cof­fee shop?
My pater­nal grand­moth­er, whom I nev­er got to meet. How­ev­er, I sus­pect she would­n't invite me to a cof­fee shop; she'd invite me for naeng-myun instead (Kore­an cold noo­dle soup. Deli­cious.). And I real­ize that she is not a celebri­ty in the con­ven­tion­al sense, but I believe that all brave women should be.
Which book do you find your­self rec­om­mend­ing pas­sion­ate­ly?
Cur­rent­ly: All Amer­i­can Boys, by Jason Reynolds and Bren­dan Kiely
What's your favorite late-night snack?
Real­ly good guac with real­ly fresh chips. I will eat mediocre chips if they're all that's avail­able. The guac is what mat­ters.
Favorite city to vis­it?
New York!
Most cher­ished child­hood mem­o­ry?
Sat­ur­day morn­ings at the pub­lic library.
First date?
Roller-skat­ing and ice cream, 6th grade, with a boy named Cur­tis. Where is he now?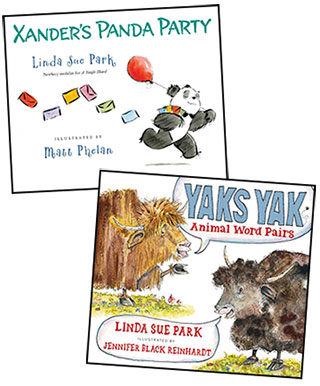 Illustrator's work you most admire?
UNFAIR ques­tion. Reg­is­ter­ing protest by not answer­ing.
No, strike that: I'll name the illus­tra­tors of my two most recent pic­ture books: Matt Phe­lan (Xander's Pan­da Par­ty) and Jen­nifer Black Rein­hardt (Yaks Yak). 'Admire' is too staid. Their work for my texts THRILLED me.
Tea? Cof­fee? Milk? Soda? What's your favorite go-to drink?
Tea in the morn­ing, espres­so once or twice a day, swee' tea when I'm in the South. My go-to is water.
What's your dream vaca­tion?
Snor­kel­ing, read­ing on a beach, and eat­ing fab­u­lous food, both street and fine din­ing, with fam­i­ly and/or friends, some­where that has live­ly out­door mar­kets.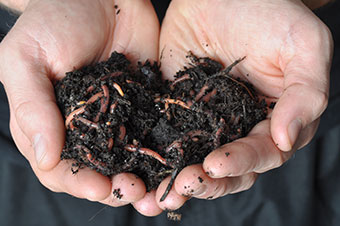 What gives you shiv­ers?
Worms.
Morn­ing per­son? Night per­son?
NIGHT. Morn­ing is a recur­ring insult to the psy­che.
What's your hid­den tal­ent?
It has fad­ed with time, but I used to be able to iden­ti­fy red M&Ms blind­fold­ed.
Your favorite can­dy as a kid …
As a kid? Why not now? As a kid: Bit O'Honey. As an adult: pecan rolls.
Is Plu­to a plan­et?
Of course not. He's Popeye's neme­sis — that big guy, with the arms. 😉
What's the strangest tourist attrac­tion you've vis­it­ed?
The DMZ, bor­der between North and South Korea.
Broth­er and sis­ters or an only child? How did that shape your life?
One of each. I'm the old­est. I don't think my life has a shape. Or maybe it's con­stant­ly chang­ing.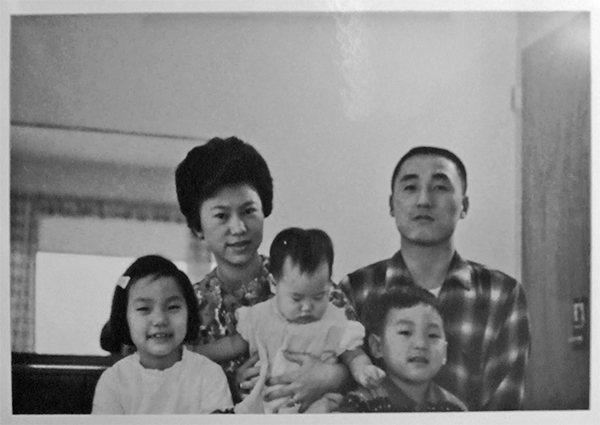 Best tip for liv­ing a con­tent­ed life?
1) Find a way to do work that you love. 2) When you've got the blues, do some­thing for some­one else.
Your hope for the world?
Every child a read­er.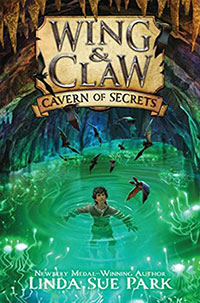 Lin­da Sue, thanks for these can­did answers for our Bookol­o­gy read­ers. If they haven't read all of your pre­vi­ous­ly pub­lished books, we encour­age them to have a Lin­da Sue Park read-a-thon. Could you share with us which books comes out next?
I hope you'll enjoy the sec­ond book in the Claw & Wing series, Cav­ern of Secrets. It fol­lows Book #1, For­est of Won­ders. You'll find the book in book­stores on March 7, 2017. Raf­fa sets off on a treach­er­ous jour­ney across Obsidia to save his friends and fam­i­ly … and the world!