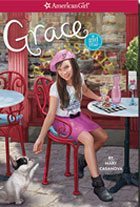 What keeps you up at night?
I have two kinds of sleep­ers in me: 1) the one who sleeps sound­ly from the moment my head hits the pil­low until morn­ing and 2) the rest­less non-sleep­er (usu­al­ly hor­mone induced) who keeps an ear open for the cat, Apol­lo, meow­ing at the door; who hears one of our three dogs — Kito, Sam, or Mat­tie — every time they get up to lap at the water bowl, which I imag­ine must be get­ting low and so I climb from under my cov­ers to go check; the sleep­er whose mind starts whip­ping through a "rolodex of wor­ries" or pos­si­ble sto­ry ideas (I have a one-word mantra I use to stop the whirring and it's SLEEP); and the sleep­er with rest­less legs syn­drome, which feels exact­ly like worms crawl­ing in my legs until I move them around, or as I've dis­cov­ered, get up and do ten min­utes of stretch­ing. Sleep­er #2 needs three cups of strong cof­fee to get going in the morn­ing.
What is your proud­est career moment?
Oh, there have been many mov­ing, hum­bling, amaz­ing expe­ri­ences with fans. But just recent­ly, at an ele­men­tary school in Duluth, Min­neso­ta I had anoth­er. I'd picked kids to come up and help act out One-Dog Canoe in front of the audi­ence with a lam­i­nat­ed red paper canoe and pup­pets. As we neared the end of the skit, one boy who had­n't been select­ed, bar­reled up unex­pect­ed­ly, seized the micro­phone from my hand, and shout­ed into it "Can I come, too?!!!" I was sur­prised, but before I knew it he ran off as an adult made a dash for him. Turned out, he was a boy with autism who rarely tuned in to what was going on around him. But from the back of the audi­to­ri­um, he'd become ful­ly engaged in the sto­ry and skit and want­ed to be part of it. As the teacher said, "You con­nect­ed with him and he was right there with you!"
Describe your most favorite pair of paja­mas ever.
Two years ago I ordered paja­mas for myself for Christ­mas from Bed­Head. Pricey. More than the cheap pj's I had always set­tled for. The red, gray, and light blue pais­ley pat­tern has fad­ed (they were pret­ty wild at first), but from the start, they've been soft and com­fy and wel­com­ing. Paja­mas should say "Ahhh." These do.
In what Olympic sport would you like to win a gold medal?
Because I love hors­es (we own three: Sable, Gin­ger, and Mid­night,) I'd def­i­nite­ly do an equine event. And if I knew I'd win gold and not break my neck, I'd go for three-day event­ing, which involves cross-coun­try jump­ing, dres­sage, and sta­di­um jump­ing. Short of that, I'll have to set­tle for occa­sion­al 3‑day horse-camp­ing trips, trail-rid­ing, and rid­ing at a friend's indoor are­na, just a few miles down the road.
What's the bravest thing you've ever done?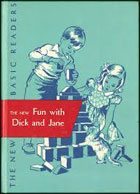 The bravest thing? I wrote a first nov­el and fin­ished the draft. And sec­ond, once pub­lished, I braved my deep and pro­found fear of speak­ing. Only by speak­ing count­less times, over and over and over, did I grad­u­al­ly over­come the clenched stom­ach, vis­i­ble shak­ing, and sense of impend­ing death. I told myself, "Do this for your books. It won't kill you, even if it feels like it will." And now, to my utter amaze­ment, the fear is 99% gone and I enjoy shar­ing with audi­ences. I nev­er thought that would be pos­si­ble.
What's the first book you remem­ber read­ing?
I remem­ber Dick and Jane books in 1st grade and thought they were incred­i­bly dull and bor­ing sto­ries. If this was "read­ing," I was­n't impressed. It took Char­lot­te's Web, per­haps in 3rd or 4th grade, to change my atti­tude toward books.