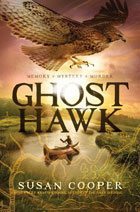 What ani­mal are you most like?
I'm a giraffe. A medi­um-sized giraffe, because I was tall when I was young, but now — to my fury — I've passed the age when you begin to shrink. A giraffe is shy, and does­n't make much noise: that's me, I think. The giraffe and I are both good at look­ing around and notic­ing things — though in my case I'm col­lect­ing mate­r­i­al for books, and in hers she's look­ing out for the lion who wants to eat her. The giraffe is good at pol­li­nat­ing flow­ers and spread­ing seeds while she's brows­ing on tree­tops, and I do those things while I'm gar­den­ing. And we both have spe­cial friends, though we don't belong to a herd.
Oh yes, and we both have long eye­lash­es.
Which book of yours was the most dif­fi­cult to write?
It's called Sil­ver on the Tree, and it drove me mad. It was the last in a sequence of five books called The Dark Is Ris­ing, so it had to tie togeth­er all the strands of sto­ry in the first four books, and rise to a ter­rif­ic cli­max in which good tri­umphs over evil. Writ­ing it took twice as long as any of the oth­er four. There are things in it that I love, though I nev­er did feel the cli­max was ter­rif­ic enough. But when I wrote the last page, I cried, because I'd lived with my fam­i­ly of char­ac­ters through five books and I was nev­er going to see them again.
Which of your books would make a good movie and who would be the star?
One of my books has been a bad movie, with a sto­ry remark­ably unlike the one I wrote. But I'd love to see a book called King of Shad­ows made into a film, ide­al­ly by Wes Ander­son. It's about a mod­ern boy actor who finds him­self back in Eliz­a­bethan Eng­land, act­ing oppo­site William Shake­speare in the Globe The­atre. So the star would be a boy actor whom nobody's yet heard about. And Shake­speare would be played by.……got any ideas?
What book do you tell every­one to read?
The next one by Mar­cus Sedg­wick or William Alexan­der.
Are you a night owl or an ear­ly bird?
In my twen­ties I was a night owl, sit­ting up late writ­ing books after spend­ing the day as a news­pa­per reporter. In my thir­ties I had young chil­dren, so I was up both ear­ly and late. Grad­u­al­ly since then I've turned into an ear­ly bird — because today I live on an island in an estu­ary salt­marsh, where I open my eyes in the morn­ing to the sun­rise. Every day it's dif­fer­ent, every day it's beau­ti­ful. Can I show you one?