We're thrilled to Skin­ny Dip with out­stand­ing edu­ca­tor Suzanne Cost­ner, Thanks to Suzanne for answer our ques­tions dur­ing her very busy end-of-the-school-year hours.
Who was your favorite teacher in grades K‑7 and why?
My favorite teacher was Mrs. Hill in 4th grade. She read to us every day after lunch: Stu­art Lit­tle, Where the Red Fern Grows, James and the Giant Peach. She intro­duced us to so many awe­some writ­ers that I still go back and reread.
When did you first start read­ing books?
I can't remem­ber a time that I didn't read. I still have my first lit­tle cloth book that I chewed on as a baby. My grand­moth­er had a set of Dr. Seuss books on the shelf and read them to me when­ev­er I stayed with her. I was read­ing on my own before I start­ed kinder­garten.
Your favorite day­dream?
In my day­dream, I am liv­ing in a lit­tle cab­in in the woods with my dogs and my books. There is a lit­tle stream gur­gling along near­by and sun­light fil­ter­ing through the trees.
Din­ner par­ty at your favorite restau­rant with peo­ple liv­ing or dead: where is it and who's on the guest list?
The Restau­rant at the End of the Uni­verse with C.S. Lewis, J.R.R. Tolkien, Madeleine L'Engle, Ursu­la K. Le Guin, Anne McCaf­frey, Andre Nor­ton, Isaac Asi­mov, and Lloyd Alexan­der. My sis­ter and my nieces would have to be there, too.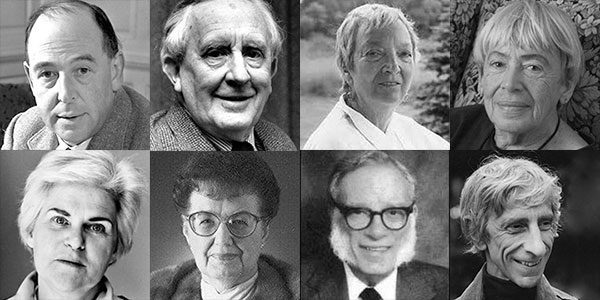 All-time favorite book?
The Princess Bride—chas­es, escapes, sword­fights, tor­ture, pirates, giants, mag­ic, true love…
Favorite break­fast or lunch as a kid?
My favorite lunch was a peanut but­ter sand­wich, and I always asked for "a lid on it," because I didn't like open-faced sand­wich­es.
What's your least favorite chore?
It's prob­a­bly laun­dry, because the wash­ing machine is in the base­ment and it means mul­ti­ple trips up and down the stairs.
What's your favorite part of start­ing a new project?
Bounc­ing my ideas off my friends and hav­ing them sug­gest ways to make things even bet­ter.
Bare­foot? Socks? Shoes? How would we most often find you at home?
Bare­foot, and either read­ing a book or lis­ten­ing to an audio book.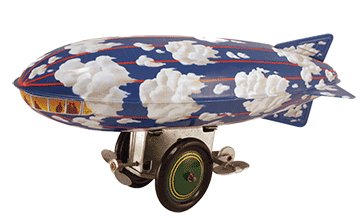 When are you your most cre­ative?
When I am writ­ing grant appli­ca­tions to fund more STEM activ­i­ties for my stu­dents. I can think of all sorts of ways to tie rock­ets, robots, and gad­gets into lit­er­a­cy instruc­tion.
Your best mem­o­ry of your school library?
I was a library aide in mid­dle school and loved being in the library and help­ing to get the new books ready for the shelf. That "new book" smell when the box was opened should be a sig­na­ture per­fume or cologne.
Favorite fla­vor of ice cream?
O'Charley's Caramel Pie ice cream from May­field Dairies (the best of both worlds)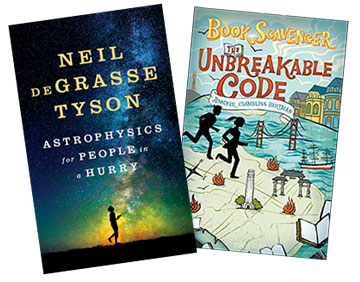 Book on your bed­side table right now?
Astro­physics for Peo­ple in a Hur­ry by Neil DeGrasse Tyson and The Unbreak­able Code by Jen­nifer Cham­b­liss Bert­man.
What's your hid­den tal­ent?
I have a brain that holds onto triv­ia, so I can come up with a song or movie quote for almost any occa­sion. Some­times at fam­i­ly din­ners we all just speak in movie quotes.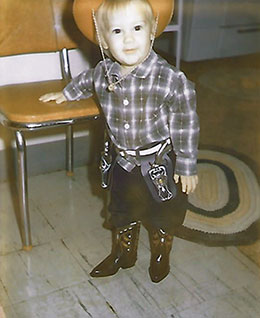 Your favorite toy as a child …
I had a lit­tle wood­en rid­ing toy that looked like a giraffe. I rode it up and down the walk behind my grand­par­ents' house. I also had a cow­girl out­fit, com­plete with boots and hat that I loved to wear.
Best inven­tion in the last 200 years?
Dig­i­tal books so that I can go on vaca­tion with­out tak­ing a sec­ond suit­case just for all my read­ing mate­r­i­al.
Favorite artist? Why?
I love space and stars, so Van Gogh's Star­ry Night is my favorite paint­ing. I don't real­ly have one favorite artist.
Which is worse: spi­ders or snakes?
Spi­ders — because my sis­ter Jamie hates them and I have to res­cue her from them.
What's your best con­tri­bu­tion to tak­ing care of the envi­ron­ment?
Recy­cling. espe­cial­ly trad­ing in books at the used book­store, or using CFL bulbs in my read­ing lamps.
Why do you feel hope­ful for humankind?
Because kids still fall in love with books. If they can lose them­selves in char­ac­ters and set­tings that are dif­fer­ent from their every­day world, then they can learn tol­er­ance and kind­ness.