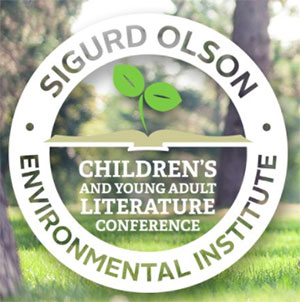 We're in the midst of award sea­son, when best of the year lists and spec­u­la­tion about award win­ners pro­lif­er­ate on the social media plat­forms swirling around chil­dren's and teen books. In Novem­ber, we attend­ed the award cer­e­mo­ny at the Sig­urd Olson Envi­ron­men­tal Insti­tute's Chil­dren and Young Adult Lit­er­a­ture Con­fer­ence, which takes place at North­land Col­lege in Ash­land, Wis­con­sin (on the awe-inspir­ing south shore of Lake Supe­ri­or). Inspired by the authors, nat­u­ral­ists, and librar­i­ans who speak at this con­fer­ence, we inter­viewed the ded­i­cat­ed com­mit­tee who select this impor­tant award each year.
How do you select the award­ed books?
We have a com­mit­tee of eight mem­bers who all have an inter­est in pro­mot­ing both the nat­ur­al world and high qual­i­ty lit­er­a­ture for chil­dren. Because com­mit­tee mem­bers remain on the com­mit­tee from year to year we have a ded­i­cat­ed, knowl­edge­able group of pro­fes­sion­als. Each mem­ber first ranks books and then those results are tal­lied. The top ranked books becomes the focus of a com­mit­tee meet­ing. A final vote is tak­en with numer­i­cal rank­ings fol­low­ing that in-depth discussion.
What are the cri­te­ria for this award?
The Sig­urd F. Olson Nature Writ­ing Award for Children's Lit­er­a­ture is giv­en to a pub­lished children's book of lit­er­ary nature writ­ing (non­fic­tion or fic­tion) that cap­tures the spir­it of the human rela­tion­ship with nature, and pro­motes the aware­ness, preser­va­tion, appre­ci­a­tion, or restora­tion of the nat­ur­al world for future gen­er­a­tions. (Here's a full list of SONWA books since 1991.)
How do you gath­er the books?
Since most, if not all, pub­lish­ers are on Twit­ter, we estab­lished a SONWA Awards Twit­ter account two years ago (@sonwa_awards). For the past two years, we've pro­mot­ed the awards through our feed and by direct­ly tweet­ing to pub­lish­ers. We also post to the SOEI (Sig­urd Olson Envi­ron­men­tal Insti­tute) Face­book feed periodically.
We active­ly ask pub­lish­ers to sub­mit books that fit the cri­te­ria. Since we're one of the few nature writ­ing awards for young adult and children's lit­er­a­ture, the pub­lish­ers of this type of book are aware of us.
What selec­tion cri­te­ria do you apply?
First of all, as the name of the award sug­gests, the book has to be about some aspect of nature and writ­ten for chil­dren appro­pri­ate to the age group. In addi­tion, it has to be writ­ten in the year pri­or to the year the award is received.
After that, we look at:
Human Rela­tion­ships with Nat­ur­al World: Does the book cap­ture the spir­it of the human rela­tion­ship with nature?
Lit­er­ary Val­ue: Does the book take on ele­ments such as char­ac­ter devel­op­ment, metaphor, cli­max, allu­sion, theme, motif, etc?
Val­ues: Does the book pro­mote the val­ues for nature this award seeks to pro­mote for future gen­er­a­tions: aware­ness, preser­va­tion, appre­ci­a­tion, restoration?
Illus­tra­tions:

When books meet

all

the above cri­te­ria, then illus­tra­tions and the art­work are considered.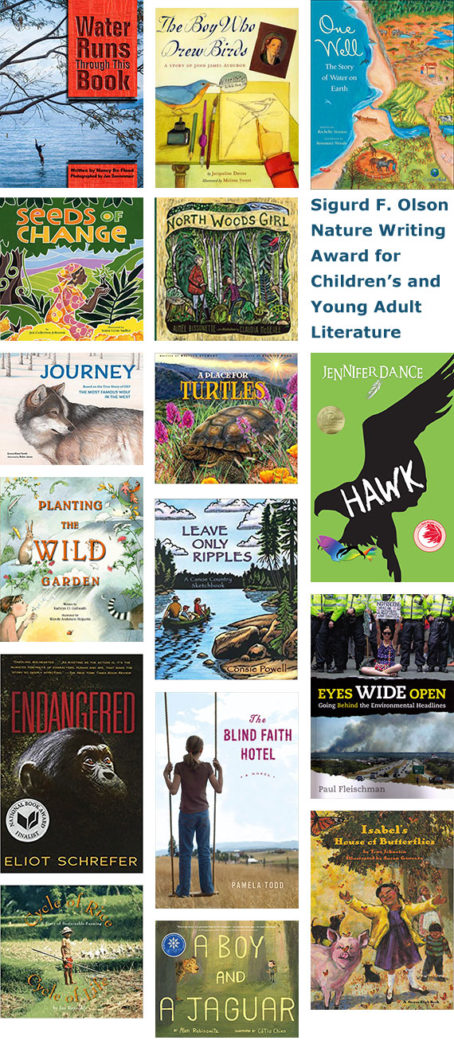 What is the impe­tus you feel for donat­ing your time to this award process?
Liv­ing in the North­woods, whether an out­door per­son or not, cre­ates a strong con­nec­tion to the earth and con­cern for its future. Our com­mit­tee is also well aware of how lit­er­a­cy can impact our human­i­ty. This award process allows us to com­mit to two efforts that are impor­tant to us. We hope the chain from writ­ers to pub­lish­ers will be val­i­dat­ed for their efforts. And we hope the read­er will be enriched in mul­ti­ple ways.
You are housed with­in, and spon­sored by, the Sig­urd Olson Envi­ron­men­tal Insti­tute. Why is this a good fit for a nature-writ­ing award?
The mis­sion of the Sig­urd Olson Envi­ron­men­tal Insti­tute is to pro­mote expe­ri­ences of wild­ness and won­der, while also work­ing to pro­tect wild­lands for future gen­er­a­tions. Lit­er­ary depic­tions and accounts of wild nature and the won­der it evokes in peo­ple often inspire read­ers to seek sim­i­lar expe­ri­ences, or, if they've already had those expe­ri­ences, the lit­er­ary works help to fur­ther affirm the val­ue of those experiences.
Sig­urd F. Olson's writ­ing is one of the rich­est and most influ­en­tial parts of his lega­cy, and the nature writ­ing award is one of the ways that we car­ry that lega­cy forward.
Your focus was ini­tial­ly region­al­ly writ­ten adult books. Why did you devel­op a spe­cif­ic award for children's books?
In part this was a cir­cum­stan­tial deci­sion: each year pub­lish­ers were sub­mit­ting children's books, even though they didn't meet the cri­te­ria we had estab­lished for the orig­i­nal adult award. Although we could not con­sid­er these sub­mis­sions for the adult award, we were impressed by their qual­i­ty and want­ed to rec­og­nize and pro­mote the work of the authors and illus­tra­tors of the children's books.
Of course, we also rec­og­nize how impor­tant it is to cap­ture the imag­i­na­tions of chil­dren and the role that sto­ries can play in shap­ing their val­ues and visions for them­selves and their future. We want chil­dren to grow up hav­ing and valu­ing expe­ri­ences of wild­ness and won­der in their lives, and the children's nature writ­ing award, as well as our children's lit­er­a­ture con­fer­ence, help us to real­ize this goal.
Hav­ing read so many nature-themed children's books, what trends are you noticing?
We do see top­ic trends from time to time. A few years ago it was whales and then water the next year. Just like pub­lish­ing in oth­er areas, the trends tend to fol­low what is going on in the world. This year we have a few hur­ri­cane books. Often times, grand­par­ents are depict­ed as nur­tur­er, guardian, or sto­ry­teller of nature.
We are see­ing more diver­si­ty and inclu­sion. There are more pic­ture books with more white space but with detailed author notes or sup­ple­men­tal added val­ue. In recent year, non­fic­tion books for old­er read­ers will have side bars, graph­ics, cap­tioned pho­tos, and more along­side the main body. This can be either an enhance­ment or a distraction.
What themes or top­ics do you wish were being addressed in children's books?
We are always look­ing for books that have a strong rela­tion­ship to human inter­ac­tion with the nat­ur­al world. Books for old­er chil­dren with this aspect are not as read­i­ly avail­able. There are always some that stand out in this area but we would hap­pi­ly wel­come more.
___________________
Thank you for your com­mit­ment to read­ing and rec­om­mend­ing the very best in nature writ­ing for chil­dren and teens. Your focus on human inter­ac­tion with the nat­ur­al world is crit­i­cal to the lives of our chil­dren and our plan­et. Impor­tant work you're doing!
[The sub­mis­sion dead­line for 2018 award con­sid­er­a­tion is Decem­ber 31, 2017. Learn more.]