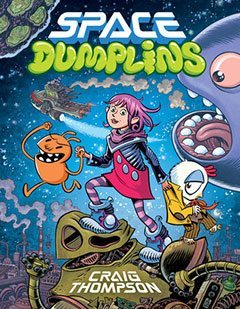 by Vic­ki Palmquist
I've just fin­ished read­ing the graph­ic nov­el Space Dumplins by Craig Thomp­son, with col­or by Dave Stew­art (Graphix, 2015). I am over­whelmed by the work that went into this book. First off, it's an engross­ing, turn-the-page sto­ry with an appeal­ing cast of char­ac­ters. As read­ers, we care about what will hap­pen. That's a good start.
Now, imag­ine that you are sit­ting down with a pen­cil to sketch one of the spreads in this book. Per­haps you've picked the pages where Vio­let, our hero­ine, first gets a look at SHELL-TAR, the inte­ri­or of the space sta­tion. You start by draw­ing the intri­ca­cies of the gleam­ing steam­punk time clock and then you draw all of the activ­i­ty going on inside the trans­par­ent trans­port tubes, large enough to accom­mo­date per­son­al space­ships. Next you fill in the many habi­tats, the glob­u­lar trees, the peo­ple at the beach. Then you insert our cast of char­ac­ters into the scene along with the robot­ic Chaper­drone (a babysit­ter). Whew. That's a lot of draw­ing for two pages.
Of course, you're pro­vid­ing this as a back­drop for the fast-paced sto­ry of three new friends, quick-wit­ted, learn­ing to work as a team, doing their best to save the peo­ple they love and their cor­ner of the uni­verse. You've already writ­ten the sto­ry, the script, and worked through the sur­pris­es that will delight your read­ers, mak­ing it a tight and believ­able hero's jour­ney set in the Mucky Way.
Vio­let, Zac­cha­eus, and Eliot are unlike­ly heroes except that Vio­let has a wel­com­ing heart, a brave out­look on adven­ture, and an opti­mism as big as out­er space. She can see qual­i­ties in her new friends that they can't see them­selves. Eliot, the chick­en, is stu­dious, intro­vert­ed, wide­ly read, and some­what psy­chic. Zac­cha­eus, the last of the Lump­kins (well, almost the last, because space whales ate his plan­et) is chaot­ic, impul­sive, and ready for a fight. All three of the friends are good at prob­lem-solv­ing, espe­cial­ly when they work togeth­er. The mil­i­tary can't defeat the space whales: they can only clean up after them. It's these three who fig­ure out the true heart of the prob­lem.
Once you've sketched all of this, applied ball­point pen, then brushed ink, you ask some­one else to col­or every­thing in. Togeth­er, you're cre­at­ing a book full of these sto­ry-telling images, rich­ly col­ored, high­ly detailed, and ulti­mate­ly believ­able as a look at life that's real­ly hap­pen­ing some­where "out there."
The rest of the main cast of char­ac­ters include Violet's par­ents, the reformed felon Gar and the fash­ion design­er Cera, Gar's fish­ing bud­dies Mr. Tin­der and crew, Cera's boss at the Fash­ion Fac­to­ry, Mas­ter Adam Arnold, and the most inven­tive space vehi­cles I've ever seen. Every being (they're not all human) in this book has a unique look. No cook­ie-cut­ter, repet­i­tive char­ac­ters to save on draw­ing time.
It's a movie set on paper, except that you've had to con­ceive of, write, draw, and col­or every bit of it. There are no cam­eras and crew to bring your vision to life. Exhaust­ed yet?
Even the end­pa­pers are atten­tion-riv­et­ing. The con­stel­la­tions fill the skies of Space Dumplins and they often make an appear­ance, remind­ing us that we share the same space even though the set­ting feels alien and won­drous.
You know those kids who are con­stant­ly doo­dling in class? They'll love this book. And the kids who stay up long past their bed­times try­ing to fin­ish a chap­ter? They'll love this book. And the kids who don't know what to read next but they don't want it to be bor­ing? Yup, they're gonna love it. Space Dumplins reads like a TV series, a movie, a video game, and a sol­id, excit­ing sto­ry all between book cov­ers. Bril­liant.
Asides:
Be sure to notice the homage to a num­ber of cul­tur­al icons in this book. H.A. Rey's The Con­stel­la­tions? Strange Brew? Space­balls? And the real Trike (it exists!).
Be sure to read Craig Thomp­son's answers to Five Ques­tions on The Book Rat's blog. You'll find out how long it took him to cre­ate Space Dumplins.
For a look at what Craig Thomp­son is work­ing on and where he's appear­ing, vis­it his web­site.