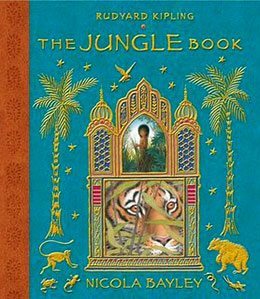 The word exquis­ite once won the game for me while play­ing Pass­word. I have been fond of that word since that time and look for instances where it applies. That is sure­ly the illus­trat­ed edi­tion of The Jun­gle Book, writ­ten by Rud­yard Kipling all of those years ago, and new­ly illus­trat­ed by Nico­la Bay­ley. Can­dlewick pub­lished this edi­tion of the clas­sic sto­ries and their clas­sics are worth col­lect­ing, read­ing, and trea­sur­ing. They should be well-worn on the book­shelves in your home.
I first read The Jun­gle Book when I was ten. I don't remem­ber any illus­tra­tions in the Reader's Digest Con­densed Books ver­sion but I remem­ber that this book made a big impres­sion on me. It was so "oth­er." It was not the world I knew and it was larg­er than the farm dogs and pet cats I observed. It gave me a sense of the world beyond my vision. I believe it can still do that for read­ers today.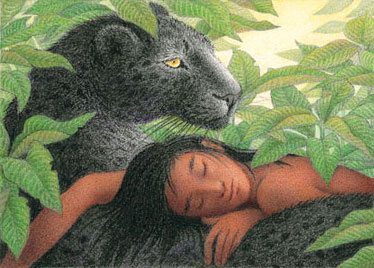 The sto­ry of Mowgli and his wolf-pack, of Shere Khan, the tiger who believes Mowgli is his to dis­pose of as he wish­es, of Baloo and Kaa and Bagheera … is as cap­ti­vat­ing now as I remem­ber read­ing it as a child. There is such dig­ni­ty and grace in the words that Kipling wrote, the sto­ries he weaves with fierce­ness and humor and respect, that The Jun­gle Book tran­scends time. Who would not be fas­ci­nat­ed by this sto­ry of a young boy (cub) who is adopt­ed by a wolf pack, grows up believ­ing he is a wolf, and then must re-join the world of man when the ani­mals judge it is time. He lives in the jun­gle, is accus­tomed to the ways of the ani­mal tribes, and this nev­er leaves him, espe­cial­ly in his deal­ing with humans.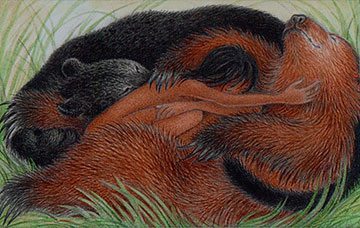 The book is such a treat to read because the visu­al expe­ri­ence is so reward­ing. There are rich­ly-col­ored bor­ders and sump­tu­ous sto­ry-divid­ing pages with pat­terns evoca­tive of India, where The Jun­gle Book takes place. Every spread has some illus­tra­tion it, done in col­ored pen­cil, that set the scene or enhance the sto­ry­telling or give us a glimpse of Mowgli and the ani­mals. The full-page illus­tra­tions are riv­et­ing.
You've read before of my fond­ness for "but­ter cov­ers," dust jack­ets fin­ished with a smooth and tan­gi­bly soft cov­er that invites hold­ing and read­ing. This book has such a cov­er and it is irre­sistible. (I made that term up, by the way. Don't try Googling it.)
In the "Word" at the begin­ning of the book, Nico­la Bay­ley writes, "I'd been to India and vis­it­ed all sorts of places you wouldn't nor­mal­ly see, and I went to libraries in Lon­don to find out what the coun­try was like in Kipling's time."
In the author's bio on the jack­et flap, we learn that "Rud­yard Kipling (1865−1936) was born in India and spent his ear­ly child­hood there. He lived a migra­to­ry life: edu­cat­ed in Eng­land, he returned to India in 1882, then met his wife in Lon­don and spent the ear­ly years of their mar­riage in Ver­mont, even­tu­al­ly set­tling in Eng­land. The most famous writer of his time, Rud­yard Kipling was award­ed the Nobel Prize in lit­er­a­ture in 1907, thir­teen years after the pub­li­ca­tion of The Jun­gle Book." His writ­ing is a look into his world and his time, his expe­ri­ence, his feel­ings about life.
This edi­tion of The Jun­gle Book is exquis­ite. I rec­om­mend it high­ly for your fam­i­ly read-aloud time, for young and old­er. Don't skip over the poet­ry. Its rhythm and words are part of the expe­ri­ence. It will give you much to dis­cuss and a world to explore.