by Jack­ie Brig­gs Mar­tin and Phyl­lis Root
We both love find­ing for­got­ten trea­sures in the "removed from cir­cu­la­tion" sec­tions of libraries or in sec­ond hand book­stores. Some of these books call to us because we remem­ber them from our child­hoods: the Babar books writ­ten out in long­hand, the Flic­ka, Ric­ka, Dic­ka sto­ries about Swedish triplets, Mar­cia Brown's Stone Soup.
Some books enchant that we've nev­er read before: When the Wind Blew by Mar­garet Wise Brown, Run, Run, Run by Clement Hurd, The Trea­sure of Topolobam­po by Scott O'Dell (and illus­trat­ed by the won­der­ful Lynd Ward). These books seem like for­got­ten trea­sures that we wish would be remem­bered. They remind us, as well, that the sto­ries we tell now are very much akin to the sto­ries told before us. The length may dif­fer, the tone may have changed with time, but the hearts of these sto­ries still con­nect with read­ers today.
We want to look at sto­ries whose hearts have stayed strong, whether those sto­ries are fifty years old or fif­teen years old — or even more recent. We hope you, too, will find the old­er sto­ries enchant­i­ng enough to look them up, either in libraries on in online book sites such as Alib­ris or Abe­Books. Or per­haps, like we do, you might wan­der the aisles of book­stores and library shops, look­ing for that book that reach­es out, taps you on the shoul­der, and says, "Read me. You'll be glad you did."
Our first finds have to do with moth­ers, a good top­ic for ear­ly May. We are call­ing it "What's a moth­er to do?"
Moms are the pole stars of child­hood, the ones who make us feel safe in the scari­est, wor­ry­ing-est of times. And in this, our first Two for the Show col­umn, we want to take a look at two clas­sic pic­ture books about Moms and see what the moms are doing.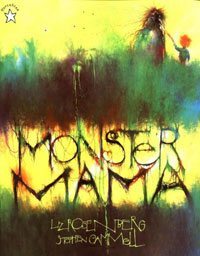 Mon­ster Mama, writ­ten by Liz Rosen­berg and illus­trat­ed by Stephen Gam­mell (Philomel, 1993) cel­e­brates lan­guage and Moms. It begins:
Patrick Edward was a won­der­ful boy, but his moth­er was a mon­ster. She lived in a big cave at the back of the house. [page turn]

Some­times she paint­ed, some­times she gar­dened, and some­times she tossed Patrick Edward light­ly up and down in the air, for fun.
She also teach­es Patrick Edward how to roar and how to cast a spell that could put almost any­one to sleep. One day he runs into bul­lies who tie him to a tree and say, "Your moth­er wears army boots." Patrick Edward roars, breaks away, and chas­es the boys. "Who knows what might have hap­pened next — but Mon­ster Mama heard the echoes of his roar. She zoomed out of her cave…" and straight to Patrick Edward. Once things are set to right and they've all shared cake (which the bul­lies made) she says to Patrick Edward, "No mat­ter where you go, or what you do…I will be there. Because I am your moth­er, even if I am a mon­ster — and I love you."
What we love in this book is the shim­mer­ing ques­tion: Is she real­ly a mon­ster? She gar­dens, she toss­es light­ly, she likes sweets. But she is fierce and she can cast spells. There is humor in this ques­tion and humor in the lan­guage — "Vil­lains, farewell!" Patrick Edward says to the bul­lies. And, "Strength is for the wise, not the reck­less. — More cake please."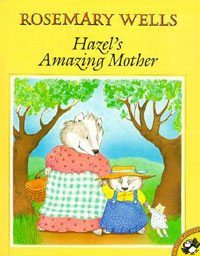 In Hazel's Amaz­ing Moth­er by Rose­mary Wells (Dial, 1985) Hazel goes off on her own to "buy some­thing nice" for a pic­nic. She gets lost. And that's when the bul­lies show up. They take Hazel's doll and throw her until the stuff­ing falls out. Hazel cries, "Oh, Mother…Mother, I need you." Just then a wind comes up, blows the pic­nic blan­ket — along with Hazel's moth­er— right over the town into the very tree under which Hazel sat. Hazel's moth­er takes charge.
A toma­to hit Doris smack between the eyes.

"Don't make a move with­out fix­ing Eleanor!" Hazel's moth­er roared.
She also rum­bles, laughs thun­der­ous­ly, brings about repairs.
"Oh, moth­er," said Hazel, "'how did you do it?"

"It must have been the pow­er of love," said Hazel's mother.
These two sto­ries are fun­ny, not trea­cly. When Hazel's moth­er tells the mean Doris to fix Hazel's doll, she toss­es down a pock­et sewing kit — and three more toma­toes. The bul­lies don't just work at fix­ing— "The boys scrubbed fever­ish­ly. Doris sewed like a machine."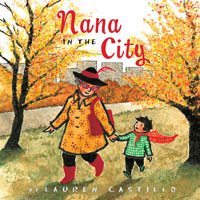 And these sto­ries are reas­sur­ing. Kids know they can't do it all — even though it seems we some­times expect them to in our books. How many times have we heard that kids should solve their own prob­lems in our sto­ries? Per­haps that's chang­ing. Nana in the City by Lau­ren Castil­lo (Clar­i­on, 2014) — a 2015 Calde­cott Hon­or Book — fea­tures a grand­moth­er who knits a cape for her grand­son who's wor­ried about being in the city. The cape does the trick, and the grand­son begins to enjoy the city. It's not bad for kids to see exam­ples of grown-ups who can help. They are the bridge to get kids to their own stronger place.
A few oth­er books fea­tur­ing mothers:
Owl Babies by Mar­tin Waddell
Run­away Bun­ny by Mar­garet Wise Brown
Are you My Moth­er? by P.D. Eastman
A Chair for My Moth­er by Vera B. Williams
Feed­ing the Sheep by Leda Schubert