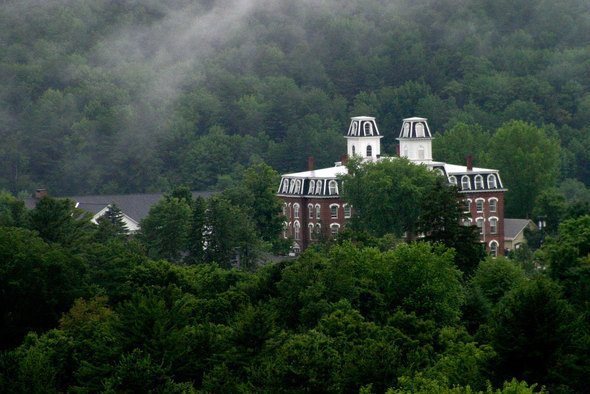 Steve and I returned ear­li­er this week from Mont­pe­lier, Ver­mont, where we spoke at the Ver­mont Col­lege of Fine Arts, specif­i­cal­ly to the alum­ni of their Writ­ing for Chil­dren and Young Adults MFA pro­gram. We were there to talk about "Mar­ket­ing as Sto­ry­telling," with the goal of mak­ing these typ­i­cal­ly intro­vert­ed writ­ers feel more com­fort­able about tout­ing their books. Mar­ket­ing is all part of the busi­ness of writ­ing, espe­cial­ly in these times when the social media cacoph­o­ny makes it hard­er to be heard.
We've heard about this pro­gram at VCFA for years. A num­ber of our col­leagues are fac­ul­ty mem­bers and a num­ber of our clients have grad­u­at­ed from this col­lege. Did it live up to the many lauda­to­ry state­ments we've lis­tened to? The grad­u­ates speak about the school as though these are hal­lowed halls. What is it that cre­ates their reac­tion?
On our dri­ve back to Boston to take the plane home, Steve and I talked about this. We over­heard the fac­ul­ty and staff refer­ring to them­selves as Brigadoon through­out the three days we were there. Are you famil­iar with that leg­end? The city in Scot­land that appears for only one day every one hun­dred years? A step out­side of time? A haven for good and tal­ent­ed peo­ple?
Set among the ver­dant hills of Ver­mont, the Col­lege's build­ings are arranged around a green grass plaza, a place where dogs catch Fris­bees and foun­tains bur­ble and trees shade stu­dents who are writ­ing, read­ing, and con­vers­ing.
Stu­dents in the WCYA pro­gram are enrolled in a low-res­i­den­cy pro­gram, mean­ing that they work in their homes and come togeth­er twice a year on the cam­pus to lis­ten to and work direct­ly with fac­ul­ty and vis­it­ing speak­ers. They get to know the oth­er stu­dents in their class, all of whom are work­ing toward the com­mon goal of hav­ing sus­tain­able pub­lish­ing careers. They spend ten days togeth­er in the sum­mer and ten days in the win­ter (anoth­er pop­u­lar time in ski­able Ver­mont) and then they fade away to their own homes, inspired once again to work intent­ly on improv­ing their writ­ing and sto­ry­telling tech­niques.
Brigadoon? Yes. The spell fell upon us, too. What a charm­ing place to learn your craft, to strive toward being the best writer you can be. We look for­ward to great books from the men and women we met dur­ing our brief sojourn. We're con­fi­dent we'll be read­ing them soon.