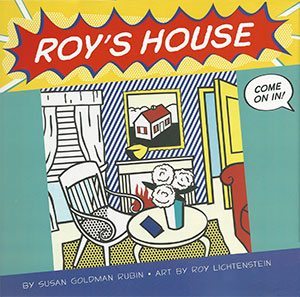 What bet­ter way to famil­iar­ize one's self with the work of pop cul­ture artist Roy Licht­en­stein than to walk through his house from liv­ing room to snack bar, from bath­room to bed­room, and final­ly into his stu­dio, where we can try our hand at painting?
Susan Gold­man Rubin and her team at Chron­i­cle have cre­at­ed a book illus­trat­ed by Roy Lichtenstein's paint­ings, Roy's House, which lets us see up close his style of art, the col­ors he used, and the tech­nique of shad­ing col­or in dots.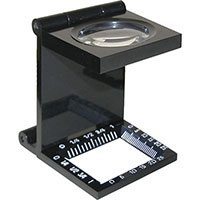 If you look at a news­pa­per or a mag­a­zine or a brochure, and you use a loupe (Mer­ri­am-Web­ster def­i­n­i­tion: a small mag­ni­fi­er used espe­cial­ly by jew­el­ers and watch­mak­ers), you can dis­tin­guish among the dots used to lay the col­or down (the "halftone" tech­nique).
Dur­ing print­ing, when the col­or is laid down, those dots grow in size a bit. That's called "dot gain" and print­ers expect it, com­pen­sat­ing on the original.
Licht­en­stein exag­ger­at­ed those dots, and the tech­nique of cross-hatch­ing, to make his paint­ings bold, bright, and mem­o­rable. His style is instant­ly rec­og­niz­able. As the back mat­ter states, "His first show shocked crit­ics in 1962."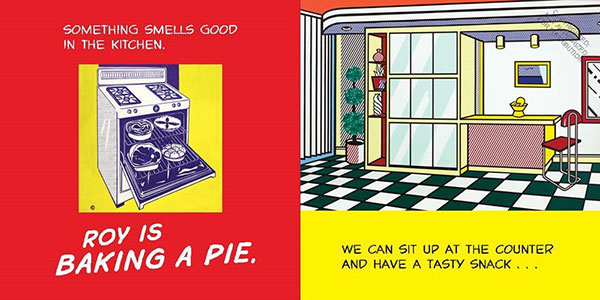 The text is min­i­mal (in keep­ing with Lichtenstein's paint­ings) but the author still man­ages to imbue those words with warmth and humor, spark and spir­it. Mak­ing use of the artist's dis­tinc­tive, jagged-edged thought bub­bles pro­vides energy.
This is a book for the very young, the bud­ding artist or art col­lec­tor, and yet it's also a book for those who love art, teach art, and are edu­cat­ing them­selves about the infi­nite styles with­in art. Lichtenstein's work is icon­ic … and so is this book. (Mer­ri­am-Web­ster def­i­n­i­tion: "wide­ly known and acknowl­edged espe­cial­ly for dis­tinc­tive excellence")
Also take a look at the author's book Whaam! The Art and Life of Roy Licht­en­stein (Abrams), writ­ten for an old­er child.
For read­ers 12 and up, find a copy of Marc Aron­son's Art Attack: a Brief Cul­tur­al His­to­ry of the Avant-Garde (Clar­i­on Books).