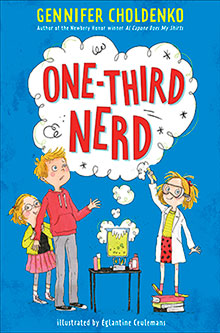 One of my favorite books of Gen­nifer Chold­enko's is One-Third Nerd, in which a broth­er and two sis­ters attempt to solve the prob­lem of their beloved dog being incon­ti­nent in their rent­ed apart­ment, over which the land­lord threat­ens to evict them. They've been told a vet could fix the prob­lem, but surgery for their dog is low on their par­ents' list of pri­or­i­ties. The kids use their imag­i­na­tive prob­lem-solv­ing skills to raise mon­ey, which sets up both hilar­i­ous and poignant scenes. It's a book in which fam­i­ly, friends, and com­mu­ni­ty pull togeth­er to sup­port each oth­er, which makes it one of my top books for rec­om­mend­ed reading.
We've asked Gen­nifer Chold­enko, the author, to share some insights behind the book, know­ing you'll find these invalu­able when you are book-talk­ing and teach­ing writ­ing in your classroom.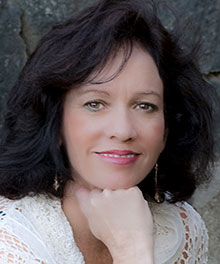 Was being fun­ny a goal for you as a child?
It wasn't a goal. It was a require­ment. In our fam­i­ly humor, rib­bing, and kid­ding was our lan­guage. It was how we showed our affec­tion for each oth­er. You had to know it to sur­vive. Since I was the youngest, and odd man out, humor was my most impor­tant sur­vival skill.
On a side note, humor is still very impor­tant to me. On my first date with the man who would become my hus­band, every­thing went bad­ly. He showed up with no mon­ey. I paid. No car. I drove. He spent the entire date talk­ing about his ex-girl­friend, who he said was bril­liant, sophis­ti­cat­ed, stun­ning­ly beau­ti­ful — per­fect in every way. He talked over the movie explain­ing the events unfold­ing as if I were too stu­pid to fol­low the plot myself. On my way to his apart­ment where I was plan­ning to dump him uncer­e­mo­ni­ous­ly on his doorstep, nev­er to see him again, I point­ed out to him just why this date had gone so bad­ly. By the time I fin­ished my litany, we were laugh­ing so hard I had to pull the car over. We've been hap­pi­ly mar­ried for 31 years.
So many read­ers ask for fun­ny books. Many of your books, includ­ing the Al Capone series, have humor­ous ele­ments. One-Third Nerd is, in my opin­ion, your most comedic book so far. It made me gid­dy to read it. Does humor flow from you nat­u­ral­ly or do you work over your man­u­script to increase the "fun­ny"?
Some char­ac­ters are fun­ny from the get-go. The humor is gen­er­at­ed from the fric­tion between how they view the world and how the read­er knows it to be. When a char­ac­ter like that pops on the page I'm thrilled. But those char­ac­ters are a gift. I can't make them appear.
Try­ing to "increase the fun­ny" has nev­er worked for me. When I have tried, the humor is forced. Instead, I look for missed oppor­tu­ni­ties. I sense a missed oppor­tu­ni­ty for humor the way I sense where exact­ly my foot needs a good scratching.
We're often talk­ing about a book's char­ac­ters in class or in book clubs. Can you help us see inside this aspect of cre­at­ing char­ac­ters that you accom­plish so well?
Good char­ac­ters arrive on the page ful­ly formed. I don't work at cre­at­ing them so much as they just show up. There are always one or two char­ac­ters that don't pop on to the page this way. And then I have to work hard to breathe life into them. When I say: "work hard" I mean fig­ure out their secrets, what they keep in their clos­et, what's under their bed, what they eat for lunch, who they envy, how they feel about their sib­lings, which par­ent they pre­fer, etc. The bet­ter char­ac­ters some­how sense these things intu­itive­ly. And every day I work on the man­u­script I dis­cov­er more about them. But with the hard-to-know char­ac­ters, I do the work. Then I close the file and start writ­ing about them again. Gen­er­al­ly, the things I "fig­ured out" about them aren't right. But some­how that "fig­ur­ing out" process helps me get clos­er to who they real­ly are. Often, it is in find­ing out who these char­ac­ters aren't, that I begin to get the first inkling about who they are.
Izzy is an endear­ing char­ac­ter. She has Downs syn­drome but you haven't let that define her. We've already fall­en in love with Izzy when we real­ize her big sis­ter, Dako­ta, is sell­ing Izzy's col­lec­tion of plas­tic hors­es on "eBay." Who came first in your con­cep­tion of the book, Dako­ta or Izzy?
Dako­ta came first. Then I began brain­storm­ing the fam­i­ly that would be the most dif­fi­cult for her to han­dle. Like many bright kids, Dako­ta assumes that every­one sees things the way she does and her way of view­ing the world is the "right" way. So I thought what if … Dako­ta had a lit­tle sis­ter who was very dif­fer­ent from her. How would Dako­ta cope with that?
Liam arrived on the scene because I thought it would be fun­nier to tell the sto­ry from his point of view. I know there are a lot of books with very bright char­ac­ters who have hilar­i­ous voic­es. Lisa Yee's won­der­ful book Mil­li­cent Min, Girl Genius comes to mind. And of course the amaz­ing Junie B. Jones books by Bar­bara Park, The Mis­cal­cu­la­tions of Light­en­ing Girl by Sta­cy McAn­ul­ty and many, many oth­ers. But I liked the idea of a boy who was extreme­ly self-con­scious telling the sto­ry about his high­ly embar­rass­ing sis­ter. When I speak to school groups about One-Third Nerd, I always ask: "Raise your hand if your sis­ter or broth­er or cousin has ever embar­rassed you?" The entire room erupts. Near­ly every child has a sto­ry they can't wait to tell me about some­thing incred­i­bly embar­rass­ing a sib­ling or cousin has done.
When you began writ­ing this book, did you know rough­ly how many char­ac­ters there would be? Or do you add them as needed?
I nev­er know how many char­ac­ters I'll need. My ten­den­cy is to have too many. In revi­sion, I often find I have to cut out a few, so I don't over­whelm the book.
Did you have to cut any parts of the sto­ry that you wish you could have kept?
No, but I have writ­ten a few chap­ters of a sequel. Would you like to see the first chap­ter?
Do you have a favorite char­ac­ter among your troupe?
I love them all of course. But I'm par­tial to Izzy because she tries so hard. I 'm a per­son who tries real­ly hard — some would say too hard — at things that mat­ter to me. So, I have a soft spot for kids who put forth huge effort to do things that are effort­less for many oth­er kids. Then, too, I real­ly admire the way Izzy is able to build rela­tion­ships. So, yes, I am absolute­ly smit­ten by Izzy.
Did any of your char­ac­ters sur­prise you?
With luck, they all sur­prise me. If my char­ac­ters don't begin behav­ing in ways I don't expect, then they aren't good characters.
Of your main and minor char­ac­ters in this book, whose voice was hard­est for you to write?
Mom's voice. I had a hard time fig­ur­ing out who she was. I knew I liked her and I felt like I under­stood her on a super­fi­cial lev­el, but it was dif­fi­cult to get inside her in a deep­er way. I some­times have trou­ble with adults, because gen­er­al­ly they aren't as inter­est­ing to me as kids are. There are excep­tions, of course. I absolute­ly adored writ­ing Jabo in my nov­el Orphan Eleven due out in May 2020.
I also strug­gled with the dog, Cup­cake. I think that's because she was too much like my own dog the much adored Sasha. I don't do well writ­ing about char­ac­ters who are too much like real beings. I doubt I will ever write a mem­oir. I like to cre­ate more than I like to describe.
I think you've writ­ten believ­able and essen­tial adult char­ac­ters for this sto­ry. Although the par­ents are divorced, they're both very much present in their children's lives. Was it a con­scious deci­sion to let adults be a vital part of this story?
Even the most child-friend­ly divorce is still real­ly, real­ly hard for kids. Rela­tion­ships change as a func­tion of the new sit­u­a­tion. Homes often change. Some­times schools and friends. Rou­tines are upend­ed. Week­ends and hol­i­days change com­plete­ly. And there is a rejig­ger­ing of the rela­tion­ships a kid has with each of her par­ents. Ide­al­ly, when a kid turns nine or ten or eleven par­ents begin to fade into the back­ground, because a kid is begin­ning to step out on her own. But when a divorce hap­pens the process of becom­ing more inde­pen­dent is tem­porar­i­ly halt­ed until a child estab­lish­es new rela­tion­ships with her now sep­a­rate par­ents. So yes par­ents become front and cen­ter in a child's life, until the divorce set­tles. This is a long answer for why the Rose par­ents are an impor­tant part of this book. And of course these are my opin­ions. I'm not a therapist.
Gen­nifer, thank you for shar­ing a behind-the-cur­tain look at the skills you apply to every book you write. Read­ers, both chil­dren and adults, are lucky to encounter the sto­ries you tell.