Shoe Dog
writ­ten by Megan McDon­ald
illus­tra­tions by Kather­ine Tillot­son
Richard Jack­son Books / Simon & Schus­ter, 2014
Your illustration of the Shoe Dog is so unusual. What inspired you to use this ropy scribble?
When I first visualized Shoe Dog, it was as a black and white bull terrier. In fact, I created an entire book dummy with that image. I had even asked a woman in the neighborhood if I could use her bull terrier as a model. But there was something about my sketches that didn't feel quite right to me and when I happened to come across some scribbly sidewalk chalk drawings made by children, I immediately went home and began revising my sketches. It was the energy and life in the children's pictures that inspired me.
What tools did you use to create the various elements in the book, such as the movement lines, the speech bubbles, the fence, the exotic shoes?
I have always been attracted by collage. In the past, I have enjoyed cutting up patterned paper and arranging the pieces in unexpected ways. The computer has made it possible to re-imagine the technique of collage. Now I am able to combine marks that would have been impossible to mix if I was working conventionally.
I love to work with hand­made marks. For Shoe Dog I used marks made by a bray­er, cray­on rub­bings, a flat pen­cil and char­coal, then col­laged them in the computer.
What did you do to "loosen up" your line for the highly active Shoe Dog?
I have recently been experimenting in watercolor and I find that by the time I have rendered any more than five layers, I am completely stiff and tight. I think that tension is caused by the fear that the entire painting can be ruined with the next brush stroke. In contrast, Shoe Doggie was a loosey-goosey ride. Since I was using the computer, I knew that I could scribble and scribble until I created a dog I wanted to use. Know that I could make tons of mistakes helped me to keep the mark-making loose and relaxed.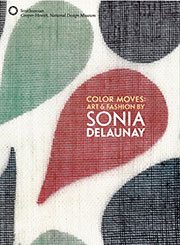 How do you go about choosing a color palette? It's so luminous that it exudes good cheer, until we get to the BAD DOG! part of the book. Marvelous contrast. You express so well something we've all felt.
Thank you! I always try many color combinations until one feels right. I have to give a call-out to Atheneum's Excecutive Art Director, Ann Bobco. From time to time she sends me inspiring packages. While I was working on a color palette for Shoe Dog, Ann sent me the book, Color Moves: Art & Fashion by Sonia Delaunay. The fabrics of Sonia Delaunay greatly influenced my color choices.
Did you select the font used throughout the book or did the book designer do that? Is it usual for an illustrator to choose the book's font? What was it about this font that you felt suited the book?
Cred­it for the font choice goes to Ann Bob­co. I love the bounce and ani­ma­tion it gives to the words.
In my expe­ri­ence, it is unusu­al for the illus­tra­tor to choose the book font. How­ev­er, I know that there are many excep­tions. Recent­ly, I was read­ing The Adven­tures of Beek­le writ­ten and illus­trat­ed by Dan San­tat. I looked to see what font had been used and it was Santat.
How did you go about deciding to leave human faces out of the book?
I am so glad you asked! I believe that it was originally Megan who suggested that the woman in the story, She, Herself, would be a presence, a very significant presence, but just off-camera. She, Herself would be mostly hidden until the very end. It was particularly challenging to figure out how to establish the closeness between woman and dog early in the story. I wanted a hug. The solution was to adorn She Herself with a very large hat.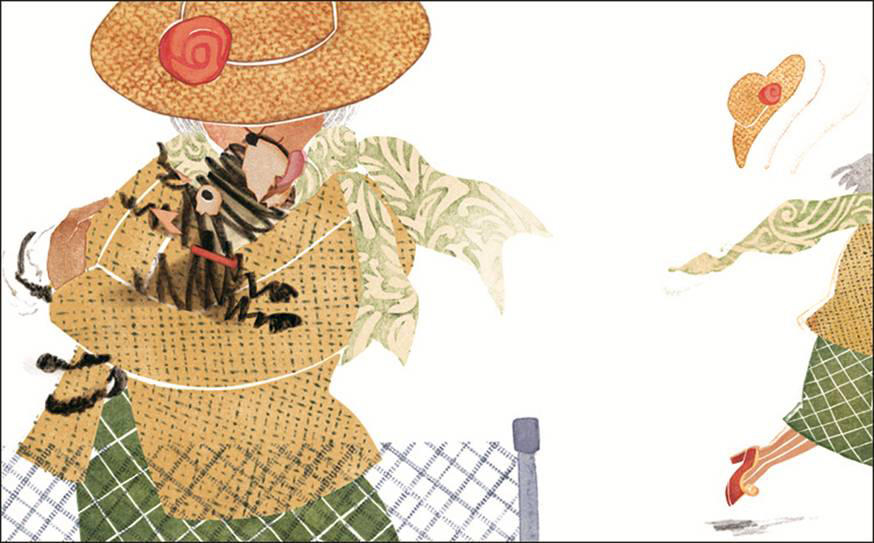 Did you and the author, Megan McDonald, talk together about the art for this book?
We spoke a teeny tiny bit at the beginning of the art making. Megan and I do speak regularly, but usually not about any books that are underway. We both follow our customary practice of communicating about the book with Dick Jackson, our most excellent editor. This arrangement works well for everyone.
Are you already working on your next project?
I am! A nighttime story set in a forest. Then I am going for a romp in the mountains with another story.