Many peo­ple think writ­ing non­fic­tion is just string­ing togeth­er a bunch of ran­dom facts. Noth­ing could be fur­ther from the truth. While writ­ing non­fic­tion, I use every sin­gle fic­tion tech­nique a nov­el­ist uses.
I feel strong­ly that I need to write my text in a way that will lead my read­ers to invest emo­tion­al­ly with my non­fic­tion text. Real. Raw. Emo­tion. But I don't tell read­ers what to feel. I trust they will sup­ply their own emo­tions as they read my book.
Let me give you some examples.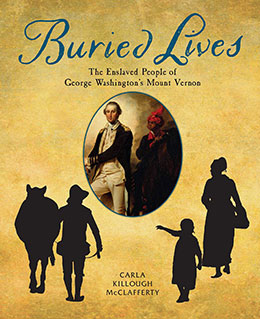 My newest book Buried Lives: The Enslaved Peo­ple of George Washington's Mount Ver­non is about six, spe­cif­ic enslaved indi­vid­u­als. This book was chal­leng­ing to write because no writ­ten record exists from these indi­vid­u­als. There­fore as the author I had to be very care­ful not to put words, thoughts or feel­ings into their mouths, so to speak. I had to fig­ure out how to write the text that is full of emo­tion while main­tain­ing his­tor­i­cal accuracy.
To begin Buried Lives, I want­ed to pull in my read­ers emo­tion­al­ly from the start. So, the first sen­tence of the first chap­ter is:
"William Lee, a six­teen-year-old African Amer­i­can boy, was for sale."
It is straight­for­ward and his­tor­i­cal­ly accu­rate. But at the same time, I hope my words car­ry a lot of emo­tion­al weight.
Lat­er in the book, I give read­ers a peek into the dai­ly life of Car­o­line, the house­maid at Mount Ver­non. I wrote a sec­tion about the work she did each day. I explained how she swept, turned the feath­er beds, and dust­ed. While our mod­ern day sen­si­bil­i­ties under­stand basic house clean­ing, I inten­tion­al­ly left one detail of her clean­ing rou­tine to the end of the sen­tence. To mod­ern read­ers, this should pack an emo­tion­al punch:
"She emp­tied and cleaned the cham­ber pots that had been used dur­ing the night. Then Car­o­line poured a lit­tle bit of water into the pots to cut down on the smell and mess for the next time she emp­tied them."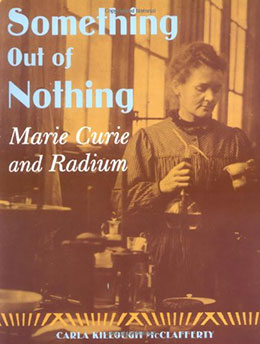 In my book Some­thing Out of Noth­ing: Marie Curie and Radi­um, I wrote about the death of Marie's hus­band, Pierre, and his funer­al. Then I want­ed to pull the read­ers emo­tion­al­ly into the way Marie han­dled the loss of her beloved husband:
"Marie could not bear to talk about Pierre, not even to men­tion his name. In the years fol­low­ing his death, she would nev­er talk to her daugh­ters about their father.
Around this time, Marie began rub­bing togeth­er her fin­ger­tips and thumbs (which had become hard from work­ing with vials of radi­um) in a ner­vous habit. Uncon­scious­ly, she would rub and rub and rub. The habit stayed with her for the rest of her life."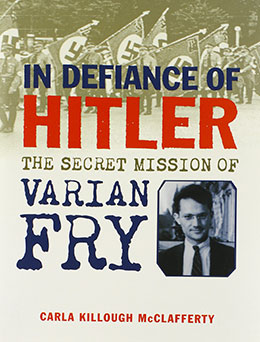 Anoth­er of my books, In Defi­ance of Hitler: The Secret Mis­sion of Var­i­an Fry, relates how an Amer­i­can jour­nal­ist saved thou­sands of refugees from falling into the hands of the Nazis by secret­ly help­ing them escape. Fry stayed in Mar­seilles for thir­teen months, and then was forced to leave France. In this pas­sage, I want read­ers to feel the emo­tions of Fry's sad­ness and uncer­tain­ty on the day he said good­bye to the peo­ple who were part of the team who worked with him to save lives:
"Rain poured from the sky on Sep­tem­ber 6, 1941, the day Var­i­an left France. The gray, drea­ry weath­er matched their mood as Var­i­an and his staff ate their last lunch togeth­er. Around the table, long moments of silence took the place of heir usu­al meal­time chat­ter. None of them knew what hard­ships lay ahead. None knew what the out­come of World War 11 would be. Would Hitler ulti­mate­ly be vic­to­ri­ous and take over all of Europe and the rest of the world? Would they ever see each oth­er again? Would the Vichy police or the Gestapo come for them in the mid­dle of the night? Would they have enough food to sur­vive the winter?"
In each of these exam­ples, I don't tell the read­er how they should feel, yet I hope each read­er makes these emo­tion­al jumps with me.
I've always said, "I don't cre­ate the facts, but I use the facts cre­ative­ly." It is pos­si­ble to fill the pages of a non­fic­tion book with pow­er­ful emo­tions. I believe this is what read­ers will remem­ber long after they close the cover.