by Lisa Bullard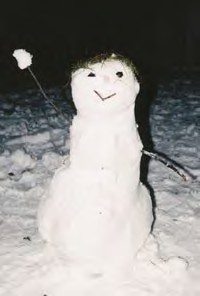 Win­ters add the ele­ment of sur­prise to the Min­neso­ta dri­ving equa­tion. Mid-jour­ney, you can be sucked into one of the car-devour­ing pot­holes caused by my state's rad­i­cal tem­per­a­ture changes. Or you can skid on a decep­tive slick of black ice, and end up strad­dling a snow bank.
In those moments, you real­ize that your trip isn't going to turn out as you thought it would. You might not even reach the des­ti­na­tion you had planned.
The writ­ing road is full of sud­den sur­pris­es too. Even when I think I've figured out exact­ly where a sto­ry is head­ed, my cre­ative brain might pop up one of these "jour­ney adjust­ments" — an odd­ball image, a repeat­ed song refrain, a quirky pos­si­bil­i­ty that changes my whole per­cep­tion of the sto­ry.
Often these sur­pris­es make no sense at first. But strange as they are, I've learned to invite them into my writ­ing. Soon­er or lat­er, I come to under­stand their role in the sto­ry — and it's often some­thing that changes that entire writ­ing road trip.
For one of my sto­ries, this unfore­seen "pot­hole" was an ugly win­ter hat, which float­ed into my brain and even­tu­al­ly came to rep­re­sent an impor­tant turn­ing point for my char­ac­ter. In anoth­er sto­ry, the sur­prise was a walk­ing catfish — which proved to be a metaphor for the under­ly­ing theme of the nov­el as a whole. I allowed these unex­pect­ed gifts from my sub­con­scious to reroute my sto­ries, because I've learned that doing so makes my writ­ing all the more com­pelling.
You can't force your stu­dents' brains to pop out these intu­itive hints on demand. But you can teach them to be recep­tive to bizarre ele­ments when they do turn up. As prac­tice for that, throw some win­ter sur­pris­es at your stu­dents — by using the down­load­able "Snow­ball" activ­i­ty found here.