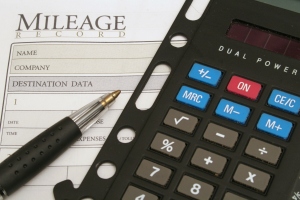 Since I am a self-employed per­son, the IRS asks me to keep a mileage log list­ing my busi­ness trav­el: where I went, how far away it was, the peo­ple I met with when I got there. So here's an iron­ic con­fes­sion from a writer: every time I sit down to try to write an end-of-the-year hol­i­day let­ter — some­thing that because of my pro­fes­sion, you might assume I could eas­i­ly pull off in the most clever and delight­ful fash­ion — it instead comes out sound­ing a lit­tle bit like my mileage log for the year.
So I'm play­ing with the form. And along those lines, I decid­ed to try some­thing out with a group of young teenage girls I had men­tored as a writ­ing group: I had them write year-end hol­i­day let­ters for them­selves, but in poet­ic form. I remind­ed them that we've talked about epis­to­lary poems before, and encour­aged them to remem­ber the many oth­er poet­ic tools and ele­ments we've dis­cussed: metaphor, allit­er­a­tion, imagery, rhythm, word­play, the sound qual­i­ty of cer­tain words.
Their result­ing let­ter poems were engag­ing­ly suc­cess­ful, and each girl's work was dis­tinc­tive­ly dif­fer­ent. A cou­ple of them chose to write in stan­zas. One wrote in rhyme. Their tones var­ied from fun­ny to retrospective.
And for at home, if you're a "San­ta fam­i­ly," an option for younger kids would be to help them write their San­ta let­ters using sim­ple poet­ic elements.
Maybe I've final­ly dis­cov­ered a way I can leave the mileage log in the car and craft a let­ter of my own that makes a more poet­ic imprint.