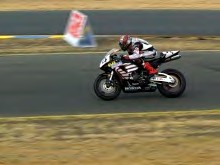 Some­times, despite cram­ming plen­ty of action and conflict into my writ­ing, it still falls flat. I want the words to leap off the page and grab read­ers by the throat, and instead they flop around gasp­ing for breath.
For­tu­nate­ly, there's a straight­for­ward revi­sion trick that can reju­ve­nate such writ­ing: a verb check.
I start by going through the piece and under­lin­ing or high­light­ing every verb. Typ­i­cal­ly, two dif­fer­ent prob­lems reveal them­selves. First, I find the work is strewn with way too many func­tion­al-but-bor­ing "to be" verbs. Sec­ond, even in those cas­es where I've used more active choic­es, a pat­tern emerges: I've repeat­ed cer­tain verbs way too often, default­ing to them as if they were the over-eager stu­dent with her hand in the air after every question.
So I go back through the work, replac­ing the duds with more active, spe­cif­ic, and var­ied verbs, pack­ing pow­er into the writ­ing with every change.
It's a sure trick for revving up your stu­dents' writ­ing as well!