Here's one of my deep, dark secrets: I'm a huge fan of the real­i­ty TV show "Find­ing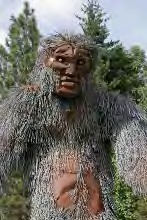 Big­foot."
My fan­girl sta­tus may wor­ry you. But I find the show hilar­i­ous­ly enter­tain­ing. And there's a part of me that real­ly wants to believe there are actu­al Big­foots (Bigfeet?) out there — just like when I vis­it a house with a cup­board under the stairs, I always hope that I'll find a boy wiz­ard too.
You may say I'm a dreamer.
But the best part of "Find­ing Big­foot" is that it's strange­ly com­fort­ing. The show rigid­ly adheres to their sto­ry-telling for­mu­la. My life is cur­rent­ly revolv­ing around sev­er­al things that are unknown, unpre­dictable, and stress­ful. I find it odd­ly rest­ful to watch the "Find­ing Big­foot" for­mu­la play out, show after show, with only slight vari­a­tions. Even before the episode begins, I know that yet again, despite a close call — an uniden­ti­fied howl, a shad­owy figure, a rustling in the woods — the team will not be bring­ing Big­foot home tonight. That is as it should be. Big­foot belongs to the woods, not to some sci­en­tif­ic lab some­where. So for that hour, all is right with my world.
I cre­at­ed a sto­ry-writ­ing for­mu­la for stu­dents for much the same rea­son: com­fort. In my ear­ly school vis­its, I dis­cov­ered that while there are many kids who love to write sto­ries — which is the kind of kid that I was — there are also oth­ers who are ter­ri­fied of the whole process. To them, the thought of a writ­ing a sto­ry is as threat­en­ing as — well, as a hun­gry Bigfoot!
So I teach them a for­mu­la. Of course I want kids to bring them­selves and their own cre­ativ­i­ty to their writ­ing. But I find that with a trail to fol­low, most stu­dents can find their way to the oth­er end of a story.
Where do we start? Basi­cal­ly, I have stu­dents choose a char­ac­ter (younger kids espe­cial­ly enjoy ani­mal char­ac­ters), a set­ting (real or imag­i­nary) they'd like to vis­it, and an activ­i­ty they enjoy (I dis­cour­age pas­sive activ­i­ties like com­put­er games). Then I have them mix those three ele­ments togeth­er, and brain­storm a list of things that could poten­tial­ly go wrong with that mix­ture. A soc­cer game would be tough in out­er space because of grav­i­ta­tion­al fac­tors. A polar bear might strug­gle in Hawaii. A snake would have a hard time hold­ing a paintbrush.
Then the sto­ry for­mu­la works this way:
Begin your sto­ry by intro­duc­ing your char­ac­ter. Throw some kind of prob­lem in the character's path almost immediately.
For the sto­ry mid­dle, show the char­ac­ter try­ing to solve the prob­lem, but don't let them suc­ceed right away. Mul­ti­ple failed attempts or intro­duc­ing new prob­lems will add ten­sion to the story.
At the end, allow the char­ac­ter to solve the prob­lem. Show the read­er how life will be dif­fer­ent now that the char­ac­ter has solved this prob­lem, and how the char­ac­ter has grown through this experience.
With that trail to fol­low, writ­ing a sto­ry doesn't seem near­ly so mysterious!