I love book spine poet­ry, and it's a great way to get young writ­ers to engage with both books and poet­ry-writ­ing. Check out your own shelves and see what sto­ries emerge.
Here are some of my own efforts to show you how easy it can be.
---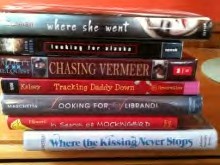 Where She Went
Look­ing for Alaska
Chas­ing Vermeer
Track­ing dad­dy down
Look­ing for Alibrandi
In search of Mockingbird
Where the kiss­ing nev­er stops
---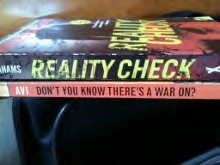 Reality check
Real­i­ty check:
Don't you know there's a war on?
---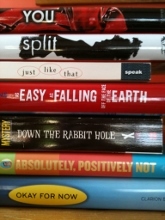 You Split
You
Split
Just like that
As easy as falling off the face of the Earth
Down the rab­bit hole
Absolute­ly, pos­i­tive­ly not
Okay for now
---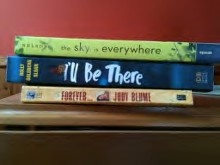 The Sky is Everywhere
The sky is everywhere
I'll be there
Forever
---
Check out this post by Travis Jonker for more infor­ma­tion about book spine poems. Need more inspi­ra­tion, check out the Book Spine Poem Gal­leries from 2011, 2013, and 2014.