In this inter­view with Aimée Bis­sonette, author of Miss Col­fax's Light, our Book­storm™ this month, we asked about writ­ing and research­ing this non­fic­tion pic­ture book biog­ra­phy.

Aimée, thank you for shar­ing your expe­ri­ences and dis­cov­er­ies with our read­ers. We're excit­ed about this book that show­cas­es an Every­day Hero, one of Amer­i­ca's female light­house keep­ers.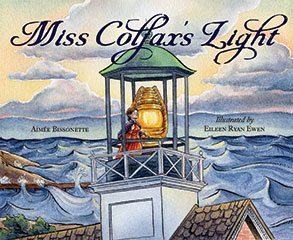 When you were writ­ing this book, do you remem­ber edit­ing to include few­er details so the illus­tra­tor could do her work?

Yes, indeed! In fact, that's half the joy of writ­ing pic­ture books — know­ing the illus­tra­tor will fill in so many details. Eileen Ryan Ewen's illus­tra­tions in this book pro­vide won­der­ful fac­tu­al mate­r­i­al. Harriet's cloth­ing and house­hold items in the book are just like the things Har­ri­et would have worn and owned in the late 1800's. I did not need to include descrip­tions in the text. Eileen includ­ed so much his­tor­i­cal detail in her illus­tra­tions.
How did you learn that some peo­ple in the city felt Har­ri­et "got her job only because her cousin was a U.S. Con­gress­man"?
In writ­ing the book, I did a lot of research. There were sev­er­al writ­ten accounts of Harriet's life and the docents at the Light­house Muse­um had a trea­sure trove of infor­ma­tion about Har­ri­et. My favorite source of infor­ma­tion was Har­ri­et her­self. She kept a dai­ly jour­nal, called a log, start­ing in the 1870's. The idea that Harriet's cousin, Schuyler Col­fax, a U.S. Con­gress­man who lat­er became Vice Pres­i­dent of the Unit­ed States, helped Har­ri­et get her job was men­tioned fre­quent­ly in my sources. Specif­i­cal­ly, it is men­tioned in a 1904 Chica­go Tri­bune news­pa­per arti­cle by a reporter who inter­viewed Har­ri­et right before she retired.
There are short seg­ments of entries from Harriet's jour­nal includ­ed through­out the book. Did you have to get per­mis­sion to use those? How did you know who to ask?
Those short seg­ments are entries from the "log" I men­tioned above. Har­ri­et main­tained that log as part of her offi­cial light­house keep­er duties so the log tech­ni­cal­ly is "owned" by the U.S. Gov­ern­ment. Her log is kept in the Nation­al Archives. I did not need to get per­mis­sion to use it because it is not pro­tect­ed by copy­right. Keep in mind, though, much of the mate­r­i­al a writer uncov­ers while doing research for a non­fic­tion book is pro­tect­ed by copy­right. Writ­ers need to be aware of this and ask per­mis­sion when they use oth­er people's copy­right­ed work in the books they write.
Did you have to research the Light­house Board and the Light­house Inspec­tor before you could write this book?
The ref­er­ences in the book to the Light­house Board and Light­house Inspec­tor are based on Harriet's log entries. There are many more log entries than are includ­ed in the book — 30 years' worth, in fact! Read­ing them was tremen­dous­ly eye-open­ing. Har­ri­et referred often to the Board and the Inspec­tor in her entries. I did addi­tion­al read­ing about the Light­house Board and how light­hous­es were man­aged in the 1800's, but most­ly relied on Harriet's own words when writ­ing about the Board and Inspec­tor.
Oth­er than "I can do this," there is no dia­logue in the book. Why did you choose to leave out dia­logue?
That's a good ques­tion! I think the main rea­son is that, although I had Harriet's log entries and her let­ters and I had a sense of what she might say and how she might say it, I didn't know exact­ly what she would have said in a con­ver­sa­tion. I felt if I made up dia­logue, it would take away from the fac­tu­al accu­ra­cy of the book. We can't even be 100% cer­tain that Har­ri­et would have thought or said "I can do this." But giv­en all I learned about Har­ri­et — her dri­ve, her intel­li­gence, the hard­ships she faced — I felt it fit and I allowed that one excep­tion.

What do you want read­ers to know that they didn't know before from the text you wrote?
I want read­ers to think about Har­ri­et and oth­ers like her — the every­day heroes whose work makes life bet­ter for all of us. We don't often think of light­house keep­ers as "heroes," but the work Har­ri­et did was crit­i­cal to sea cap­tains and sailors and the peo­ple of Indi­ana who depend­ed on the goods brought in by ship. I also want read­ers to think about how Har­ri­et and many oth­er women of that time defied the restric­tions placed on women and did incred­i­ble things — all with­out the cool tech­nol­o­gy we have today.
Would you have cho­sen to do Harriet's job if you were alive then?
I like to think that I would have, yes. I think there is a lit­tle bit of me in Har­ri­et. Like Har­ri­et, I love a good chal­lenge!