Kath­leen Bax­ter, a librar­i­an for more than 30 years, a nation­al­ly-known book­talk­er, a co-author of the won­der­ful Gotcha! resource books, is best known as the woman who has worked tire­less­ly to keep Maud Hart Lovelace's books in print, there­by intro­duc­ing new gen­er­a­tions of read­ers to the Bet­sy-Tacy books and the oth­er cher­ished nov­els set in Deep Val­ley. Her most recent book, My Bet­sy-Tacy Mir­a­cle: a Lit­er­ary Pil­grim­age to Deep Val­ley, shares the charm­ing, true sto­ry of Kath­leen's meet­ing and cor­re­spon­dence with the author Maud Hart Lovelace.
What's the weird­est place you've ever read a book?
Exer­cise bike, maybe?
Do you keep your book­shelves in a par­tic­u­lar order?
Not real­ly, though some book­cas­es have some rhyme or rea­son to them.
How many book­cas­es do you have in your house?
At least ten.
What's the pre­dom­i­nant col­or in your wardrobe?
Black, prob­a­bly.
Which library springs to your mind when some­one says that word? What do you remem­ber most about it?
Anoka Coun­ty North­town, I worked there for 32 years.
Which book you read as a child has most influ­enced your life?
The Bet­sy-Tacy series by Maud Hart Lovelace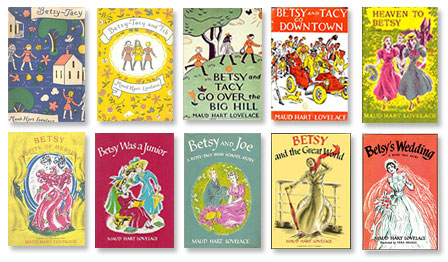 What's your food weak­ness?
sug­ar
What's your favorite form of exer­cise?
walk­ing, I guess
What do you con­sid­er to be your best accom­plish­ment?
It astounds me that both my broth­er and I are in Who's Who in Amer­i­ca and have been for years.
What's your favorite flower?
lilacs and lilies of the val­ley
Have you trav­eled out­side of your state? Which state draws you back? (How many states have you vis­it­ed?)
I love New York as well as the New Eng­land states. I have been to all the states but Hawaii and I turned down a chance to give a talk there because it would have been crazy to go on the sched­ule they gave me.
Have you trav­eled out­side of the Unit­ed States? Which coun­try is your favorite to vis­it? Why?
Eng­land, Scot­land, Ire­land. I am an Anglophile to the core, love the Queen, love all things British. And my DNA comes back 97.2% British Isles and Ire­land, so that may have some­thing to do with it as well.
What's the last per­for­mance you saw at a the­ater?
Assas­sins at The­ater Lat­te Da, two days in a row. I love Sond­heim.
Who's at the top of your list of Most Admired Peo­ple?
Stephen Sond­heim is right there, for his sheer genius. I great­ly admire peo­ple who are unfail­ing­ly kind and gen­er­ous.
When you walk into a bak­ery, what are you most like­ly to choose from the bak­ery cas­es?
sug­ary things
What are your favorite piz­za top­pings?
pep­per­oni and olives
Do you remem­ber your dreams?
Almost nev­er.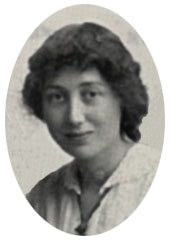 If you could have din­ner with any­one from his­to­ry, who would you choose (don't wor­ry about lan­guage dif­fer­ences.)
Do you read the end of a book first?
nev­er
If you could be grant­ed one wish, what would you wish for?
to be slen­der and only want to eat real­ly healthy food, and not miss any­thing.