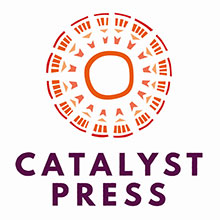 Cat­a­lyst Press has a bold and dar­ing mission.
As a new inde­pen­dent press, Cat­a­lyst Press brings to Amer­i­can read­ers books from the African con­ti­nent writ­ten by Africans and/or about Africa, con­tem­po­rary and his­tor­i­cal. One of Catalyst's first books is the star­tling graph­ic nov­el, Sha­ka Ris­ing: A Leg­end of the War­rior Prince. It is writ­ten and illus­trat­ed by Luke W. Molver, and is the first of an African Graph­ic Nov­el series. It re-tells the sto­ry of Sha­ka, the most famous king of the Zulus in South­ern Africa, who con­sol­i­dat­ed dif­fer­ent clans into one strong king­dom to pro­tect his peo­ple from the slave trade. It's quite a book. Sha­ka Ris­ing is a grip­ping sto­ry with strong dar­ing graph­ics. What an oppor­tu­ni­ty to expand one's knowl­edge of Africa, its his­to­ry and its peo­ple, beyond the his­to­ry of apartheid in South Africa.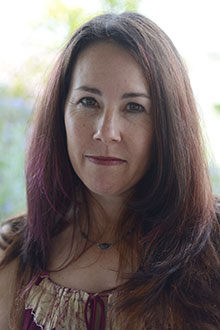 Jes­si­ca L. Pow­ers, the cre­ator and pub­lish­er, plans to expand Catalyst's mis­sion to not only pub­lish authors from Africa but also indige­nous writ­ers from oth­er parts of the world, all with the goal of pub­lish­ing lit­er­a­ture that expos­es the truth and pur­sues jus­tice and peace.
Her goal is to bring to West­ern read­ers books that reveal the world from dif­fer­ent per­spec­tives — tilt­ing, revers­ing or tweak­ing the stan­dard West­ern under­stand­ing of what's real, true, nec­es­sary, or beau­ti­ful. Her moti­va­tion to cre­ate this press is her belief that books can be the fire and fuel for change. One book in the hands of one child can change — and has changed — the world for many.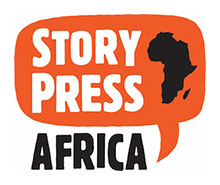 I asked Jes­si­ca Pow­ers to explain her press's imprint, Sto­ry Press Africa, and describe its rela­tion­ship to Jive Media Africa.
Sto­ry Press Africa, as an imprint of Cat­a­lyst Press (USA) and Jive Media Africa (locat­ed in South Africa), is a col­lab­o­ra­tive lit­er­ary plat­form for shar­ing African knowl­edge. Both press­es pub­lish sto­ries by Africans about Africa for a glob­al audi­ence; both pub­lish sto­ries that are authen­tic, chal­leng­ing, and some­times express controversial& visions of the con­ti­nent that birthed humankind.
Jes­si­ca, what is your back­ground that fuels your inter­est in the African con­ti­nent and cul­tures and how did it ignite your pas­sion to risk cre­at­ing a press to bring books about Africa to West­ern readers?
I have two mas­ter's degrees in African his­to­ry and have spent sig­nif­i­cant time in East and South­ern Africa. But it was­n't until my son was born that the seeds for Cat­a­lyst Press and its imprint Sto­ry Press Africa were plant­ed. As I spent time in my library look­ing for books that would intro­duce young read­ers to Africa, I real­ized that there are not enough good chil­dren's books about Africa and/or writ­ten by Africans. What is rep­re­sent­ed? Folk tales/animal tales and Nel­son Man­dela. Now, don't get me wrong, I love folk tales and I love Nel­son Man­dela but come on. Africa is the cra­dle of humankind. It is an enor­mous con­ti­nent with many coun­tries and cul­tures, thou­sands of lan­guages … yet in the Unit­ed States we often fail to see val­ue in expand­ing our knowl­edge of coun­tries and cul­tures beyond our own borders.
What is your own expe­ri­ence as an author and edi­tor that has helped make this dream endeav­or possible?
I've been writ­ing for young adults and chil­dren for a long time — my four young adult nov­els, The Con­fes­sion­al (2007), This Thing Called the Future (2011), Ami­na (2013), and Bro­ken Cir­cle (2017) were rec­og­nized with a vari­ety of awards. I've also been work­ing for the inde­pen­dent mul­ti­cul­tur­al pub­lish­er Cin­co Pun­tos Press since 2002. So the world of books and the real­i­ty of pub­lish­ing are not mys­te­ri­ous to me. Armed with pas­sion, expe­ri­ence, and knowl­edge, I decid­ed to go for broke and start this endeav­or, which launched in 2017. I wish "going for broke" was just a phrase. Pub­lish­ing is a very expen­sive proposition!
Cat­a­lyst Press began in 2017 and already has launched sev­er­al books. Please tell us about them.
Cat­a­lyst and its imprint, Sto­ry Press Africa, are still very new so we don't have a lot of books out yet, but our books are unique, emerg­ing pri­mar­i­ly from Africa — by Africans about Africa. I'll men­tion two that came out this year.
Sha­ka Ris­ing: A Leg­end of the War­rior Prince, writ­ten and illus­trat­ed by Luke W. Molver, is the first of an African Graph­ic Nov­el series. It re-tells the sto­ry of Sha­ka, the most famous king of the Zulus in South­ern Africa, who fought many bloody bat­tles to bring trib­al nations togeth­er to his peo­ple from the slave trade. In pre­vi­ous tellings of Sha­ka, the slave trade was nev­er a promi­nent or even vis­i­ble part of the sto­ry. Euro­peans feared Sha­ka and demo­nized him in their por­tray­als, large­ly because they want­ed to jus­ti­fy col­o­niza­tion of south­ern Africa and he was a major threat. We specif­i­cal­ly approached this from a non-Euro­pean under­stand­ing and once you remove Euro­pean por­tray­als of Sha­ka, you find a much dif­fer­ent pic­ture and under­stand­ing. Of course, sources about Sha­ka are scant, so we can't claim to be telling THE true ver­sion of Shaka's sto­ry, but we based this sto­ry on the most recent his­to­ries of Sha­ka and the Zulu nation as his­to­ri­ans have tried to unrav­el Euro­pean bias in writ­ten sources as well as being cre­ative and look­ing at arche­o­log­i­cal, geo­log­i­cal, and oth­er types of records to pro­vide more nuance.
We Kiss Them With Rain by Futhi Ntshingi­la. Set in a squat­ter camp out­side of Dur­ban, South Africa, this grit­ty young adult nov­el presents us with a tru­ly bit­ter­sweet com­ing-of-age sto­ry that involves HIV-AIDS, teen preg­nan­cy, child aban­don­ment, and pover­ty — but does so with humor and enor­mous hope! Kirkus gave it a starred review.
Jes­si­ca, will you share with us your hopes for the future of chil­dren's literature?
I have a deep com­mit­ment to devel­op lit­er­a­ture that rep­re­sents all chil­dren, and to build a canon of tru­ly diverse lit­er­a­ture, both as a writer myself and as a pub­lish­er. One of the things that I think gets left out of that equa­tion some­times is world lit­er­a­ture for chil­dren. As a pub­lish­er of African-authored and African-based books (writ­ten by writ­ers from all over the world), I would love to see a strong cel­e­bra­tion and embrace of inter­na­tion­al lit­er­a­ture with­in the Amer­i­can children's lit com­mu­ni­ty. It's such a dif­fer­ent and unique and won­der­ful world and we have a real oppor­tu­ni­ty to open Amer­i­can youth's eyes to issues, cul­tures, and ways of life out­side of North Amer­i­ca. If you're not sure where to start, you can go to USB­BY's won­der­ful annu­al list of the best inter­na­tion­al­ly pub­lished books.