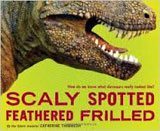 How did you learn about paleoartists?
While I was work­ing on my book Lucy Long Ago, part of that research revealed the work of a pale­oartist who recon­struct­ed liv­ing crea­tures from paleo times based on fos­sil evi­dence, includ­ing the hominid, Lucy.
How did you decide which pale­oartists to contact?
I researched the world's top pale­oartists — as defined by the pale­on­tol­o­gists and pale­oartists them­selves. Then, from those artists, I select­ed the art I per­son­al­ly con­nect­ed with and thought might mix well togeth­er in a book. I then con­tact­ed those artists to see if they would par­tic­i­pate in the project. (One artist con­tact­ed declined.)
How do you ask them for information?
It's pret­ty straight­for­ward — just ask! Most of the time, I'm able to con­tact the artists ini­tial­ly through email. That's help­ful for a cold-con­tact. I am able to intro­duce myself and attach a link to my web­site to famil­iar­ize them with my work. Then, after some ini­tial cor­re­spon­dence with email, I set up a tele­phone interview.
What's the process you went through for obtain­ing per­mis­sion to use the art in this book? Where did you go to find the art?
Usu­al­ly the artists own the copy­rights to their art­work (or some­times a muse­um has the copy­right), so it's just a mat­ter of nego­ti­at­ing a usage fee and the terms with which to use the work. I scoured the inter­net, some books, and artists' web­sites to find the art. Lat­er in the process, after the artists were select­ed, I would email spe­cif­ic requests to see if any­one had, say, a Tricer­atops with the scale pat­tern fair­ly vis­i­ble (or some such).
How do you write so that both chil­dren and adults are inter­est­ed in your books?
Hmmm .… I choose top­ics that inter­est and excite me and that I feel will inter­est and excite kids. Both ele­ments must be present or I won't do the book. I've start­ed sev­er­al books and then some­where along the way either I lost inter­est or I felt the inter­est lev­el for kids would­n't be there and so I aban­doned the projects. I don't con­scious­ly write for any age. I do pur­pose­ful­ly write with a fair­ly casu­al tone — which I think tends to make a book more kid-friend­ly. It sur­pris­es me, still, that so many adults tell me they enjoy my books and per­haps that's because while I try to write in an acces­si­ble man­ner for kids, I also refuse to dumb any­thing down for them — which in turn, might make the mate­r­i­al more appealing.
Were you inter­est­ed in dinosaurs as a child?
Nope.
What was the most sur­pris­ing thing you learned while writ­ing this book?
My ini­tial thought — the thought that led to dig­ging deep­er into the top­ic (How do we know what dinosaurs real­ly looked like?) — was: 'Well, obvi­ous­ly the artists just make this stuff up. They'd have to; there's no ref­er­ence to draw upon.' But that thought led me to this: 'But how can they just make stuff up and present it in a sci­en­tif­ic con­text (with­out an attached dis­claimer: THIS IS COMPLETELY MADE UP)?' This of course got me agi­tat­ed; which, in turn, led to: 'The sci­en­tif­ic pre­sen­ta­tions of dinosaurs (as opposed to movie dinosaurs or pic­ture book dinosaurs) MUST be based upon some­thing. What could it be?' So, it was enor­mous­ly sur­pris­ing and grat­i­fy­ing to learn that pale­oartists base their art not just on "some­thing"; not even just on a hand­ful of fos­sils, but on a tremen­dous back­bone of sci­en­tif­ic evi­dence and sci­en­tif­i­cal­ly based infer­ence (with some artis­tic license tak­en when absolute­ly nec­es­sary — for instance with color).
Thank you, Cather­ine, for writ­ing a book that address­es ques­tions we did­n't even know to ask, but which intrigued you enough to research and write Scaly Spot­ted Feath­ered Frilled: How do we know what dinosaurs real­ly looked like? And thank you for shar­ing some of your book-writ­ing jour­ney with our Bookol­o­gy readers.