inter­view by Claire Rudolf Mur­phy
Con­grat­u­la­tions, Karen. Your first nov­el and New­bery Hon­or book Cather­ine Called Birdy is 20 years old and still going strong. The sto­ry still res­onates with teen read­ers, espe­cial­ly girls, and is remem­bered fond­ly and reread by many read­ers who are grown up now. One such fan is actress Lena Dun­ham, who announced last fall that she is adapt­ing the nov­el into a movie with plans to direct it.
I am obvi­ous­ly very excit­ed. I've met with Lena, who is a love­ly per­son. She loves the book and has great ideas for a movie. I hope it will be made in Eng­land and I can get all my friends parts as extras.
How much research did you do about medieval Eng­land before you start­ed Catherine's sto­ry? How much was done dur­ing the writ­ing and revis­ing of the nov­el? How do you bal­ance the research and the writ­ing?
Most of my research was done dur­ing the four-year writ­ing peri­od. I knew enough about medieval Eng­land to know that the sto­ry I had in mind would fit there and then, but I didn't know what else I need­ed to know until I dug into the writ­ing. I start­ed by research­ing aca­d­e­m­ic his­to­ry books but they didn't tell me what was inter­est­ing to me, like what peo­ple ate and wore, what they ate in win­ter, where they went to the bath­room, so I had to search for every­day-life sorts of books. Most­ly research and writ­ing hap­pened at the same time. Some­times I'd uncov­er facts impor­tant enough to find a place for in the book; at oth­er times I'd find a hole in the sto­ry and have to go back to research.
Ever since the feisty Cather­ine came alive on the page, read­ers and review­ers have debat­ed her fem­i­nist ten­den­cies. What do you think of that debate then and now?
I don't think Cather­ine could be called a fem­i­nist in our mod­ern terms. She just want­ed the world to play fair — with females, with peas­ants, with Jews. And there were many exam­ples of feisty medieval females for me to look to, from Margery Kempe to Eleanor of Aquitaine. Women from all cen­turies prob­a­bly ran the gamut from feisty and assertive to sub­mis­sive, just as they do today. Cather­ine had dif­fer­ent lim­i­ta­tions and con­straints than we do today. She knew them and grew to under­stand and even accept some of them. For exam­ple, she nev­er thought about mar­ry­ing Perkin. A lady and a goat boy match was too far out­side the pos­si­bil­i­ties in her world. Oth­er lim­i­ta­tions she fought against because she is Cather­ine, and feisty, and that's why we love her.
Your work is root­ed in his­to­ry, but kids today have no prob­lem relat­ing to your char­ac­ters and sto­ries. Could you share a few thoughts about how you make your his­tor­i­cal char­ac­ters seem real and rel­e­vant to read­ers today?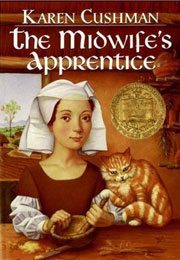 I con­scious­ly write about strong char­ac­ters so that read­ers can love, cheer for, and iden­ti­fy with them. I don't set out to make them rel­e­vant to read­ers today. I just tell their sto­ries and, I believe, read­ers find what they need. What young read­ers take from a book real­ly depends on them. I had a young girl tell me The Midwife's Appren­tice was a book about a cat, and a high school class in a poor neigh­bor­hood in LA found it a sto­ry about home­less­ness. And a young woman hos­pi­tal­ized after a sui­cide attempt found in Cather­ine Called Birdy a mod­el for find­ing ways to be your­self when you feel hope­less and devoid of options. I nev­er could have antic­i­pat­ed those respons­es.
One of the most sig­nif­i­cant chal­lenges in his­tor­i­cal fic­tion is how much or how lit­tle con­text to use. Do you believe that his­to­ry is the sto­ry or that the his­tor­i­cal peri­od should serve the sto­ry?
I think the two work togeth­er. His­tor­i­cal nov­els tell a sto­ry that could not fit in any oth­er time. In mod­ern Lon­don, Cather­ine would not have been faced with the same obsta­cles. Will Sparrow's adven­tures were dis­tinct­ly Eliz­a­bethan. Rodzina's sto­ry and the Orphan Trains both belonged to the late 19th cen­tu­ry. I chose Eliz­a­bethan Lon­don for Meg­gy Swann's par­tic­u­lar sto­ry because alche­my and many oth­er sci­en­tif­ic endeav­ors were flour­ish­ing then. And I did not want to write of the medieval response to Meg­gy and her lame­ness; I want­ed some, though not all, peo­ple to under­stand dis­ease and defor­mi­ty as med­ical issues and not God's curs­es.
Your sto­ries are filled with the sights, sounds and smells of every­day peo­ple — dur­ing Medieval Eng­land, the Renais­sance, the orphan trains, and the Cal­i­for­nia gold rush. What kind of research did you do to come up with such rich sen­so­ry details?
I find those spe­cif­ic details most­ly in first per­son accounts — let­ters, diaries, jour­nals. And I use books about the nat­ur­al world of medieval and Eliz­a­bethan Eng­land and 19th cen­tu­ry Cal­i­for­nia. But some­times I just close my eyes and imag­ine from what I know.
In the nov­el Alche­my and Meg­gy Swann, how did you learn enough about medieval alche­my to bring it alive in the sto­ry?
I found many books about the phi­los­o­phy and prac­tices of alche­my. I under­stood very lit­tle — alche­my is arcane, eso­teric, mys­te­ri­ous, delib­er­ate­ly cryp­tic, and com­pli­cat­ed. The most help­ful, most acces­si­ble book was Dis­till­ing Knowl­edge: Alche­my, Chem­istry, and the Sci­en­tif­ic Rev­o­lu­tion by Bruce Moran. Online I found illus­tra­tions of alchem­i­cal lab­o­ra­to­ries and even sim­ple chem­i­cal exper­i­ments that explained the process in a sim­pli­fied man­ner.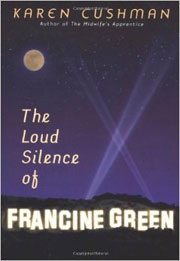 The Loud Silence of Francine Green (2006) is set at a Catholic school in 1949 Los Ange­les that is mod­eled on one from your child­hood. How did your research for this book dif­fer from your oth­er nov­els set in long ago times, such as mid­wifery?
My research into mid­wifery was all from books, but I am close in age to Francine so some of that research took place in my own mem­o­ry and expe­ri­ences. I enjoyed hav­ing Francine hear the songs or swoon over the actors or say things that I remem­ber. Some­times this got in the way — I was includ­ing things in the sto­ry that hap­pened to me, not Francine. Or I'd say, "This real­ly hap­pened. I should include it," even if it had noth­ing to do with Francine's sto­ry. I had to be con­scious of the dif­fer­ences between Francine's sto­ry and my own life.
You have two mas­ter's degrees, one in muse­um stud­ies, and the oth­er in human behav­ior. Your Stan­ford under­grad­u­ate degree is in Greek and Eng­lish. How have those stud­ies affect­ed your writ­ing and your research?
The study and espe­cial­ly the teach­ing I did as part of my muse­um stud­ies degree intro­duced me to the process and val­ue of learn­ing about peo­ple from what we call mate­r­i­al cul­ture — the objects they made and used, the art they saw, the music and jin­gles and adver­tise­ments they heard. Dur­ing my last three years at the uni­ver­si­ty I worked with MA stu­dents on their the­ses, which taught me a lot about writ­ing, orga­niz­ing, edit­ing, and tak­ing a project from big idea to achiev­able prod­uct. I think that expe­ri­ence real­ly set me on my way to writ­ing a nov­el. Human behav­ior? I use that both in my writ­ing and my life. And I love find­ing ways to use the Latin I learned as part of my Clas­sics degree in my books.
Is there any­thing else you'd like to add about your writ­ing today or your many years of pub­lish­ing books for kids and young adults?
I could not real­ly imag­ine being pub­lished. As I was writ­ing Cather­ine Called Birdy, peo­ple told me to be pre­pared for fail­ure, that first nov­els don't sell, his­to­ry is not pop­u­lar with young peo­ple, that the Mid­dle Ages are dead, and no one wants to read about girls any­way. How­ev­er I had a sto­ry to tell and it seemed impor­tant to me to tell it, no mat­ter what hap­pened, so I ignored every­one and just wrote. What sur­prised me was the incred­i­ble luck I had in find­ing an agent (first one I queried), a pub­lish­er (Clar­i­on is still my pub­lish­er), an edi­tor (she's still my edi­tor), and cov­er artist (Tri­na Schart Hyman did my cov­ers until she passed away). And I was sur­prised by the cama­raderie, mutu­al sup­port, and friend­li­ness of every­one in the children's book com­mu­ni­ty. I had heard so many hor­ror sto­ries about the pub­lish­ing world but my expe­ri­ence was splen­did every way pos­si­ble. I rec­om­mend any­one with a book inside her just to do it. Take the leap and write, with pas­sion and gus­to and hope. It could change your life. It changed mine.
Many of us writ­ers appre­ci­ate the Late Bloomer award you and your hus­band have set up through SCBWI. Could you tell us more about the award and how it came about?
I was hav­ing lunch with Lin Oliv­er of the SCBWI, and I told her I want­ed to con­tribute mon­ey to SCBWI. She asked whom I would tru­ly like to encour­age. I said, of course, late bloomers like me. And so the award was born. I love to imag­ine folks who think they are too old to begin writ­ing find­ing reas­sur­ance and inspi­ra­tion in the fact that many of us start after fifty and suc­ceed.