inter­view by Claire Rudolf Murphy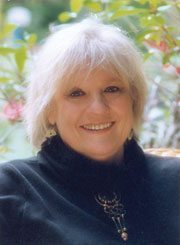 Congratulations, Karen. Your first novel and Newbery Honor book Catherine Called Birdy is 20 years old and still going strong. The story still resonates with teen readers, especially girls, and is remembered fondly and reread by many readers who are grown up now. One such fan is actress Lena Dunham, who announced last fall that she is adapting the novel into a movie with plans to direct it.
I am obviously very excited. I've met with Lena, who is a lovely person. She loves the book and has great ideas for a movie. I hope it will be made in England and I can get all my friends parts as extras.
How much research did you do about medieval England before you started Catherine's story? How much was done during the writing and revising of the novel? How do you balance the research and the writing?
Most of my research was done during the four-year writing period. I knew enough about medieval England to know that the story I had in mind would fit there and then, but I didn't know what else I needed to know until I dug into the writing. I started by researching academic history books but they didn't tell me what was interesting to me, like what people ate and wore, what they ate in winter, where they went to the bathroom, so I had to search for everyday-life sorts of books. Mostly research and writing happened at the same time. Sometimes I'd uncover facts important enough to find a place for in the book; at other times I'd find a hole in the story and have to go back to research.
Ever since the feisty Catherine came alive on the page, readers and reviewers have debated her feminist tendencies. What do you think of that debate then and now?
I don't think Catherine could be called a feminist in our modern terms. She just wanted the world to play fair—with females, with peasants, with Jews. And there were many examples of feisty medieval females for me to look to, from Margery Kempe to Eleanor of Aquitaine. Women from all centuries probably ran the gamut from feisty and assertive to submissive, just as they do today. Catherine had different limitations and constraints than we do today. She knew them and grew to understand and even accept some of them. For example, she never thought about marrying Perkin. A lady and a goat boy match was too far outside the possibilities in her world. Other limitations she fought against because she is Catherine, and feisty, and that's why we love her.
Your work is rooted in history, but kids today have no problem relating to your characters and stories. Could you share a few thoughts about how you make your historical characters seem real and relevant to readers today?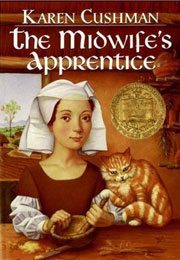 I consciously write about strong characters so that readers can love, cheer for, and identify with them. I don't set out to make them relevant to readers today. I just tell their stories and, I believe, readers find what they need. What young readers take from a book really depends on them. I had a young girl tell me The Midwife's Apprentice was a book about a cat, and a high school class in a poor neighborhood in LA found it a story about homelessness. And a young woman hospitalized after a suicide attempt found in Catherine Called Birdy a model for finding ways to be yourself when you feel hopeless and devoid of options. I never could have anticipated those responses.
One of the most significant challenges in historical fiction is how much or how little context to use. Do you believe that history is the story or that the historical period should serve the story?
I think the two work together. Historical novels tell a story that could not fit in any other time. In modern London, Catherine would not have been faced with the same obstacles. Will Sparrow's adventures were distinctly Elizabethan. Rodzina's story and the Orphan Trains both belonged to the late 19th century. I chose Elizabethan London for Meggy Swann's particular story because alchemy and many other scientific endeavors were flourishing then. And I did not want to write of the medieval response to Meggy and her lameness; I wanted some, though not all, people to understand disease and deformity as medical issues and not God's curses.
Your stories are filled with the sights, sounds and smells of everyday people—during Medieval England, the Renaissance, the orphan trains, and the California gold rush. What kind of research did you do to come up with such rich sensory details?
I find those specific details mostly in first person accounts—letters, diaries, journals. And I use books about the natural world of medieval and Elizabethan England and 19th century California. But sometimes I just close my eyes and imagine from what I know.
In the novel Alchemy and Meggy Swann, how did you learn enough about medieval alchemy to bring it alive in the story?
I found many books about the philosophy and practices of alchemy. I understood very little—alchemy is arcane, esoteric, mysterious, deliberately cryptic, and complicated. The most helpful, most accessible book was Distilling Knowledge: Alchemy, Chemistry, and the Scientific Revolution by Bruce Moran. Online I found illustrations of alchemical laboratories and even simple chemical experiments that explained the process in a simplified manner.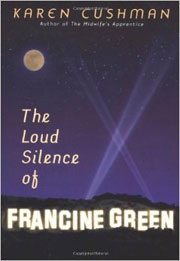 The Loud Silence of Francine Green (2006) is set at a Catholic school in 1949 Los Angeles that is modeled on one from your childhood. How did your research for this book differ from your other novels set in long ago times, such as midwifery?
My research into midwifery was all from books, but I am close in age to Francine so some of that research took place in my own memory and experiences. I enjoyed having Francine hear the songs or swoon over the actors or say things that I remember. Sometimes this got in the way—I was including things in the story that happened to me, not Francine. Or I'd say, "This really happened. I should include it," even if it had nothing to do with Francine's story. I had to be conscious of the differences between Francine's story and my own life.
You have two master's degrees, one in museum studies, and the other in human behavior. Your Stanford undergraduate degree is in Greek and English. How have those studies affected your writing and your research?
The study and especially the teaching I did as part of my museum studies degree introduced me to the process and value of learning about people from what we call material culture—the objects they made and used, the art they saw, the music and jingles and advertisements they heard. During my last three years at the university I worked with MA students on their theses, which taught me a lot about writing, organizing, editing, and taking a project from big idea to achievable product. I think that experience really set me on my way to writing a novel. Human behavior? I use that both in my writing and my life. And I love finding ways to use the Latin I learned as part of my Classics degree in my books.
Is there anything else you'd like to add about your writing today or your many years of publishing books for kids and young adults?
I could not really imagine being published. As I was writing Catherine Called Birdy, people told me to be prepared for failure, that first novels don't sell, history is not popular with young people, that the Middle Ages are dead, and no one wants to read about girls anyway. However I had a story to tell and it seemed important to me to tell it, no matter what happened, so I ignored everyone and just wrote. What surprised me was the incredible luck I had in finding an agent (first one I queried), a publisher (Clarion is still my publisher), an editor (she's still my editor), and cover artist (Trina Schart Hyman did my covers until she passed away). And I was surprised by the camaraderie, mutual support, and friendliness of everyone in the children's book community. I had heard so many horror stories about the publishing world but my experience was splendid every way possible. I recommend anyone with a book inside her just to do it. Take the leap and write, with passion and gusto and hope. It could change your life. It changed mine.
Many of us writers appreciate the Late Bloomer award you and your husband have set up through SCBWI. Could you tell us more about the award and how it came about?
I was hav­ing lunch with Lin Oliv­er of the SCBWI, and I told her I want­ed to con­tribute mon­ey to SCBWI. She asked whom I would tru­ly like to encour­age. I said, of course, late bloomers like me. And so the award was born. I love to imag­ine folks who think they are too old to begin writ­ing find­ing reas­sur­ance and inspi­ra­tion in the fact that many of us start after fifty and succeed.