We're pleased to con­nect you with author (and edi­tor) Kara LaReau, whose two book series, The Infa­mous Rat­sos and The Unin­ten­tion­al Adven­tures of the Bland Sis­ters, are tick­ling read­ers' fun­ny­bones and stir­ring their sense of adven­ture. She was an edi­tor for ten years, edit­ing some of our most-loved books such as Because of Winn-Dix­ie and the Mer­cy Wat­son series. You'll want to fol­low her career as her inven­tive mind beck­ons to us with more sto­ries!
Do you keep your book­shelves in a par­tic­u­lar order?
I have the books in our liv­ing room orga­nized by col­or. Then there's a pile next to my bed in no par­tic­u­lar order, but no one sees that but me!
What's the pre­dom­i­nant col­or in your wardrobe?
I don't have one pre­dom­i­nant col­or. Prob­a­bly black, blue, and gray.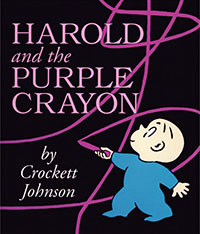 Which book you read as a child has most influ­enced your life?
Harold and the Pur­ple Cray­on by Crock­ett John­son.
What's your food weak­ness?
Oh, I have so many. Right now it's salt and vine­gar pota­to chips, which taste best at the beach, imho.
What do you con­sid­er to be your best accom­plish­ment?
My son.
Have you trav­eled out­side of your state? Which state draws you back?
I've vis­it­ed sev­er­al states, but my favorites (so far) are Maine and Cal­i­for­nia.
Have you trav­eled out­side of the Unit­ed States? Which coun­try is your favorite to vis­it?
Yes. My favorite (so far) is Italy — I hope I can go back there soon!
What's the last per­for­mance you saw at a the­ater?
I saw the come­di­an Tig Notaro.
What's your favorite word because you like the way it sounds?
Come on, I can't pick just one!
What would you wear to a cos­tume par­ty?
Edna Mode from The Incred­i­bles.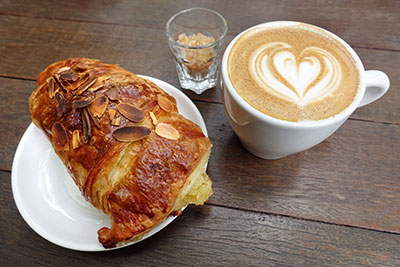 When you walk into a bak­ery, what are you most like­ly to choose from the bak­ery cas­es?
A choco­late-almond crois­sant. And a very large cof­fee.
Do you remem­ber your dreams?
Yes, vivid­ly! Some­times that's where I get my ideas for sto­ries.
If you could have din­ner with any­one from his­to­ry, who would you choose (don't wor­ry about lan­guage dif­fer­ences.)
Julia Child
What for­eign lan­guage would you like to learn?
French.