Mar­i­on Dane Bauer and her books are respect­ed and loved by chil­dren, par­ents, edu­ca­tors, librar­i­ans, edi­tors, and writ­ers. She began her career as a nov­el­ist, turn­ing to pic­ture books lat­er in her career. Cel­e­brat­ing the release of her newest pic­ture book, the charm­ing Win­ter Dance, we were curi­ous about how she writes these short books so we asked! And this long-time teacher of oth­er writ­ers pro­vid­ed heart­felt answers.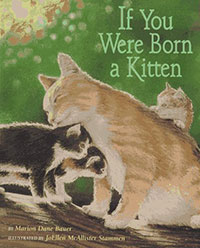 When you sit down to write a pic­ture book, what has inspired you?
Some­times I begin with an idea I want to share. If You Were Born a Kit­ten, for instance, comes out of my very impas­sioned belief that the mir­a­cle of birth is hid­den from most young chil­dren in our soci­ety — from most of us, real­ly. I want­ed to cel­e­brate birth in a way that would show it both as mir­a­cle and as part of our sol­id, every­day reality.
Some­times the con­cept comes from some­thing I read or some­thing some­one says to me. Win­ter Dance came from an editor's say­ing, "What about cel­e­brat­ing the first snow?"
But the actu­al pic­ture book begins, always, with lan­guage. I can't even begin to flesh out my idea until the open­ing line is singing in my head.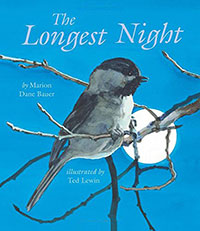 Do you know the end­ing of your pic­ture book before you begin to write?
I always know the end of a nov­el before I begin to write, and if a pic­ture book is a sto­ry, I know the end of that, too. So when I began writ­ing The Longest Night, I knew before I put down the first word that the lit­tle chick­adee would bring back the sun. When I write con­cept books, though, like How Do I Love You?, I have to find my end­ing in the play­ing out of the language.
Do you write with a spe­cif­ic child in mind?
I write always for a child, and in the case of pic­ture books for the adult who will be shar­ing the book, but I have no par­tic­u­lar child in my heart … except maybe the small child I was so many years ago.
Do you envi­sion the illus­tra­tions while you are writing?
I envi­sion space for the illus­tra­tions, which is a very dif­fer­ent thing. I don't think what the illus­tra­tions will depict, specif­i­cal­ly, and I cer­tain­ly don't think about what they will look like. That's the artist's ter­ri­to­ry. But I make sure I have cre­at­ed an active chang­ing world for the illus­tra­tor to take hold of.
How much do you con­sid­er the lev­el of the reader's vocab­u­lary when you write a pic­ture book?
Hon­est­ly? Not at all. Because pic­ture books are usu­al­ly read to a child rather than by the child, I nev­er con­sid­er vocab­u­lary. Some­times a total­ly new word is, in itself, a kind of enchant­ment for a child. Think of Peter Rab­bit for whom let­tuce had a "soporif­ic" effect! No, I've nev­er used the word soporif­ic or any­thing like it, but isn't it a won­der­ful­ly res­o­nant word?
I should add, though, that there is one basic rule I use with all of my writ­ing. I believe the best word in any piece of writ­ing for any audi­ence is always the sim­plest one. Some­times, though, that best word might just hap­pen to be soporific.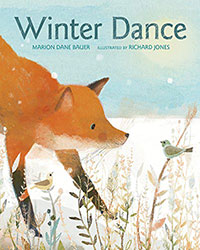 Do you ever begin a pic­ture book feel­ing at a loss for how to write it?
Yes, and when I do I always stop, set it aside, give it time. When it begins to sing to me—if it begins to sing to me — then there will be no more loss.
Win­ter Dance, my newest pic­ture book, actu­al­ly began with an editor's com­mit­ting to a pic­ture book I had writ­ten about spring. For a com­pli­cat­ed series of rea­sons the text the edi­tor con­tract­ed had to be altered sub­stan­tial­ly, and dur­ing that process, my drafts got far­ther and far­ther away from any­thing the edi­tor want­ed. I men­tioned ear­li­er, it was the edi­tor who final­ly came up with the idea that I write about the first snow instead. Great idea, but first I had to find my fox, and I had to dis­cov­er that fox­es mate in win­ter so he would have a rea­son to rejoice over snow. And then, of course, I had to find the song to car­ry him through.
What is the word length you aim for in a pic­ture book?
A max­i­mum of 450 words. Even that can be too long for some books.
You were best known for your nov­els for mid­dle grade and teen read­ers. What influ­enced you to try a dif­fer­ent book form for a dif­fer­ent reader?
The truth is I always want­ed to write pic­ture books. In the begin­ning, I sim­ply didn't know how to write them, even though I had read them end­less­ly to my own chil­dren and to var­i­ous fos­ter chil­dren in my home. Pic­ture books are a bit tech­ni­cal to learn, and I had no one to teach me. In fact, I start­ed out try­ing to write pic­ture books and dis­cov­ered I didn't know what I was doing. So I moved on and found it eas­i­er, not know­ing what I was doing, to mud­dle through a novel.
The oth­er piece, though, was that my first edi­tor, at a time when we writ­ers were owned by our first edi­tors, said to me when I showed him what I thought was a pic­ture-book man­u­script, "Mar­i­on, you are not a pic­ture book writer." Now, he could legit­i­mate­ly have said, "Mar­i­on, that's not a pic­ture book." Because it wasn't. But even when the pub­lish­ing world opened up and I did learn and began pub­lish­ing suc­cess­ful pic­ture books with oth­er hous­es, he refused to alter his vision of me as only a nov­el­ist. So I have him to thank for my career get­ting estab­lished in nov­els. Pic­ture books are so much fun, if he had been open to younger work from me, I prob­a­bly would have been off play­ing with pic­ture books much sooner.
___________________
Thank you, Mar­i­on, for shar­ing your thoughts about pic­ture books in such an instruc­tive way. We're always hap­py to learn from you.
Learn more about Mar­i­on Dane Bauer.