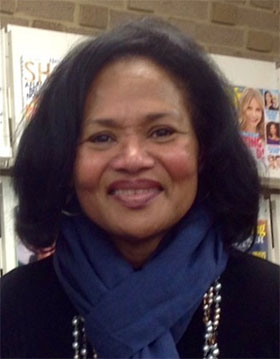 Jer­dine Nolen is the ver­sa­tile author of pic­ture books, chap­ter books, and nov­els, includ­ing her most recent books, the Brad­ford Street Bud­dies series and Cal­i­co Girl. We enjoy hav­ing the oppor­tu­ni­ty to learn more about this writer and edu­ca­tor.
What's the weird­est place you've ever read a book?
The weird­est place I have ever read a book is in a clos­et. It wasn't a dark clos­et. There was a nice win­dow with lots of light and there was enough room for a small lamp. It was quite com­fy and cozy.
Which book you read as a child has most influ­enced your life?
Fairy tales and tall tales, poet­ry
What's your food weak­ness?
I like choco­late-cov­ered orange peels. Yum­my.
What's your favorite form of exer­cise?
My favorite form of exer­cis­ing is walk­ing and row­ing, though not at the same time.
What's your favorite flower?
Some of my favorite flow­ers: peonies, iris­es, hydrangea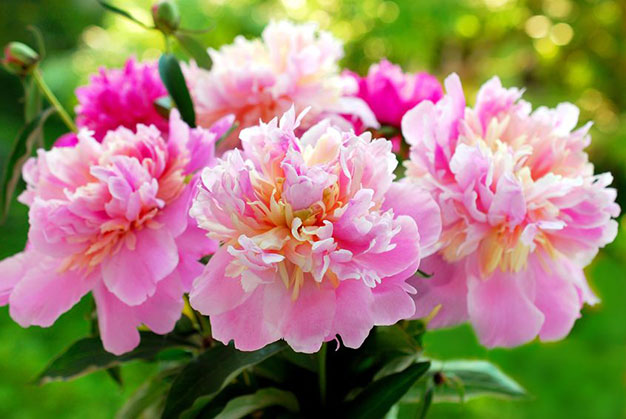 Have you trav­eled out­side of your state? Which state draws you back? (How many states have you vis­it­ed?)
Cal­i­for­nia, Con­necti­cut, Wash­ing­ton, Ore­gon, Neva­da, Ari­zona, Texas, Louisiana, Mis­sis­sip­pi, Alaba­ma, Geor­gia, North Car­oli­na, South Car­oli­na, Vir­ginia, West Vir­ginia, Wash­ing­ton, DC, Delaware, New Jer­sey, Penn­syl­va­nia, New York, Mass­a­chu­setts, Rhode Island, Michi­gan, Wis­con­sin, Illi­nois, Ten­nessee, Ken­tucky, Indi­ana, and Iowa
Have you trav­eled out­side of the Unit­ed States? Which coun­try is your favorite to vis­it? Why?
I like France best because we have friends there and my favorite foods and restau­rants. I trav­elled for fun either alone or with my fam­i­ly to Italy, France, Cana­da, Israel, Ger­many, and Eng­land.
What's the last per­for­mance you saw at a the­ater?
I'm plan­ning to see The Ice­man Cometh lat­er this year.
What's your favorite word because you like the way it sounds?
As a child, cucum­ber was a favorite word of mine. I think I still like it as much.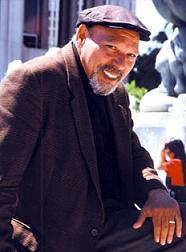 Who's at the top of your list of Most Admired Peo­ple?
My par­ents and my ances­tors. Play­wright August Wil­son.
When you walk into a bak­ery, what are you most like­ly to choose from the bak­ery cas­es?
Almond or choco­late crois­sant
What are your favorite piz­za top­pings?
Basil, pep­per­oni, extra cheese
Do you remem­ber your dreams?
Usu­al­ly, and I remem­ber them vivid­ly and with much detail. When this hap­pens, I have to write them down.
If you could have din­ner with any­one from his­to­ry, who would you choose (don't wor­ry about lan­guage dif­fer­ences.)
William Shake­speare, Thomas Jef­fer­son, and Galileo for now
What for­eign lan­guage would you like to learn?
I'm learn­ing French.
Do you read the end of a book first?
Some­times.