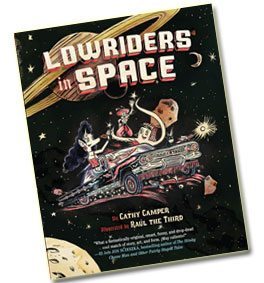 Lowrid­ers in Space
writ­ten by Cathy Camper
illus­trat­ed by Raul the Third
Chron­i­cle Books, 2014
When did you first become aware of (or involved in) lowrid­er cul­ture?
I feel like I've been aware of lowrid­er cul­ture for my entire life. When I was in high school I would draw the type of imagery you might see used as décor on a lowrid­er. Besides the super­heroes, ros­es, clowns cry­ing tears, goth­ic let­ters in torn scrolls were all things you would find in my note­books. Plus I was a big fan of Lowrid­er mag­a­zine and espe­cial­ly of the Fan art which was usu­al­ly cre­at­ed with BIC pens.
Are either you or Cathy drawn into the com­ic?
I drew author pic­tures of the both of us. Cathy is drawn as a Fox in an astro­naut hel­met doing research for our book. I am a wolf. Raul means "swift wolf" so I thought it was appro­pri­ate, plus I am a shag­gy dude so it fits my per­son­al­i­ty. This book is incred­i­bly auto­bi­o­graph­i­cal as well. I mod­eled Lupe's hair on my Abueli­ta Catalina's. I based el Cha­vo on my child­hood hero Ches­pir­i­to and the locale of the book is loose­ly based on El Paso/Juarez where I grew up. I also drew myself dri­ving a van on the very last page!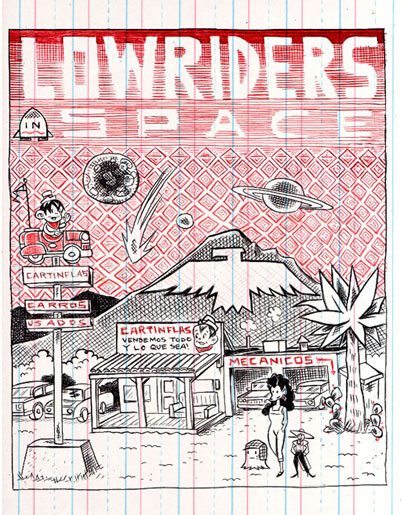 I read that you used Bic pens for a good deal of the draw­ing and col­or­ing. Is this a medi­um you've used on oth­er projects?
I have used them for oth­er projects. For some of the fine art draw­ings I have used it as a tex­tur­ing tool or to cre­ate text with­in the draw­ing. This was the first time I have used them in a project as involved as Lowrid­ers in Space. I felt that it was the per­fect instru­ment for this series. When I was a boy I learned to draw with the BIC pens my father had lying around the house. I want­ed to use mate­ri­als that most every­one could have access to. This is a book about dream­ers who use what they have to build the car of their dreams and I want­ed the approach to the art­work to reflect what is pos­si­ble when you have noth­ing, but dream big.
What type of paper did you draw this book on?
When I start­ed cre­at­ing con­cept draw­ings for the book before Chron­i­cle Books was in the pic­ture I drew pages on note­book paper and newsprint to give the look of a school kid draw­ing in their note­book. This would not have been pos­si­ble for the final art­work as this type of paper is very unfor­giv­ing to mis­takes. When I start­ed work­ing on the final art­work I used smooth plate Bris­tol board for the illus­tra­tions and typ­ing paper for the col­or lay­er.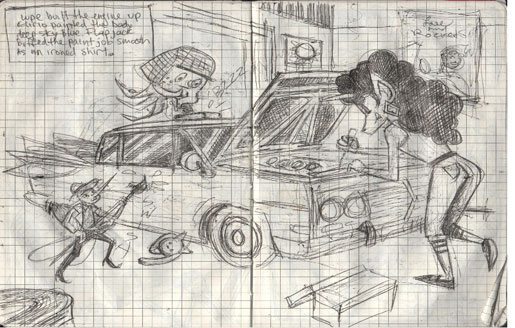 From the art on your web­site, I see that you've used cof­fee as a tex­tur­ing agent before. Is there a sto­ry behind that? Did you use that tech­nique in Lowrid­ers in Space?
I love stain­ing my paper with cof­fee or tea. I use that tech­nique to age the paper. I love stuff that is old or appears beyond its years. I want­ed Lowrid­ers in Space to have that same feel. As if the char­ac­ters had been with us for­ev­er. The look of old pulpy paper and the way stuff in clas­sic com­ic books is often print­ed off reg­is­tra­tion is a huge inspi­ra­tion. The draw­ings in Lowrid­ers in Space are a love let­ter to so much about what I admire in car­toon­ing, com­ic books, and old prints by Jorge Guadalupe Posa­da.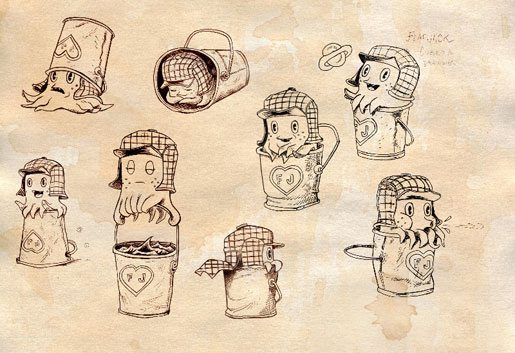 Is this your first com­ic book or have you worked in this form before?
This is my first pub­lished work. I have self-pub­lished zines before Lowrid­ers in Space that were com­ic books, and I have been draw­ing them for a large part of my life.
How did you work with Cathy to fit the text of the sto­ry into your pan­els?
It is a very col­lab­o­ra­tive process not just with Cathy but with our edi­to­r­i­al team as well, which includ­ed our art direc­tor Neil Egan. It begins with Cathy's script which I then turn into a rough sto­ry­board. I then share this with Cathy and she makes adjust­ments to the script based on the new visu­al flow of the sto­ry. We then share this with our edi­to­r­i­al team, and they give it back to us with notes and sug­ges­tions, and we repeat the process until we get it just right. After all is set in stone I lock myself in a room and com­plete the final art for the book.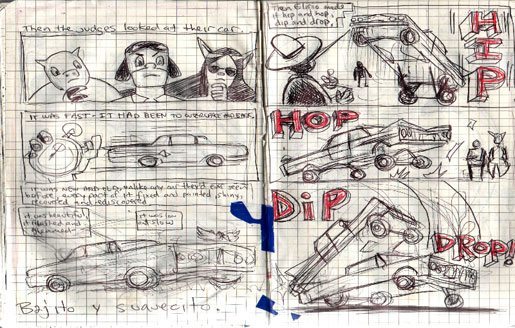 For class­room teach­ers who might be work­ing with their stu­dents to cre­ate a com­ic book, what advice would you pass along about the art­work?
Base char­ac­ters on your­selves. It makes draw­ing so much eas­i­er if you know what your char­ac­ters look like and you don't know any­body like you know your­self. We also come with our own sup­port­ing casts so pick and choose char­ac­ter­is­tic from friends and fam­i­ly. There are not enough char­ac­ters out there that tru­ly resem­ble the won­der­ful peo­ple that make up our com­mu­ni­ties so it's time we made our­selves into the inter­est­ing hero­ic char­ac­ters we know we are! Also draw what you love to draw and through your draw­ings go on the adven­tures of your choos­ing.