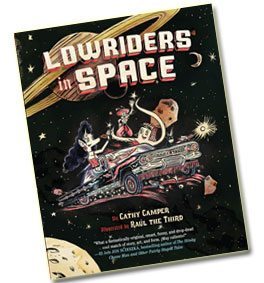 Lowrid­ers in Space
writ­ten by Cathy Camper
illus­trat­ed by Raul the Third
Chron­i­cle Books, 2014
When did you first become aware of (or involved in) lowrider culture?
I feel like I've been aware of lowrider culture for my entire life. When I was in high school I would draw the type of imagery you might see used as décor on a lowrider. Besides the superheroes, roses, clowns crying tears, gothic letters in torn scrolls were all things you would find in my notebooks. Plus I was a big fan of Lowrider magazine and especially of the Fan art which was usually created with BIC pens.
Are either you or Cathy drawn into the comic?
I drew author pictures of the both of us. Cathy is drawn as a Fox in an astronaut helmet doing research for our book. I am a wolf. Raul means "swift wolf" so I thought it was appropriate, plus I am a shaggy dude so it fits my personality. This book is incredibly autobiographical as well. I modeled Lupe's hair on my Abuelita Catalina's. I based el Chavo on my childhood hero Chespirito and the locale of the book is loosely based on El Paso/Juarez where I grew up. I also drew myself driving a van on the very last page!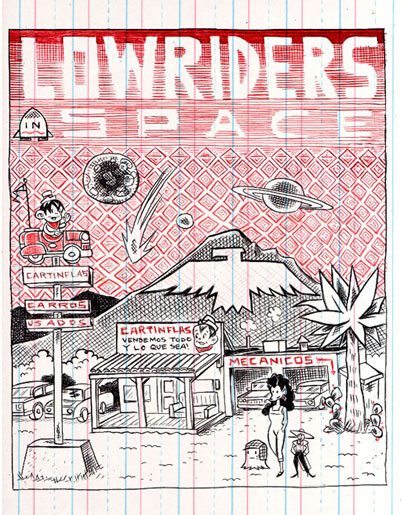 I read that you used Bic pens for a good deal of the drawing and coloring. Is this a medium you've used on other projects?
I have used them for other projects. For some of the fine art drawings I have used it as a texturing tool or to create text within the drawing. This was the first time I have used them in a project as involved as Lowriders in Space. I felt that it was the perfect instrument for this series. When I was a boy I learned to draw with the BIC pens my father had lying around the house. I wanted to use materials that most everyone could have access to. This is a book about dreamers who use what they have to build the car of their dreams and I wanted the approach to the artwork to reflect what is possible when you have nothing, but dream big.
What type of paper did you draw this book on?
When I started creating concept drawings for the book before Chronicle Books was in the picture I drew pages on notebook paper and newsprint to give the look of a school kid drawing in their notebook. This would not have been possible for the final artwork as this type of paper is very unforgiving to mistakes. When I started working on the final artwork I used smooth plate Bristol board for the illustrations and typing paper for the color layer.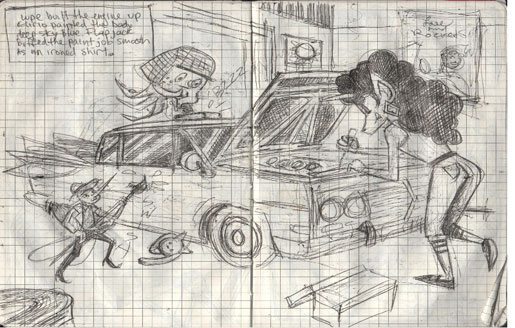 From the art on your website, I see that you've used coffee as a texturing agent before. Is there a story behind that? Did you use that technique in Lowriders in Space?
I love staining my paper with coffee or tea. I use that technique to age the paper. I love stuff that is old or appears beyond its years. I wanted Lowriders in Space to have that same feel. As if the characters had been with us forever. The look of old pulpy paper and the way stuff in classic comic books is often printed off registration is a huge inspiration. The drawings in Lowriders in Space are a love letter to so much about what I admire in cartooning, comic books, and old prints by Jorge Guadalupe Posada.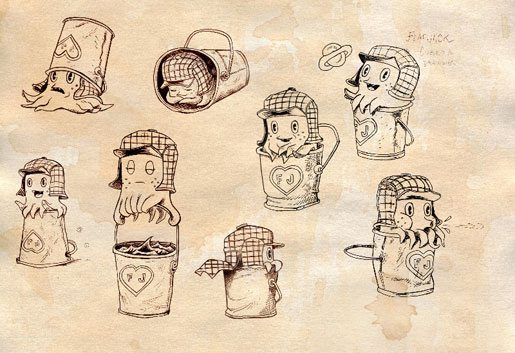 Is this your first comic book or have you worked in this form before?
This is my first published work. I have self-published zines before Lowriders in Space that were comic books, and I have been drawing them for a large part of my life.
How did you work with Cathy to fit the text of the story into your panels?
It is a very collaborative process not just with Cathy but with our editorial team as well, which included our art director Neil Egan. It begins with Cathy's script which I then turn into a rough storyboard. I then share this with Cathy and she makes adjustments to the script based on the new visual flow of the story. We then share this with our editorial team, and they give it back to us with notes and suggestions, and we repeat the process until we get it just right. After all is set in stone I lock myself in a room and complete the final art for the book.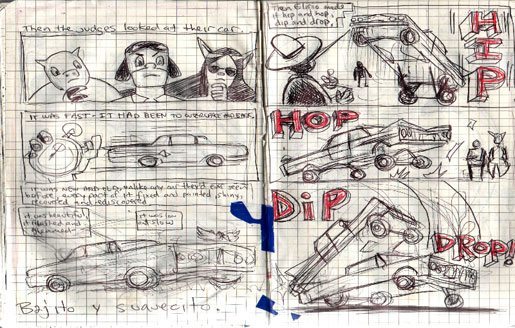 For classroom teachers who might be working with their students to create a comic book, what advice would you pass along about the artwork?
Base characters on yourselves. It makes drawing so much easier if you know what your characters look like and you don't know anybody like you know yourself. We also come with our own supporting casts so pick and choose characteristic from friends and family. There are not enough characters out there that truly resemble the wonderful people that make up our communities so it's time we made ourselves into the interesting heroic characters we know we are! Also draw what you love to draw and through your drawings go on the adventures of your choosing.