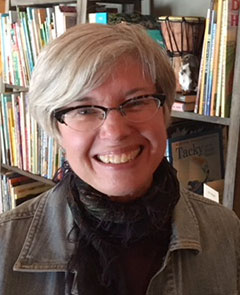 Bren­da Seder­berg is the cur­rent facil­i­ta­tor of the Chap­ter & Verse Book Club in Duluth, Min­neso­ta. She's an enthu­si­as­tic read­er and won­der­ful­ly avid about shar­ing the books she reads. A retired teacher, she con­tin­ues to inspire learn­ing wher­ev­er she goes.
How many book­cas­es do you have in your home?
Oh … soooo many! When I retired from 34 years of teach­ing I brought very lit­tle home from my class­room, but I did bring 24 box­es of chil­dren's books! I'm just not ready to part with them. They take up book­shelves on an entire wall in my house. From time to time I will be chat­ting with some­one about some­thing, and end up say­ing, "oh … you should see this book by .…", and I find the book and loan it out. When guests with chil­dren vis­it they often end up read­ing books from my shelves.
I also have shelves of books in anoth­er room in our house, orga­nized:
nature and out­doors books
books by His­pan­ic authors (I taught mid­dle and high school Span­ish for a num­ber of years … before teach­ing ele­men­tary school)
trav­el books
an assort­ment of Nobel Prize win­ning lit­er­a­ture
chil­dren's books from places I've vis­it­ed (Maine, Texas, Rhode Island, France, Ger­many)
favorite fic­tion and non­fic­tion books I've read or want to read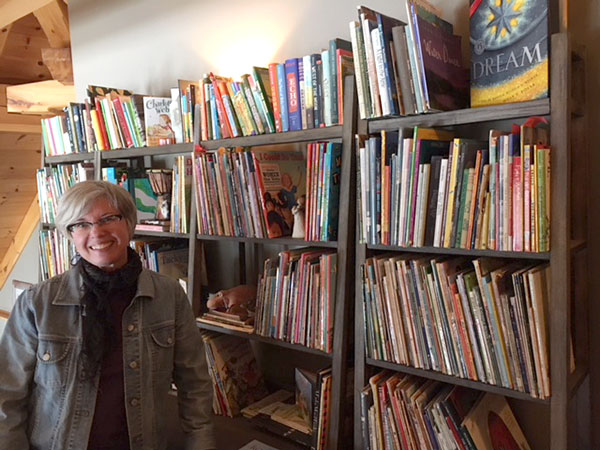 Have you trav­eled out­side the Unit­ed States?
I love to trav­el, and when I do I look for chil­dren's books from the area I'm vis­it­ing, or read a book while I'm there that was writ­ten by an author from that region. I read Hei­di in Switzer­land last fall, and Pinoc­chio in Italy the year before. I enjoy hik­ing and bik­ing in the wide open spaces in these coun­tries, the small towns … and I stay away from the big cities.
Which library springs to mind when some­one says that word?
It's hard to choose one! We lived in a small town in North Dako­ta when I was young, and I biked to the Pub­lic Library there and checked out as many books as the book clamp on my bike would hold. It was a beau­ti­ful build­ing, of course, as libraries are! There were large steps lead­ing up to the door, and columns along­side the steps. The old pub­lic library near Lin­coln Park School was a favorite when I went to school there, and now I LOVE the Mt. Roy­al Library in Duluth. When I was in col­lege in Duluth, I worked 10 hours a week in the Chil­dren's Library at UMD, run by Lor­raine Bis­sonette. She arranged books beau­ti­ful­ly, with stuffed ani­mal book char­ac­ters next to books, col­or­ful mobiles hang­ing above the shelves, green and flow­er­ing plants through­out, and com­fort­able chairs in which to sit and read. It was a library like no oth­er, to be sure … more like some of the won­der­ful chil­dren's book­stores … the Wild Rum­pus, for exam­ple.
Do you read the end of a book first?
NEVER. I do not usu­al­ly read any infor­ma­tion on the flap or the back, either. I like to start with the ded­i­ca­tion, and then the first line of the book, and con­tin­ue from there. I want to read it and let it speak for itself, I don't like to know much at all about a book before I read it! First lines are impor­tant to me … I sort of "col­lect" first lines!
Who is your favorite artist?
It is hard to choose one … I like the art of Carl Lars­son, Swedish painter, and vis­it­ed his home in Swe­den where one can see the paint­ing he did IN his home, above door­ways, around walls. I copied a "say­ing" he paint­ed in his house, above a door­way in our home: "Whef Du Vad, Var God Och Glad," in Swedish (for­give any errors!), in Eng­lish: "I'll tell you what, be good and glad." I love Bet­sy Bowen's wood­cuts, and the prints of Rick Allen, who has a stu­dio in Canal Park in Duluth and each spring releas­es a new print of "The Trap­per's Daugh­ter"! He has prac­ti­cal­ly writ­ten a book in print­ing her many adven­tures! The let­ter­ing and text he some­times incor­po­rates in his work is won­der­ful, and often humor­ous.