We inter­viewed Caren Stel­son, first-time author, whose non­fic­tion book Sachiko: a Nagasa­ki Bomb Sur­vivor Sto­ry has received a good deal of pos­i­tive recog­ni­tion, includ­ing the longlist for the Nation­al Book Award and inclu­sion on many Best Books of 2016 lists. (Her name is pro­nounced just as you would say Karen.)
Which celebri­ty would invite you like to invite to a cof­fee shop?
If I could invite any­one to cof­fee, I'd invite Eleanor Roo­sevelt and hap­pi­ly pick up the tab. Eleanor — what a woman! She over­came so much, from her dif­fi­cult child­hood, to find­ing and claim­ing her own life work, to being Franklin Roosevelt's con­science as First Lady. Actu­al­ly, she was the con­science of the nation, then as U.N. rep­re­sen­ta­tive, the con­science of the world. I'd love to ask Eleanor, "What do you think of Don­ald Trump as Pres­i­dent of the Unit­ed States?"
Which book do you find your­self rec­om­mend­ing pas­sion­ate­ly?
I keep com­ing back to To Kill a Mock­ing­bird by Harp­er Lee as my favorite book. Any­one who wants to under­stand the Unit­ed States needs to read Harp­er Lee's nov­el.
Favorite city to vis­it?
Can I have two favorites? Bath, Eng­land is one and Nagasa­ki, Japan is the oth­er. I lived in Bath, Eng­land in 2001 – 2002 and spent that year inter­view­ing adults who had sur­vived the April 1942 blitz as kids dur­ing World War II. I was fas­ci­nat­ed by what they remem­bered about liv­ing through the war and what those mem­o­ries meant to them now. I have great mem­o­ries of the inter­views and great mem­o­ries of the city of Bath, itself. Bath is a Geor­gian archi­tec­tur­al won­der with lay­ers and lay­ers of his­to­ry. The Roman Bath in the heart of the city is the best pre­served Roman bath in the world. I loved liv­ing in Bath. I still have many friends there, mak­ing Bath "home away from home" for me. Nagasa­ki, Japan is anoth­er city where I'm at home. Of course, my friend Sachiko Yasui lives in Nagasa­ki as do many of my oth­er Japan­ese friends. Because Nagasa­ki was the sec­ond city destroyed by an atom­ic bomb dur­ing WWII, the hor­ror of nuclear war is for­ev­er stamped on the city's con­science. So is the neces­si­ty for peace. For me, Nagasa­ki is Ground Zero for the study of peace.
Most cher­ished child­hood mem­o­ry?
One of my most cher­ished child­hood mem­o­ries is sled­ding down a hill in Ver­mont one win­try night with my fam­i­ly. I still can see my father stretched out on a wood­en sled with my moth­er on top of him, speed­ing down the hill. I can still hear their screams of laugh­ter echo­ing through the dark. I don't have many mem­o­ries of that kind of fam­i­ly laugh­ter, so I hang onto this mem­o­ry pret­ty tight­ly.
What's your dream vaca­tion?
My dream vaca­tion is a pho­to­graph­ic safari to the Serengeti Plain. My hus­band and I trav­eled to Tan­za­nia in the 1980s and camped on the floor of Ngoro Ngoro Crater, the place with the great­est con­cen­tra­tion of wild ani­mals in the world. I can still hear the lions' roar­ing at night. And the eyes. At night, we aimed a high-pow­ered flash­light out­side the cir­cle of tents and watched the eyes of ante­lope stare back at us. Today it's not pos­si­ble to camp on the crater floor, but I'd do it in a heart­beat as my dream vaca­tion.
What makes you shiv­er?
There's a lot to shiv­er about these days, but hon­est­ly, the first thing that popped into my mind was shark attacks. Any sto­ry that has a shark attack in it will give me night­mares.
Morn­ing per­son? Night per­son?
I used to be a night per­son when I was younger, but now I'm a straight morn­ing per­son. Some­times I'll get out of bed around 5:00 am, maybe ear­li­er, put on the cof­fee, and start writ­ing right away. When I'm in that half-sleep, half-awake zone, lots of inter­est­ing things start hap­pen­ing on the page.
What's your hid­den tal­ent?
I real­ly love hav­ing con­ver­sa­tions with three-year-olds. I think that can be con­sid­ered a tal­ent. I recent­ly took care of a three-year-old for a day and we had the best time explor­ing every mechan­i­cal item in the house, from how a mix­er works to how a piano makes its sound. If we could all sus­tain our three-year-old curios­i­ty, we tru­ly could be wide-awake, life-long learn­ers.
Favorite can­dy as a kid?
Good 'n' Plen­ty. I loved those pink and white can­dy cov­ered pieces of licorice, par­tic­u­lar­ly if I ate them at the movies.
Broth­ers and sis­ters or an only child? How did that shape your life?
I have an old­er broth­er and a younger broth­er, so I'm the sis­ter stuck in the mid­dle. Being the only girl shaped my life quite a bit. My broth­ers weren't all that inter­est­ed in sports, but I was. My father taught me how to throw a foot­ball, play ten­nis, and get up the courage to play var­si­ty high school sports. Hav­ing that father­ly atten­tion gave me con­fi­dence. But I also missed not hav­ing a sis­ter I could con­fide in. I looked for that close­ness in the books I read and in my per­son­al jour­nals. Today, I think of my clos­est women friends as my sis­ters, which makes up for the hole in my child­hood.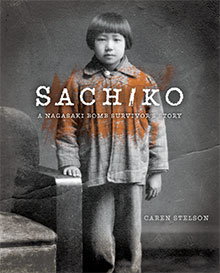 Hope for the world?
What is there but hope for peace? The world is heat­ing up with fears and ten­sions we haven't seen in decades. This does not bode well for the future. It's a long shot, but I hope the nations of the world will col­lec­tive­ly real­ize war is not the answer to our prob­lems. Real­ly, we have no choice. Between nuclear weapons and cli­mate change, our exis­tence on this plan­et is at stake. We Amer­i­cans and the rest of the world's pop­u­la­tion have to fig­ure out how to work togeth­er and work for peace. As indi­vid­u­als we may feel pow­er­less in the face of world ten­sions, but we can begin the peace process among neigh­bors and across our cities and states. I love the quote by peace activist and Quak­er Gene Knud­sen Hoff­man, "The ene­my is a per­son whose sto­ries we have not heard." We can start lis­ten­ing.