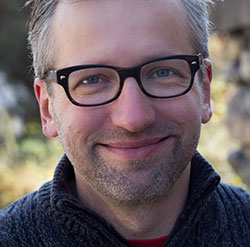 Cre­ative with many endeav­ors, includ­ing writ­ing, teach­ing col­lege stu­dents, the­ater, and being a dad, Geoff Herbach is stretch­ing his wings from YA fic­tion to pic­ture books!
Who was your favorite teacher in grades K‑7 and why?
I loved Mrs. Fatzinger in 5th grade. She read books out loud to us every day right after lunch and it was fan­tas­tic. The best came when she read The Long Win­ter in March in Wis­con­sin and the Ingalls fam­i­ly heard the Chi­nook winds on the same day the ther­mome­ter popped up to about 40 and our Wis­con­sin snow began to melt. I felt hooked into all of human life!
When did you first start read­ing books?
I always read. My mom was a high school Eng­lish teacher and my dad taught com­par­a­tive lit­er­a­ture at the local col­lege when I was lit­tle. Books were every­where. I sat on the floor of the study and looked through every­thing in there.
Your favorite day­dream?
Dunk­ing a bas­ket­ball. I will nev­er dunk a bas­ket­ball, but think about it all the time.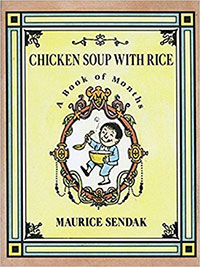 Your all-time favorite book?
When I was tiny, Chick­en Soup with Rice, by Sendak. I had no idea I was learn­ing the order of the months. I just loved say­ing, Sip it once, sip it twice, sip it chick­en soup with rice.
What's your favorite part of start­ing a new project?
I love pic­tur­ing the world, inhab­it­ing a char­ac­ter and see­ing from their eyes. The col­ors change. Objects look dif­fer­ent. Streets, hous­es, rooms… What a joy to see through anoth­er person's eyes for the first time.
When are you your most cre­ative?
I don't have habits around cre­ativ­i­ty. I wish I did, because then I could count on it. I did hear some­place recent­ly that cre­ative peo­ple do well when it's not habit­u­al, because the fear of fail­ure, fear of unknown, charges up your brain. (Sounds like an excuse I'd give for not hav­ing good habits, of course.)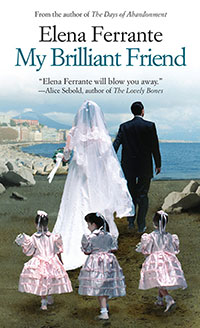 Your best mem­o­ry of your school library?
My mom and I would bike to the library dur­ing the sum­mer. It would be so hot and sweaty. Then we'd enter and it felt like I could breathe again … the air-con­di­tion­ing would blast me. We'd spend hours in there. Some­times a librar­i­an would help me find sports biogra­phies. Some­times I'd sneak off some­place and read adult hor­ror until I was caught. Loved those days.
Books on your bed­side table right now?
I recent­ly com­plet­ed the Ele­na Fer­rante Neapoli­tan nov­els. Whoa. Soooo good.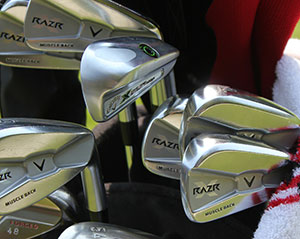 What's your hid­den tal­ent?
Golf. I've become obsessed with golf. Not even Don­ald Trump asso­ci­a­tions can stop me. My wife, Steph, and I start­ed play­ing about two years ago, and we're very bad, but I believe our great tal­ent is hid­den in there some­place.
Your favorite toy as a child?
K‑Tel how-to break dance record and accom­pa­ny­ing poster. I was pret­ty sure I would be a pro­fes­sion­al break dancer in 1984.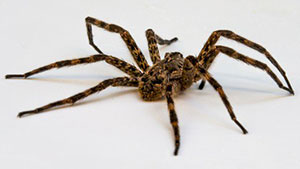 Which is worse: spi­ders or snakes?
Spi­ders. We have wolf spi­ders in our house in Manka­to. They are fur­ry and big and ter­ri­fy­ing. So scary. Fac­tu­al­ly, they aren't ven­omous, real­ly don't bite much, and don't like to be near peo­ple at all. So, mos­qui­toes are far worse. But, jeez.
Why do you feel hope­ful for humankind?
We have ter­ri­ble prob­lems and it feels like injus­tice is over­whelm­ing, but are we gen­er­al­ly bet­ter off than 75 years ago at the end of WWII? Bet­ter than a 150 years ago at the end of the civ­il war? 300? 500? I believe Obama's use of Mar­tin Luther King's state­ment that the arc of the moral uni­verse bends towards jus­tice. Too many good peo­ple keep­ing work­ing. We slide back a lit­tle, then move for­ward. I believe it.