From the first time, many years ago, that I heard Joyce Sid­man read aloud from her poet­ry, when Eure­ka! Poems about Inven­tors was about to be released, I knew this woman car­ried mag­ic in her soul. Work­ing mag­ic with words, writ­ing about sci­ence and our very human emo­tions … Joyce has become a favorite author for many read­ers.
Who was your favorite teacher in grades K‑7 and why?
Miss Cook in 1st grade was a calm, open-heart­ed pres­ence whose gray eyes seemed to look right into me and sense who I was. Anoth­er favorite was Mrs. Pierce in 6th grade, who cham­pi­oned cre­ative writ­ing and brought in ran­dom pic­tures every Fri­day as sto­ry-starters.
Favorite break­fast or lunch as a kid?
My Ger­man grandmother's blue­ber­ry pan­cakes. She'd mix up an eggy bat­ter, pour it into a skil­let siz­zling with melt­ed Crisco, then sprin­kle the blue­ber­ries on top as it cooked. One huge pan­cake for each kid. We cov­ered them in sug­ar and gob­bled them down. Since we'd helped her pick the blue­ber­ries, they tast­ed extra deli­cious.
What's your least favorite chore?
I hate to say this, but at this point in my life … cook­ing!
What's your favorite part of start­ing a new project?
I've grown to embrace the empti­ness and hint of despair that pre­cedes a new project — the aim­less fid­dling with pos­si­ble ideas, the doubt that any of them would ever come togeth­er — because I love the moment when some­thing cracks open and I see how it can work. Then I'm off to the races — writ­ing, research­ing, pulling from expe­ri­ence, jug­gling words. I hate that emp­ty feel­ing, but have learned that it is part of get­ting to the excite­ment.
Bare­foot? Socks? Shoes? How would we most often find you at home?
In sum­mer, always bare­foot. The tick­le of grass, the warmth of asphalt, the cool, smooth kitchen floor — my feet are hap­pi­est au naturel. And in the evening, there is always the pos­si­bil­i­ty of a soft, fur­ry dog head against my foot.
When are you your most cre­ative?
On sun­ny days.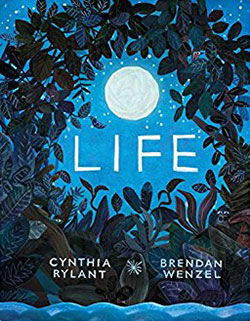 Books on your bed­side table right now?
Here's the cur­rent pile:
Life by Cyn­thia Rylant, whom I con­sid­er to be a genius, so I read every­thing she writes.
The Goat by Anne Flem­ing — such an odd but won­der­ful premise (a moun­tain goat liv­ing on top of a NY apart­ment build­ing).
Orphan Train by Christi­na Bak­er Kline, which every­one in Min­neso­ta seems to have read but me.
Sapi­ens by Yuval Noah Harari, which my daugh­ter-in-law rec­om­mend­ed — it's fas­ci­nat­ing so far.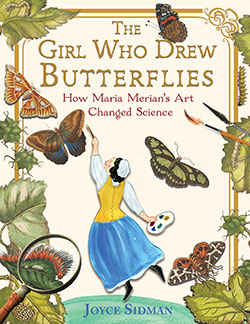 What's your hid­den tal­ent?
I love to take pho­tos, try­ing to mas­ter my macro lens. I was thrilled when my edi­tor asked if I would like to con­tribute pho­tos to my next book, The Girl Who Drew But­ter­flies: How Maria Merian's Art Changed Sci­ence.
Why do you feel hope­ful for humankind?
I think as a species we are a bal­ance of altru­ism and trib­al­ism, torn between want­i­ng to help oth­ers and want­i­ng to pro­tect our own inter­ests. I am hop­ing that bal­ance will save us in the long run: kind­ness toward self plus kind­ness toward oth­ers, plus the brain­pow­er to fig­ure out the best way to nego­ti­ate these two.
Enjoy some of Joyce Sid­man's pho­tog­ra­phy (all three pho­tos © copy­right Joyce Sid­man):