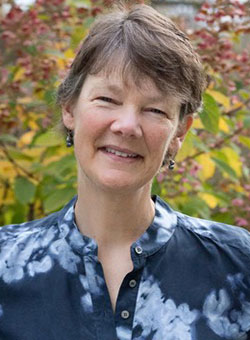 From the first time, many years ago, that I heard Joyce Sid­man read aloud from her poet­ry, when Eure­ka! Poems about Inven­tors was about to be released, I knew this woman car­ried mag­ic in her soul. Work­ing mag­ic with words, writ­ing about sci­ence and our very human emo­tions … Joyce has become a favorite author for many readers.
Who was your favorite teacher in grades K-7 and why?
Miss Cook in 1st grade was a calm, open-hearted presence whose gray eyes seemed to look right into me and sense who I was. Another favorite was Mrs. Pierce in 6th grade, who championed creative writing and brought in random pictures every Friday as story-starters.
Favorite breakfast or lunch as a kid?
My German grandmother's blueberry pancakes. She'd mix up an eggy batter, pour it into a skillet sizzling with melted Crisco, then sprinkle the blueberries on top as it cooked. One huge pancake for each kid. We covered them in sugar and gobbled them down. Since we'd helped her pick the blueberries, they tasted extra delicious.
What's your least favorite chore?
I hate to say this, but at this point in my life … cooking!
What's your favorite part of starting a new project?
I've grown to embrace the emptiness and hint of despair that precedes a new project—the aimless fiddling with possible ideas, the doubt that any of them would ever come together—because I love the moment when something cracks open and I see how it can work. Then I'm off to the races—writing, researching, pulling from experience, juggling words. I hate that empty feeling, but have learned that it is part of getting to the excitement.
Barefoot? Socks? Shoes? How would we most often find you at home?
In sum­mer, always bare­foot. The tick­le of grass, the warmth of asphalt, the cool, smooth kitchen floor — my feet are hap­pi­est au naturel. And in the evening, there is always the pos­si­bil­i­ty of a soft, fur­ry dog head against my foot.
When are you your most creative?
On sunny days.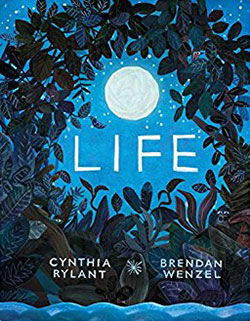 Books on your bedside table right now?
Here's the current pile:
Life by Cyn­thia Rylant, whom I con­sid­er to be a genius, so I read every­thing she writes.
The Goat by Anne Flem­ing — such an odd but won­der­ful premise (a moun­tain goat liv­ing on top of a NY apart­ment building).
Orphan Train by Christi­na Bak­er Kline, which every­one in Min­neso­ta seems to have read but me.
Sapi­ens by Yuval Noah Harari, which my daugh­ter-in-law rec­om­mend­ed — it's fas­ci­nat­ing so far.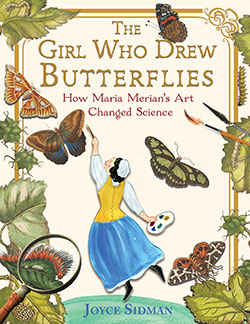 What's your hidden talent?
I love to take pho­tos, try­ing to mas­ter my macro lens. I was thrilled when my edi­tor asked if I would like to con­tribute pho­tos to my next book, The Girl Who Drew But­ter­flies: How Maria Merian's Art Changed Science.
Why do you feel hopeful for humankind?
I think as a species we are a balance of altruism and tribalism, torn between wanting to help others and wanting to protect our own interests. I am hoping that balance will save us in the long run: kindness toward self plus kindness toward others, plus the brainpower to figure out the best way to negotiate these two.
Enjoy some of Joyce Sid­man's pho­tog­ra­phy (all three pho­tos © copy­right Joyce Sidman):